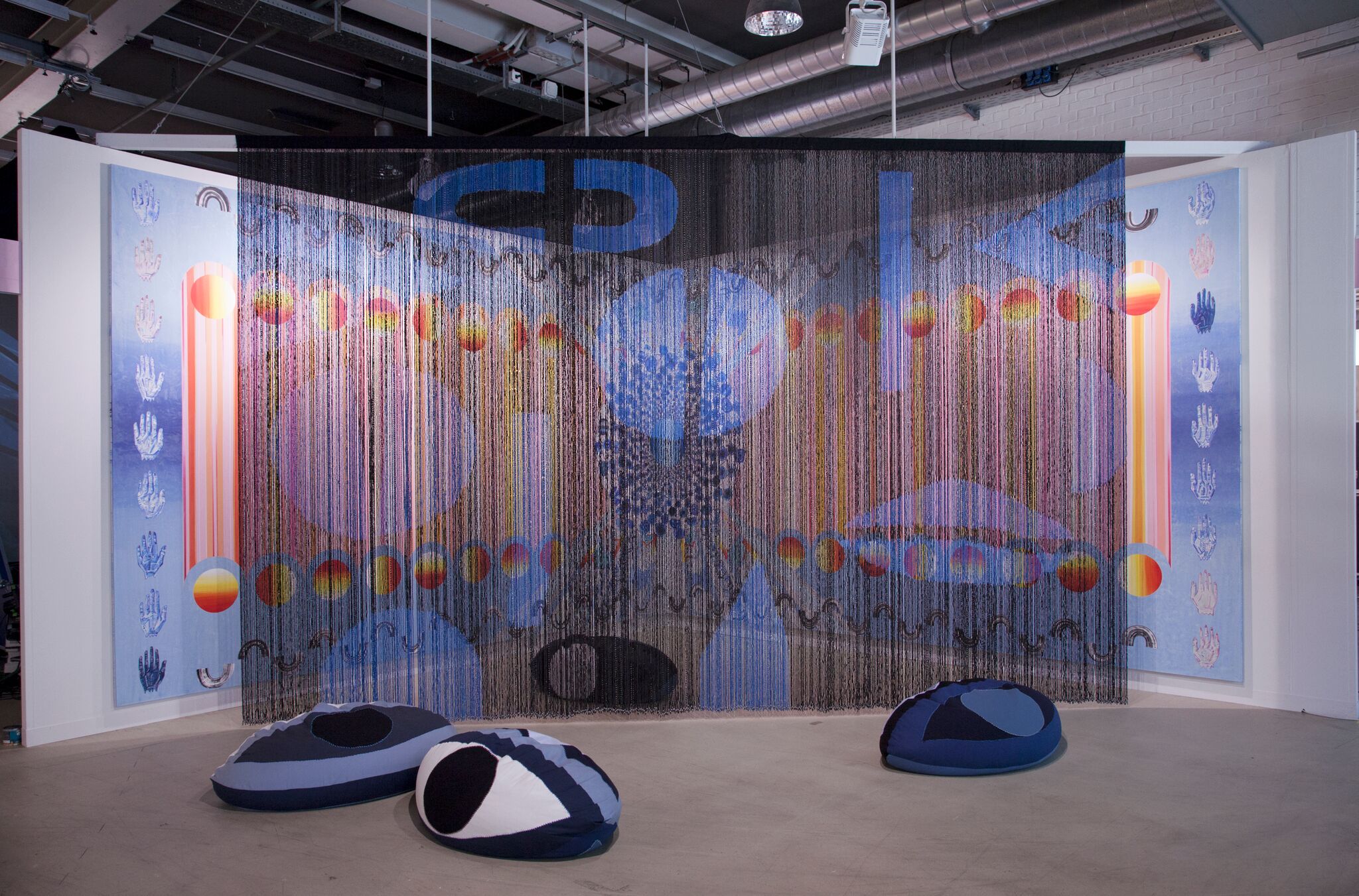 Thomas Dane gallery, from London, has a strong showing of strictly female names at the fair from its impressive roster of artists, bringing together Marisa Merz, Cecily Brown, Amy Sillman, Lynda Benglis, Barbara Kasten, Caragh Thuring and Ella Kruglyanskaya. The selection combines both new and historical works and, while the choice of artists can quite clearly be taken as a statement in itself, there are many lines of inquiry threading through these works that hold them together, beyond the gender of their makers. Colour and organic forms are a recurring element and there is a vivid selection of paintings.
Peres Projects, from Berlin, is presenting a solo booth from Mark Flood, with two large-scale installations, as well as paintings from the artist's Text and Lace series. The upstairs booth is filled with "likes", the word written again and again in bold white type on black canvases, which are stacked high on top of one another. This sense of twisted vanity extends to his wall-hung pieces–including ASK ME, in which a buffed and sheened model is plastered with the slogan "Ask Me About Death" as she holds up a sugary pink, angel wing emblazoned bottle of perfume. The gallery is also showing one of the most exciting young artists in the downstairs Unlimited section, with live performances from the captivating American artist Donna Huanca. Bliss (Reality Check) is an expectedly messy affair.
Chertlüdde, another Berlin gallery, is also showing a solo booth, with an installation by British artist Zora Mann whose influence over the years has come from items such as colouring books and recycled flipflops. The whimsically-named installation, The daughter of an Easter egg, combines vibrant, patterned wall-hung pieces with a diagonally placed beaded curtain and 3D pieces in the form of cushiony eyes about the floor. A fun and lively solo project which is characteristic of the gallery's sense of play.
i8 Gallery (Iceland) has also brought a frisky selection of works. Karin Sander is a highlight, with her wry wall-hung vegetables (think beetroots and cauliflowers) and drooping glass forms. Without adding much at all, the mere choice and placement of her items is amusing and effective. There is also a compelling selection of works by Icelandic artists—such as Arna Óttarsdóttir's humorous fabric pieces, Hildigunnur Birgisdóttir's apparently multi-use and wittily non-descript Shelf For Something series, and Ragnar Kjartansson's economical drawings which are oddly warming and empty at the same time—referencing the lone experience in many cases.
Fruit and veg (a recurring element at Basel year-on-year) reappear at Sies + Höke's booth, with tongue-in-cheek works from João Maria Gusmão & Pedro Paiva, adding bulbous eyes to big fruity heads. FORT's Sunny (2016) is similarly kooky, presenting a perfectly round yellow ball wedged between the vertical lines of a radiator and bending them, Popeye-like to either side. The gallery has a powerful group of artists overall, including Marcel Dzama (read more about the artist in our Issue 31 Encounter) and Julian Charrière.
Kerlin Gallery, from Dublin, also have a diverse selection of works—bringing together the likes of Siobhán Hapaska (whose Snake and Apple offers a sort of nightclub version of Adam and Eve in sculptural form) with Aleana Egan, Siobhán Hapaska, Callum Innes, Merlin James, Jan Pleitner, Daniel Rios Rodriguez and Zhou Li. There is a strong sculptural element—not least from Egan, who is showing pieces from her recent second solo exhibition at the gallery, A House and Its Head.
Sculpture is also a highlight at Galería OMR (Mexico), with multiple works from Jose Dávila (you call also read more about the artist in Elephant Issue 31). His precarious use of glass is reflected in the works of Julieta Aranda, who fills shelves with multiple sharp shards of it. The planes utilized by Dávila also play well with the graphite and ink works of Theo Michael, which present strange landscapes made up of slabs and spheres propped against one another. An elegant presentation.
Galleri Nicolai Wallner is also showing works from Dávila, this time his more colourful, mobile works rather than his widely recognized balance pieces. These are looser in style and work well alongside the colourful balloons of Jeppe Hein (another regular fixture on the fair circuit) and the warm acrylic works from Cornelia Baltes, which sit visually somewhere between painting and digital imagery. The prints of Jakob Kolding contrast with these simply formed pieces, taking a more-is-more approach, forming scenes and landscapes from swathes of fabric, enlarged animals and plant life.
Art Basel runs until 18 June. artbasel.com