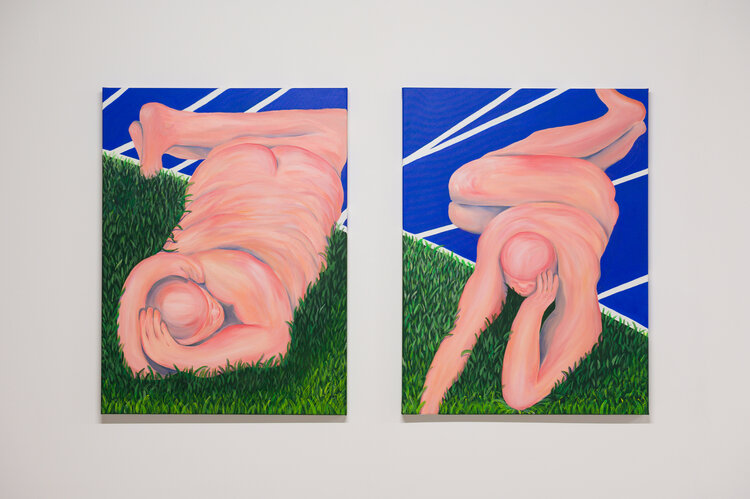 Bodies twist, contort and burst forth in the paintings of Woosun Choi. The introspection of self portraiture and the ever-shifting perceptions of the self come into focus in the South Korean artist's work, in which she explores the blurred boundary between internalised feelings and outward expression. Choi recently completed a residency with Elephant, which gives artists the opportunity to experiment with a huge range of materials supplied by Winsor & Newton, Lefranc Bourgeois and Liquitex.
During her time on the residency she created a series of new works based on the quintessentially English surroundings of her adopted home of Nottingham. Cultural transitions and loneliness within a foreign space are explored throughout her work, often through fictional characters and alter-egos who appear and reappear in her careful crops of half-undressed figures. Blending the politics of selfhood and national identity with the deeply personal interior life of the individual, she paints towards a new, reimagined reality shaped by the whims and fluctuations of emotion. In her work there is the intensity of anger, fleeting bursts of joy and the listless grey of melancholy.
What have you been working on during your Elephant Lab residency?
I focused on painting with oil and also experimented with making installations.
How did you develop the idea for this body of work?
I am very interested in interior and exterior, by which I mean my emotions (interior) and the situation around me (exterior). During the residency, I looked back at my own cultural transition through my work. I found some interesting moments from my daily life, such as people playing tennis in the UK. Tennis for me is a culturally alien sport, and I found myself drawn to exploring it as an analogy to express my foreignness in this country. These immediate and personal changes around me are the greatest influence on my work.
"Blending the politics of selfhood and national identity with the interior life of the individual, she paints towards a reimagined reality"
I also tried to develop this idea in connection with my associated emotions, especially melancholy, as representative of my cultural shift. I've always used lumps, and almost fat figurines, in my paintings. This physical obesity is my way of expressing my feelings. I used these unusually fat figurines in a sport setting to provide a witty, yet fulfilling, disregard to the idea of keeping fit and winning.
Which art materials have you particularly enjoyed working with?
All the materials I received were of very good quality and I enjoyed them a lot! But the material that surprised me the most was the excellent quality of Windsor & Newton and Liquitex. I had a very happy time enjoying the various colours.
If you had no financial constraints, what other materials would you love to try out?
I want to try various papers and canvas. I'd love to explore beyond the rectangular format of the canvas and draw on canvases of various sizes and shapes. Also, I am interested in using spray paint these days, so it would be an interesting experiment if I received these in various colours.
Who are some of the artists who have inspired you?
The artist who has influenced me the most is Francis Bacon. He best represents this world as art, in reference to both the general and abstract form of human life, "the tragedy of existence." He expressed the perception of profound existence, which is difficult to shape easily because it is extremely personal and inward-looking, but he always embodied the emotions he had in a very intense and tragic way in his paintings.
The image of anger, fear, and excitement behind the objects he explored was expressed in a confusing form, but his paintings, which still appear beautifully, influence my practice a lot. His paintings, with their intense colours and grotesque beauty, always come to me anew. They make me continue to explore my essence through my practice.
"I met some very inspiring artists, alumni from the Elephant programme. There's a wonderful sense of community and a feeling of inclusion"
If you could choose any city around the world to do a residency in, where would it be?
I want to explore South Asian countries. I live in the same Asian region but I want to experience different parts culturally. I wonder how the intimacy or heterogeneity created by similar but completely different cultures will be reflected in my practice.
How has your experience on this residency influenced your wider practice?
I was fortunate enough to meet some very inspiring artists, alumni from the Elephant residency programme. I found a lot of support from them, as well as valuable criticism, something I think was extremely important to me at this stage in my career.
There's a wonderful sense of community and a feeling of inclusion when I speak to them. It was an opportunity to think about my practice in a new direction through conversations with them. I can now see my work from various angles and have a wider perspective.
Louise Benson is Elephant's deputy editor