As one of the most challenging years in living memory nears its end, we explore the uses and pitfalls of hope. Is it good to remain positive even in the face of a dire situation, or can this stop us from fully processing events? In our newly released autumn 2020 issue, we speak with numerous artists about their experiences of optimism, utopia and euphoria, and delve into the mindset that is required simply to create in the first place.
Dystopian times often call for escape, whether into the mind, the studio or the nightclub. In Artmix, artists Lina Iris Viktor (whose artwork Fourth features on the cover; read more about this complex image in her interview with Holly Black), Tai Shani, Haroon Mirza, Sam Gilliam, Seana Gavin and Mike Perry share their experiences of euphoria, and the impact this has had on their work. They tell personal tales of studio epiphanies, drug taking, and moments spent in nature.
"To be an artist, to create in times and moments of adversity, is, I believe, to be optimistic"
We also meet four artists and one collective who explore optimism and pessimism directly within their practices, often blurring the line between the two. Barbara Walker focuses on those who are displaced and erased from the mainstream, taking a personal approach through pencil portraits and voice recordings; she retains an enduringly optimistic attitude, something she says is key to making art. Conversely, Ad Minoliti creates bright, sumptuous utopias but sees little hope for the future of humankind as it currently stands.
Mark Titchner speaks about his series of posters that appeared around London at the beginning of lockdown, bearing the phrase "Please Believe These Days Will Pass", and shares how he employs the language of politics, advertising and self-help. Tammy Nguyen talks about her quest for the "all-American smile" and her investigations into the symbology of Vietnamese immigrant resolve. Collaborative art group Keiken examines how technology shapes identity and consciousness, and considers how social-media tools can (contrary to popular belief) evoke empathy.
In Encounters, Louise Benson meets Duggie Fields, whose radical way of seeing propelled him into the art world in Swinging Sixties London. Meanwhile, Tavares Strachan speaks to Isis Davis-Marks about his ongoing fascination with science, and the "luscious" appeal it has for him. Phyllida Barlow discusses taking up space with Elizabeth Fullerton, both as a female art student in the 1960s, and with her monumental, exhilarating sculptures. María Berrío speaks with Holly Black before and during this year's pandemic, commenting on the role of art in troubling times, and sharing her own style of world building. And Erwin Wurm tells Charlotte Jansen about the freedom that art creates, for "different behaviour, attitudes and ideas about the world".
"Dystopian times often call for escape, whether into the mind, the studio or the nightclub"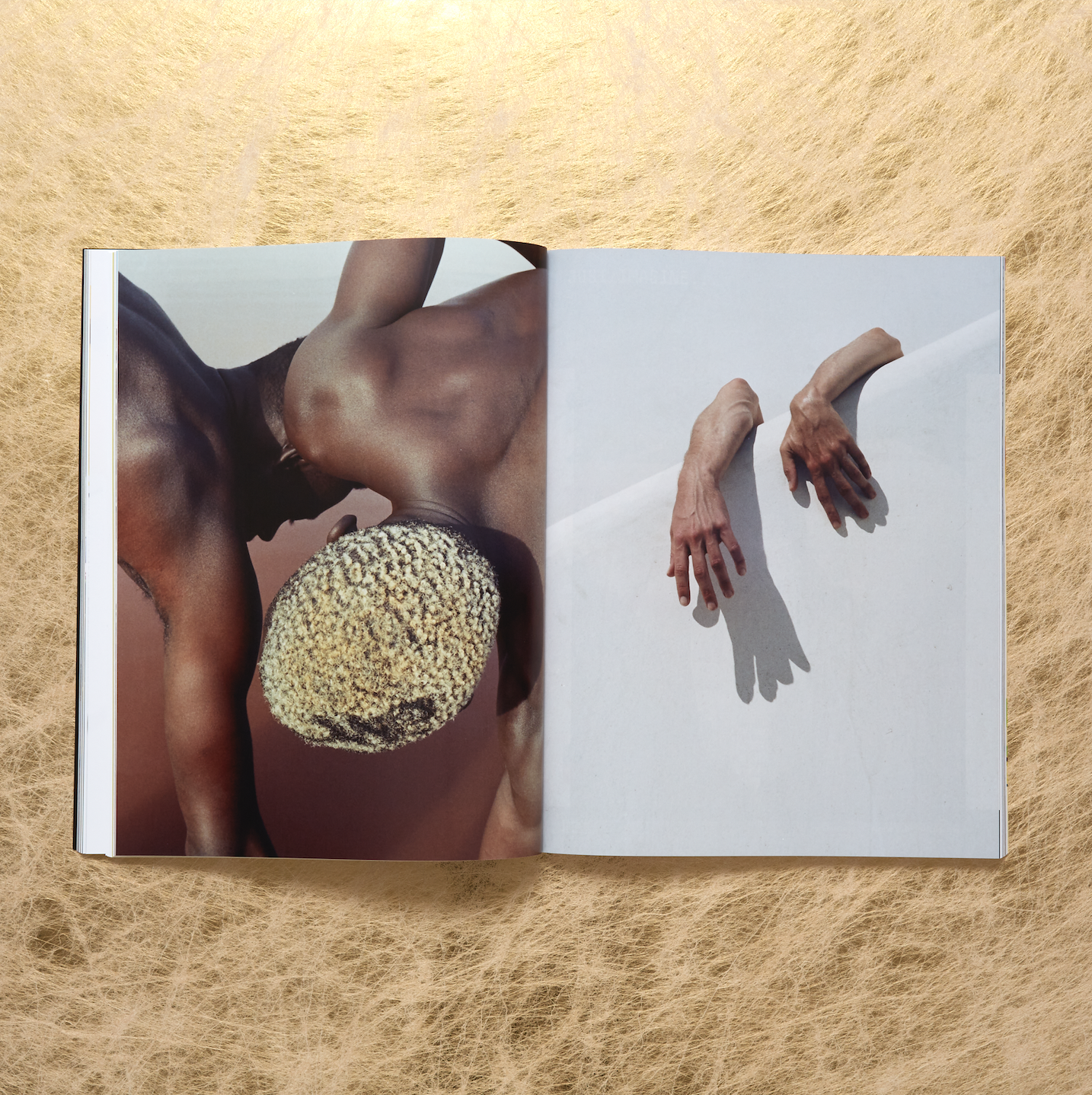 We also feature the work of Denisse Ariana Pérez and Derek Fordjour in our Paper Galleries. Pèrez creates sublime images, featuring bodies tumbling and floating through natural landscapes, full of water, abundant plants, fruits and farm animals. Peace reigns in these photographs, which are bathed in gentle light. Fordjour's works are full of energy, featuring sports players and figures in motion, beating drums, folding nimbly into backbends, and posing in tableaux. He has previously associated his "worn" finishes with the cycle of clothing passed through his family in the US, and eventually to Ghana, where his parents emigrated from.
It could be argued that all creative acts require the belief that things can get better. If not, what's the point? As Barbara Walker says, "To be an artist, to create in times and moments of adversity, is, I believe, to be optimistic."