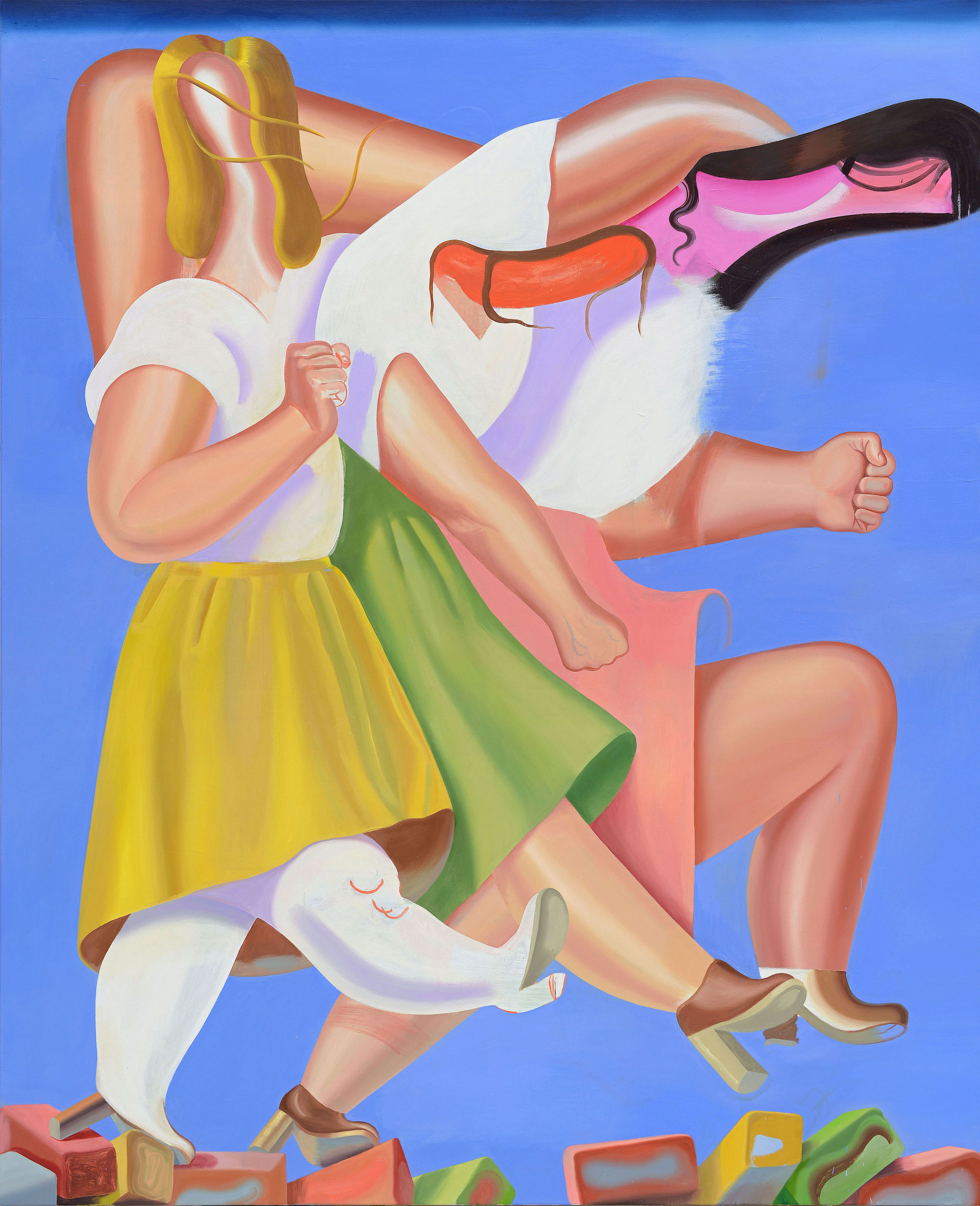 The women who populate Kristina Schuldt's paintings are up to no good. Dressed in pleated miniskirts and high-heeled shoes, they lounge and tussle with one another, occasionally puffing on a cigarette or scrolling endlessly on a smartphone. Their highly polished limbs, like glossy tubes, are reminiscent of machinery, twisting and bending to perform their feminine roles. These are not dutiful housewives however, but ladies who confront society on their own terms.
Based in Leipzig, Germany, Schuldt represents a new wave of painting from a city famed for the work of such painters as Neo Rauch and Arno Rink, with nods to Fernand Léger and Flemish painting along the way. Informed by everything from the nightmarish end of surrealism to the optimism of modernism, she builds a powerfully female world that breaks down the boundary between the internal and external experience, binding mind and body together in strange and surprising ways.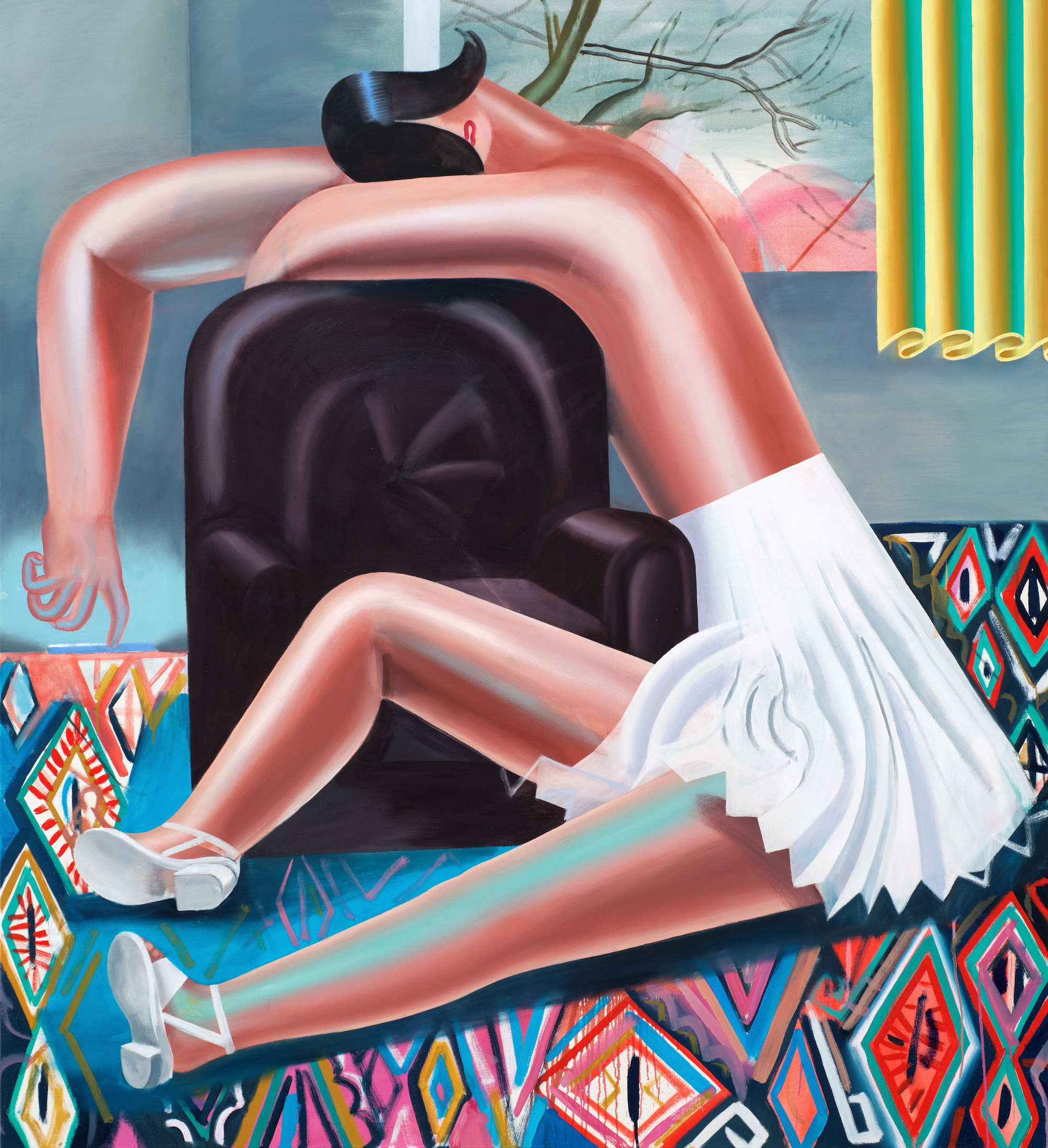 Your paintings of the female body are frequently surreal, distorting the figure with strange and uncanny results. Why do you break down and transform the body in this way?
You know the moments when your body feels like a working machine, and then sometimes you feel as limp as a rubber boat? I always make formal experiments to really feel a situation. Often, while painting, I am in a crisis and it feels like I'm at a dead-end, because what you want to paint brings no justice in the matter. There is something more that you have to find out. It is always a good idea to turn the painting upside down and then try to paint, for example, a tree without painting a tree. I break down the body and put everything back together again.
It's a long process of overlaying until I have the feeling it works—I am looking for a multi-perspective that generates movement. Also, the parts that are covered up by the last layers have an influence—I am trying to create a lifetime extension. Another thing is, because the figures in my paintings are often committing actions of extraordinary measures, they cannot control their extremities. They find themselves in a tunnel vision, which I try to express by combining the inner and the outer.
Left: Brainstorm, 2014. Right: Entgleisung, 2017
"I think the century of women has already begun; women have to work very hard and have to be better than men"
Surrealism has historically been viewed as a male dominated sphere. What is your relationship to this legacy, and who are some of the artists that have influenced your work?
I have to say, this is a thing that's not really important for me—these paradigms. I mean, even driving a car used to be a male-dominated sphere. This is a social problem that still goes unsolved today. But I think the century of women has already begun; women have to work very hard and have to be better than men. Apart from this, everyone must understand that it is a life decision to make art. You have to leave everything behind and just do it.
Some of the artists, who influenced my work? I have so many favourites… I love Piero della Francesca: the figures, in front of and behind each other, the perspective, the pleats of the clothes. Then, Fernand Léger: his compositions. Tamara de Lempicka was a role model for me as teenager and I love her paintings. Also important was Tracey Emin, with her coolness and courage. Last year I intensively watched the work of Ferdinand Georg Waldmüller, an Austrian painter from the nineteenth century, and Ludwig Richter, a German painter. But what I love the most is Flemish painting: for example, David Teniers the Younger; the genre paintings, the peasant scenes.
Left: Run, 2018. Right: Verwünschung, 2017
The women in your paintings have a very distinctive physique, with large legs and delicate feet, often clad in high-heeled shoes. What informs this appearance, and how important are the clothes that you depict in your work?
The women in my paintings want to be present. I want them to expand in space and to look really heavy. They want to cause trouble, they offend, they rub against their environment; they trample through the world, sometimes unreasonably… Parts of the body, like the legs and arms, are energy pathways, filled with so much power that they almost explode. They became too big for their britches. Clothing has an importance in my work, and often the choice is influenced by new fashion collections. I am interested by the role in which a woman is propagated, which goes hand-in-hand with developments in society.
There are some hints, in which time the image plays; but, for instance, when it is a pleated skirt, it's more about order and disorder. When I think about the shoes, for me they symbolize the degree of realism of their owners. The higher the heel, the farther away from the ground the owner is, meaning they have less grip; and if the heels become too high, there's a rising danger of falling forward.
There is a clear digital influence in some of your work, from pixels to loading symbols. How do you balance your experiences of the online realm and the more traditional offline realm of painting in your practice?
Of course, many artists are dealing with the Internet thing. I am interested in how all this changes society. The fact that everything is working faster and faster, the pictures are spinning. The mobile telephone is no longer an everyday object—it has become a body part. Everything that is not physical is outsourced to the phone. It has become our memory. In painting I use the mobile phone as a symbol for a mirror or a window. It is a gateway between two worlds. And it is fairytale in a way: online everything you can possibly see is available. At the same time, it's like walking through fog and meeting people who wear masks. It's creepy and it changes people's minds.
On the other hand, painting, which really takes place offline in my studio, affects me like an anchor. With the whole stream of information, the studio is like a sieve in which different impressions are filtered out so I can work with them. The studio stands for safety and something permanent. Making art is about recombining things, and I have the feeling that very old themes rise to the surface when it comes to the online realm as a second world.
"The women in my paintings want to be present. They want to cause trouble, they offend"
Left: Pfuscherin, 2015. Right: Portal, 2015
You live and work in Leipzig. How has the Leipzig School of painting informed your work, and how does the city continue to shape what you do?
Leipzig, for me seems like a big apartment with Saxonian Brueghel-esque figures living in there. It is somehow this cosy city, yet sometimes strange. Leipzig is part of the people who reside there; they talk about their city all the time. In a way they take it very personally. And people from abroad, who planned to stay for a few months, in the end decide to stay forever. I came here in 2002, when the artists of the New Leipzig School had just finished their studies. Painting in Leipzig is not easy, not translucent… I would say, it is solid.
What I learned while studying here is that the context and the form go together. Also, the characteristic style of painting can be adapted to the content. And all the rules of composition, it's really fun to break them. For my work, living in Leipzig means not being in a flow. There are always reasons to offend and that keeps everything alive.
All images courtesy Galerie EIGEN + ART Leipzig/Berlin. Photos by Uwe Walter, Berlin