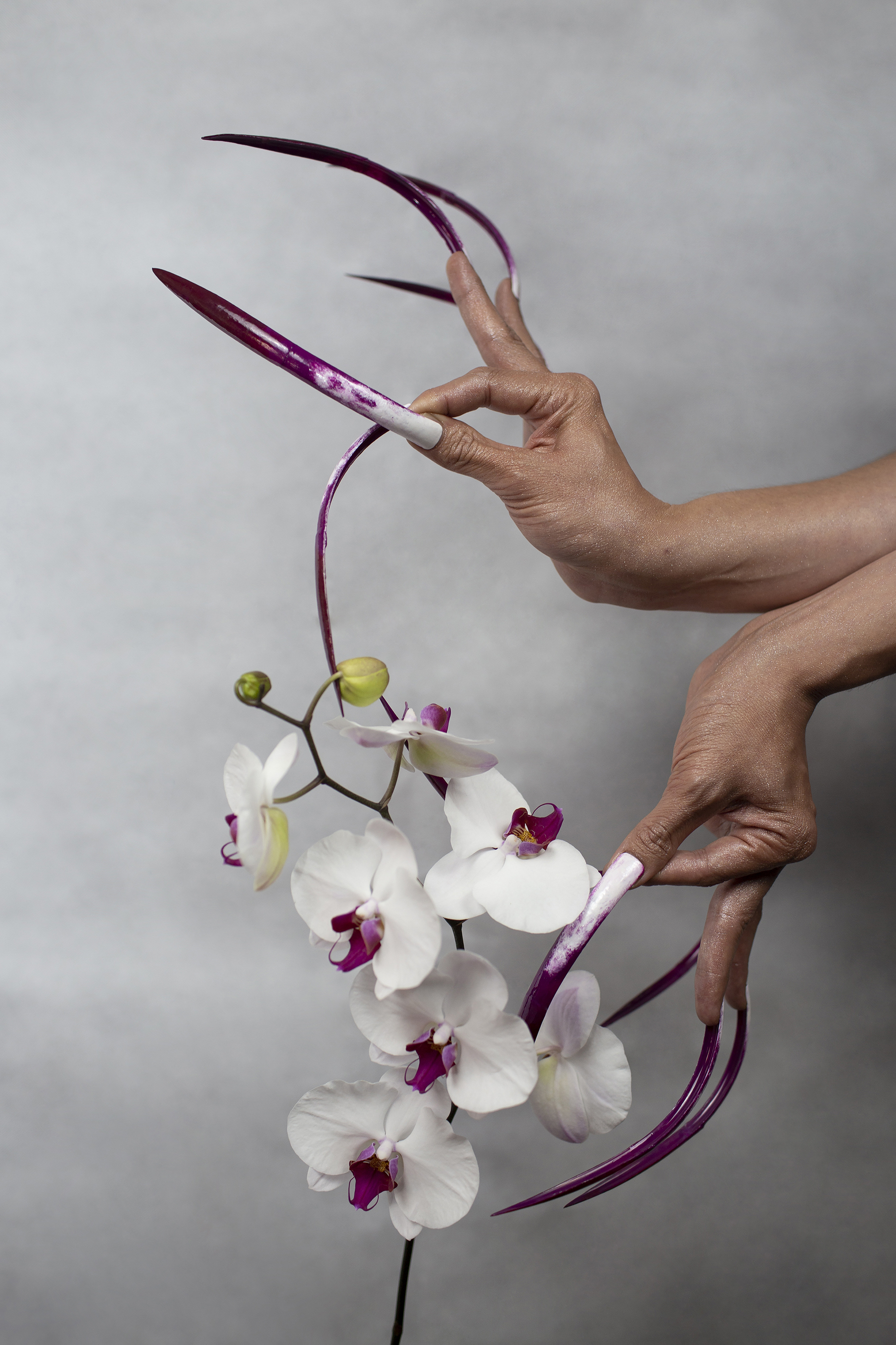 Type "nail art" into your search bar, and your screen will be filled with an onslaught of imagery depicting intricate manicures in every imaginable shape, shade and style. As someone who has been steadfastly committed to inch-long acrylics for close to a decade, it has been amazing to see the phenomenon explode in recent years. While most salons used to be restricted to two types of extensions and by a demand for a tasteful oval in nude or red, the choice is now endless, with ever-lengthening talons in an array of shapes and finishes now the relative norm. Personally, I have enjoyed neon shellac, Swarovski crystals, tiny painted cocktail glasses, heat-sensitive varnish and even designed my own foil transfers in a computerized booth in Tokyo.
Nathan Beard, Floral Extension 1, 2, 3
While most would agree that slicking some paint on the tips of your fingers is not exactly akin to high art (although there are plenty of grand master copies that might beg to differ), the cultural significance of the practice is too easily disregarded as frivolous or insignificant. Like much of the beauty business, which is of course dominated by women, these forms are often dismissed or overlooked when they are actually culturally significant in myriad ways, including traditions that were born long before the advent of the modern-day salon.
"It is worth noting that the act of 'getting your nails done' is, by its very nature, a social event"
One such example is the brass nail extensions worn by Thai dancers in traditional performances. Nathan Beard has taken this form as the foundation of a wider interrogation of his dual heritage, looking at ritual performance and the elongation of the body through these adornments, and connecting them with outlandish contemporary embellishments typically used on acrylic nails. In his recent exhibition at Cool Change Contemporary, his photographs were accompanied by uncanny sculptural hands, whose impossibly long nails appear both absurd and mildly terrifying.
Frances Goodman, Writhing Resplendent, 2018-9
There is a strange physicality to synthetic extensions, which are glued to the tips of the natural nail, cut and then completed with a layer of powdered plastic. Away from the hand, they look like bizarre scales or tiles, and it is exactly this likeness that Frances Goodman has harnessed in her reptilian sculptures. The brightly coloured, knotted forms are created by building vast nets of individual nails that come to resemble a glistening, slithering mass. According to the artist they represent the complex feminine archetype: "alluring, repellent, sexual and abject."
Similar allusions can be found in the work of Julie Curtiss, whose surreal paintings often include spindly claws and thick, rope-like tendrils that once again walk the line between seductive and disgusting. The owners of her deftly styled fingers are largely anonymous, with obscured or featureless faces. She considers them to be manifestations of her own anxieties, as well as pointing to the human struggle to tame our wild nature by braiding hair and filing nails.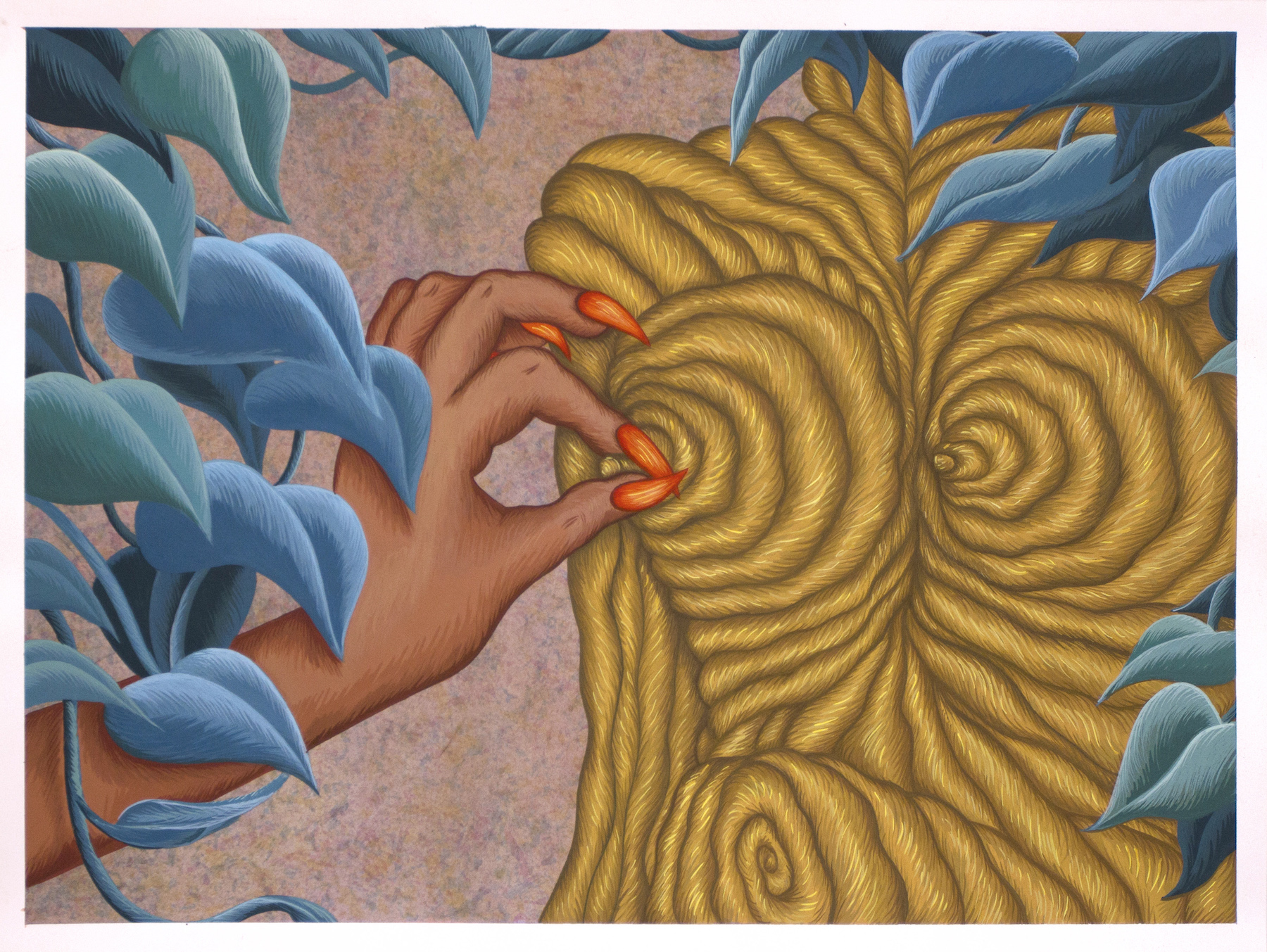 While Curtiss considers this restrictive and somewhat isolating inner struggle, it is worth noting that the act of "getting your nails done" is, by its very nature, a social event. Visiting a salon is often like entering a private community, where secrets are divulged and advice is imparted. There's also a vulnerability at play (photographer Juno Calypso has likened visiting the salon to being virtually dead) as you give your hands over to another person, effectively immobilizing yourself.
"Rows of polish bottles line the walls, towels are stacked, and the icy blue light of UV machines radiate outwards"
Caroline Walker's luscious paintings shine a light on various salon spaces and their atmospheres. Although in most instances the actual act of painting and shaping is barely visible, the aesthetic symbolism of the beauty sphere is instantly recognizable. Rows of polish bottles line the walls, towels are stacked, and the icy blue light of UV machines (which set your colour) radiate outwards. Each painting tells a different story, despite the similarities in setting. Some speak to the comforting experience of being surrounded by likeminded women, as people grin and hold a relaxed composure. Others allude to the vast distance and underlying tensions between workers and their customers.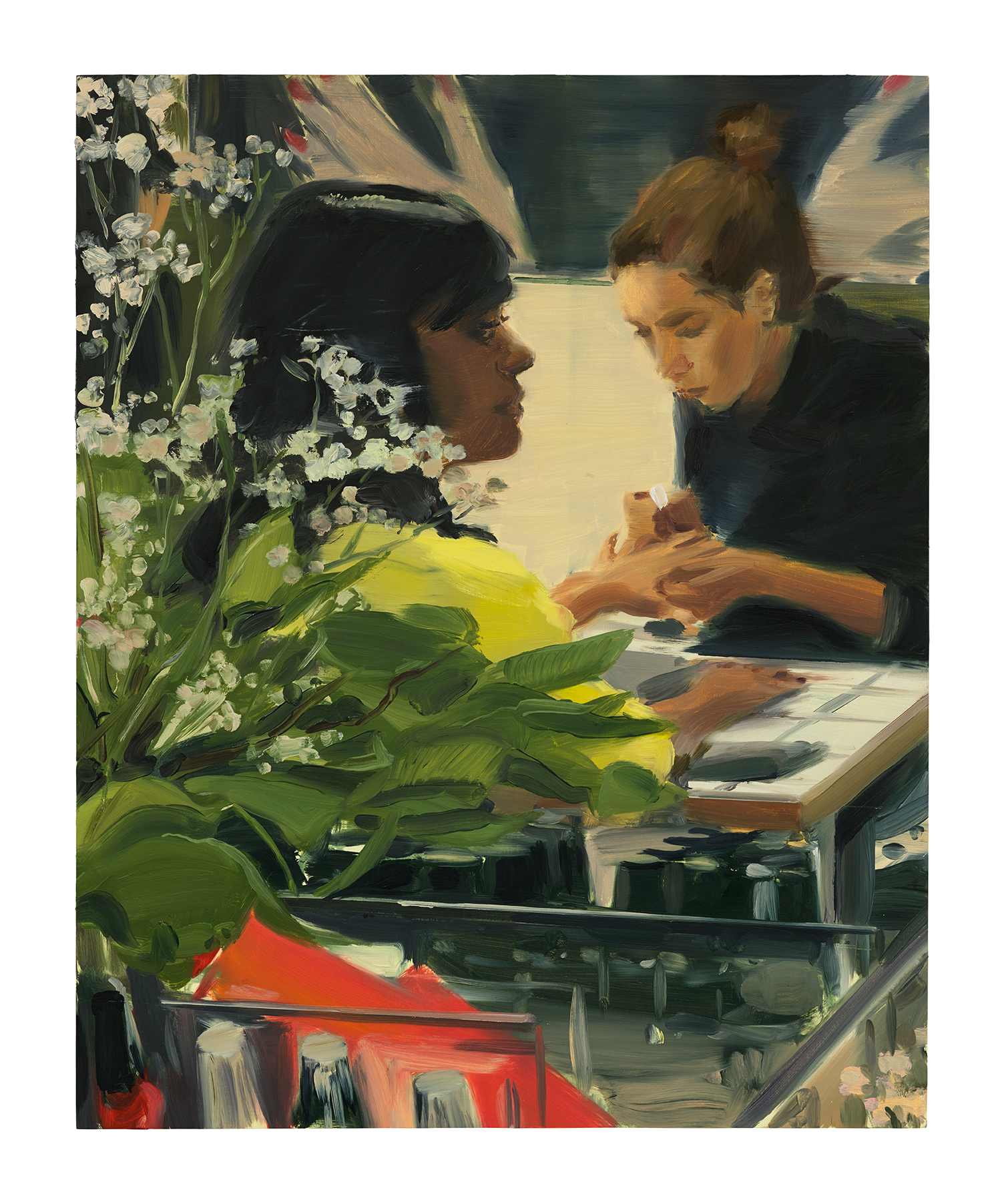 Walker's series tap into a larger concern—in her work she often investigates the invisible facets of female labour, from hotel cleaning staff to hairdressers and office administrators. However, while many of these subjects show women alone, her nail bar paintings predominantly show people in dialogue with each other. There is a moment of connection, however fleeting or fickle it might seem, and that is something many of us continue to crave.