Performance art, by the very nature of the medium, is an ephemeral, unpredictable live moment. Of course, such pieces are carefully constructed, choreographed, costumed and so on; but ultimately they exist in a live dynamic that can be as dependent on the viewer as the artist. The site, the space, the weather even—not to mention the (dis)engagement, level of intoxication, and mood of a crowd—can shift the dynamics of a piece entirely.
But with today's art audiences becoming increasingly aware of and fascinated by the medium, we're seeing performance increasingly not just being archived for the artists' personal portfolios, but presented in gallery spaces just as we'd more typically see "traditional" work like photography or sculpture. This relatively recent surge in appreciation of the discipline is well documented, and it's most colossal manifestation (in London at least) was the opening of the Tate's Tanks space in 2012, which provides a permanent gallery for live art, performances and film and video work.
Block Universe, a festival devoted to performance art, had its first outing in 2009, and co-curator Katharina Worf has seen that in the years since there's been "so much hunger for an experience for the audience rather than going into a gallery space to see wall-based work," she tells me. "Most of the artists we work with are working across very different media—video, sound, dance. It's a great opportunity to give them a platform and a testbed for ideas, especially when it comes to emerging artists."
Isabella Maidment, curator of contemporary British art at Tate, agrees that such disciplines "elicit a very different sort of behaviour and engagement with art. I think that's important, and it's allowed us to think about new shared rituals of gathering, and thinking beyond the very formal optic centric [way of seeing art]." She adds: "In these days when we're so disconnected, but also hyper connected, to experience ephemeral moments of gathering together feels quite important. It has a lot to do with the times we're living in, which is why artists are turning to performance more and more."
"To experience ephemeral moments of gathering together feels quite important"
While that all makes sense with the eagerness to see such pieces live, it leaves the tricky dilemma of how to present such pieces when the "live" part is absent. Traditionally, this would be through documentation like photography and video, or displays of artefacts used in live actions. But how far are those really getting to the essence of the piece itself, or of the artist and their practice?
Indeed, many more canonical performance artists, including Marina Abramovic, Chris Burden and Robert Wilson, have stated that their work was made without the intention of being performed after its initial staging. One of the most renowned artists for his stance on the matter, Tino Sehgal, refuses to let his performance be documented at all. His pieces, which he describes as "constructed situations", are inherently un-presentable after the event.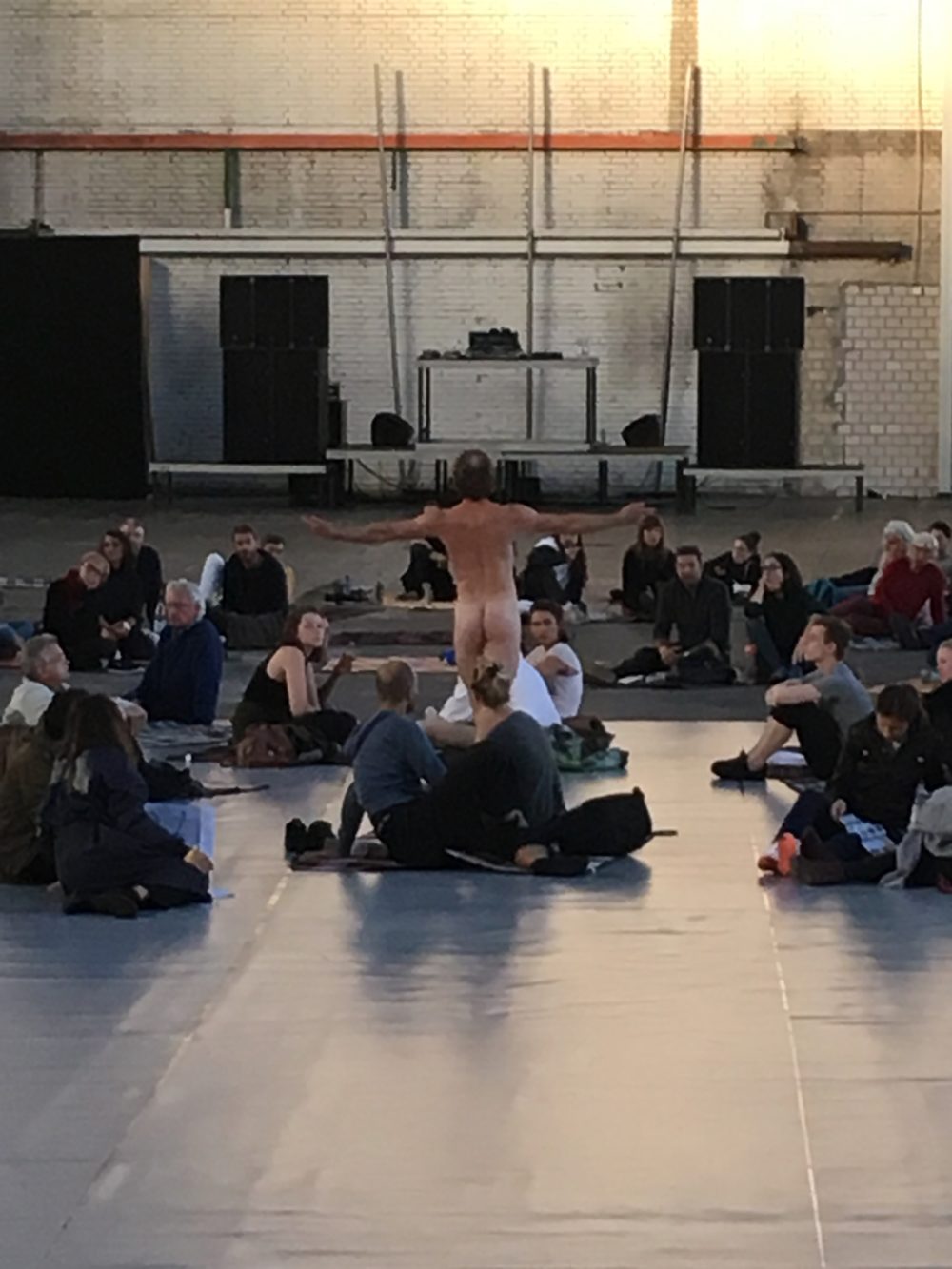 As such, it's interesting that we're seeing an increasing number of shows that present the work of performance artists not only through showing the work live, but with comprehensive surrounding exhibitions that present their works as static forms. This can take the form of documentation of their process, lengthy wall texts, props, costumes and more traditional photographic and video records.
RoseLee Goldberg, founder of the only existing performance biennial, Performa, has argued that we shouldn't see performance art as a single, discrete entry, but rather one that's a thread in a broader tapestry that spans other forms of art making. This ties in neatly with the expansive Joan Jonas show at Tate Modern last year. This show was the first time that the Tate Modern explored a single artist's work throughout the exhibition galleries, film screenings in the Starr Cinema and installations in the Tanks—"an experimental exhibition for an experimental artist," as the institution put it. Jonas also performed live alongside other artists as part of the BMW Tate Live Exhibition: Ten Days Six Nights programme.
With the Joan Jonas show, the Tate was adamant that the large-scale installations on view and the props, texts and other artefacts were animated with live performances that were free to attend each day. "The installations and key historical works made it essentially a mini retrospective of her live works, but we also made sure there were daytime performances each day so that you might just drop in, and not know anything about her but have that opportunity to see them," Maidment explains. 
"While we wanted to experiment with live performance, gallery hours are mostly ten until six, which are a stricture," she adds. The restrictive nature of daytime hours was something that the institution pushed against with Sex, the ambitious presentation of work by Anne Imhof in March this year. Sex comprised an exhibition by day and a series of five live works staged at night, combining music, painting and choreographed gestures. The static installation element (free to view—the evening performances sold out fast) was formed around paintings, sculptures and architectural interventions. 
"I don't think you can ever replicate the live experience, but what you can do is think imaginatively about the record"
While the ticketing scramble meant that while fewer had the chance to see Sex at night, Tate hoped that the accompanying installation offered a chance for viewers to get a sense of Imhof's studio practice—thanks in part down to a carefully selected soundtrack by Billy Bultheel. "Capacity is always going to be a challenge," says Maidment.
"I don't think you can ever replicate the live experience—that's the nature of the medium—but what you can do is think imaginatively about the record, the document, whether that's photo or video, and really think about your audiences." As such, Tate live streamed the event through Facebook and Instagram, as well as in partnership with Nowness. "It's a really democratic way of sharing worldwide," says Maidment. "It's about how can we view things beyond the museum and think about digital as well as physical space—that's interesting to think about alongside the record or document. The global reach was extraordinary."
Left: Frances Chiaverini, Josh Johnson, Sacha Eusebe in Anne Imhof, Sex, 2019 Tate Modern, London. Right: Eliza Douglas in Anne Imhof, Sex, 2019. Tate Modern, London. Photos by Nadine Fraczkowski. Courtesy the artist and Galerie Buchholz, Berlin/Cologne/New York
It certainly is democratic, and there's something refreshing about the art world opening its doors—viewed by many people as perhaps "not for them", or something they "won't understand"—that age-old tension between "high" and "low" culture. Social networking platforms shatter those distinctions. But even viewed online, it's not possible to get a full picture of what it's like to actually be there, in that space, with the lighting and sound and mood as the artist intended. Surely something's missing?
"Sometimes archival things are as interesting as the performances themselves"
That gulf is never going to be resolved. And as such, perhaps it makes sense to view documentation not just as the poor relations of live action but as a separate piece entirely. That's how London gallerist Richard Saltoun approaches it, anyway. His gallery places a special emphasis on feminist, conceptual and performance artists from the 1960s onwards. The shows he stages often present photographic imagery, text-based pieces and two-dimensional documentation of their performances.
Saltoun says that showing such work is often surprisingly straightforward, despite it being far removed from the live performances that birthed it: "A lot of the time, there isn't much I have to do. How to relay them and show it up on the wall is determined by the artists and the original performances." he says. "Most of them are giving you instructions or indications in how it's all going to hang. A lot of the performance artists were very well choreographed and would turn their performances into the [other] artworks without requiring someone else to do it for them fifty years later."
Gina PANE: Action Psyché Installation view, Richard Saltoun Gallery, May 2019 Photo by Ben Westoby © Richard Saltoun Gallery
Saltoun agrees that (in most cases), when a work by its very nature is an "action" (such as those by Gina Payne, whose work is currently on show at the gallery), it's impossible to replicate—but the key is to present the documentation as an "entry point to the action or performance. It should also act as a standalone material that can be enjoyed and appreciated on its own, not a kind of poor substitute for something that's no longer there.
"Sometimes archival things are as interesting as the performances themselves; not because they stand in for it, but because they offer a different understanding of an artist's way of working that has long since past. It's not a kind of one or the other relationship: they have an autonomous life."