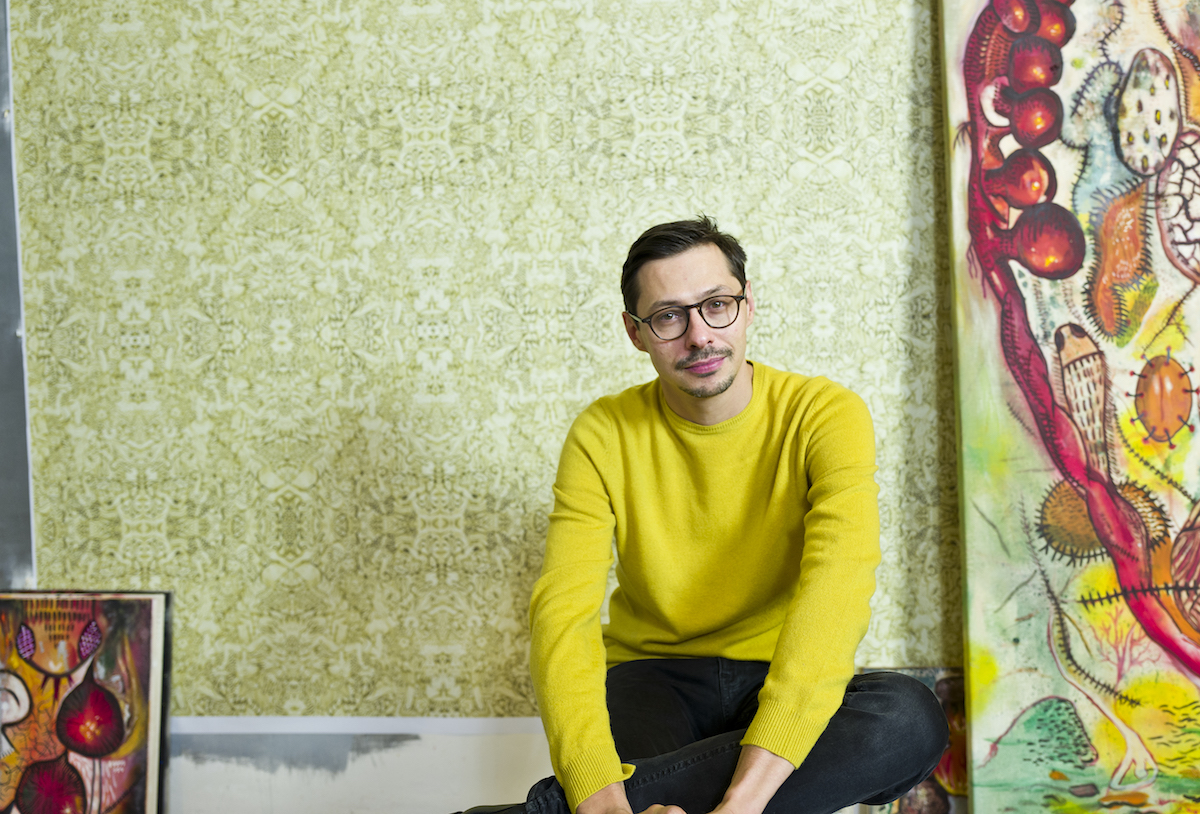 Can you tell me a bit about your upcoming show, Ian Moon, at Hauser & Wirth?
My show is based on material made over the last two years. This period has been a very intense and experimental time of my life. Two years ago I decided to stop painting for a while and move far away from "everything". I was searching for deep catharsis on many levels, and for new material for artistic expression. I decided to take myself away on a personal mission that was to prove a very radical move.
I lived in Hanoi for some time and this became a period of serious transformation, and of spiritual and artistic preparation. For me, every show is like a form of documentary relating to myself and my process which is constantly changing and developing. Some of the works in this exhibition at Hauser & Wirth were made in Hanoi. But the majority of the works were made in the last few months in my studio in Kraków.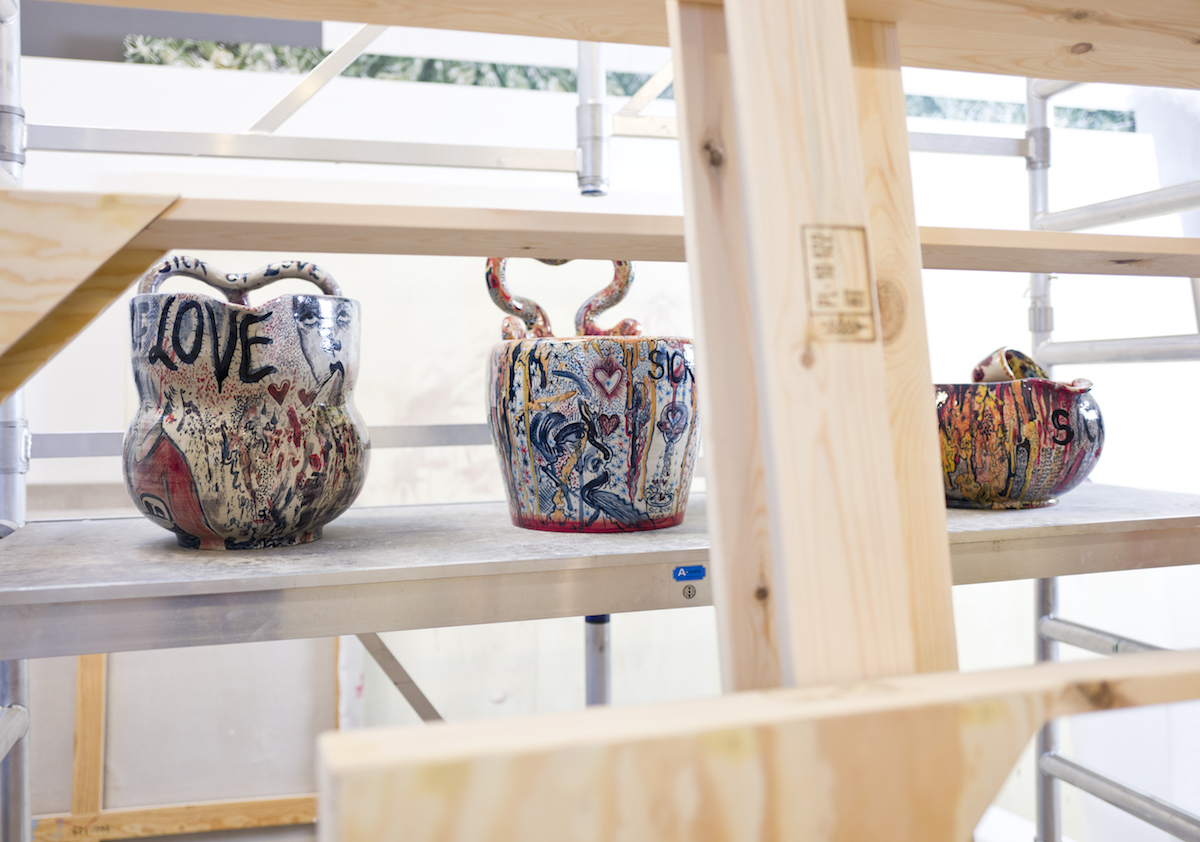 Would you say you're hugely influenced by your surroundings (both immediate, in the studio, and geographical, the city and country you're in)? Did working in Hanoi alter things for you, because of the place?
For me, Hanoi is just a place which is geographically and metaphorically far away from Poland and from my "previous life".  In Hanoi I restarted everything from zero. I was a person with no name, a no-name artist. I made a solo show there but almost no one saw it and nobody really cared about it. That was a really strong and beautiful experience, but part of a longer story. In the end, I decided to burn most of my works in the village where they were created. One of the burned objects was a paper sculpture that represented Jakub Julian Ziolkowski's figure in male and female form dressed like local Gods.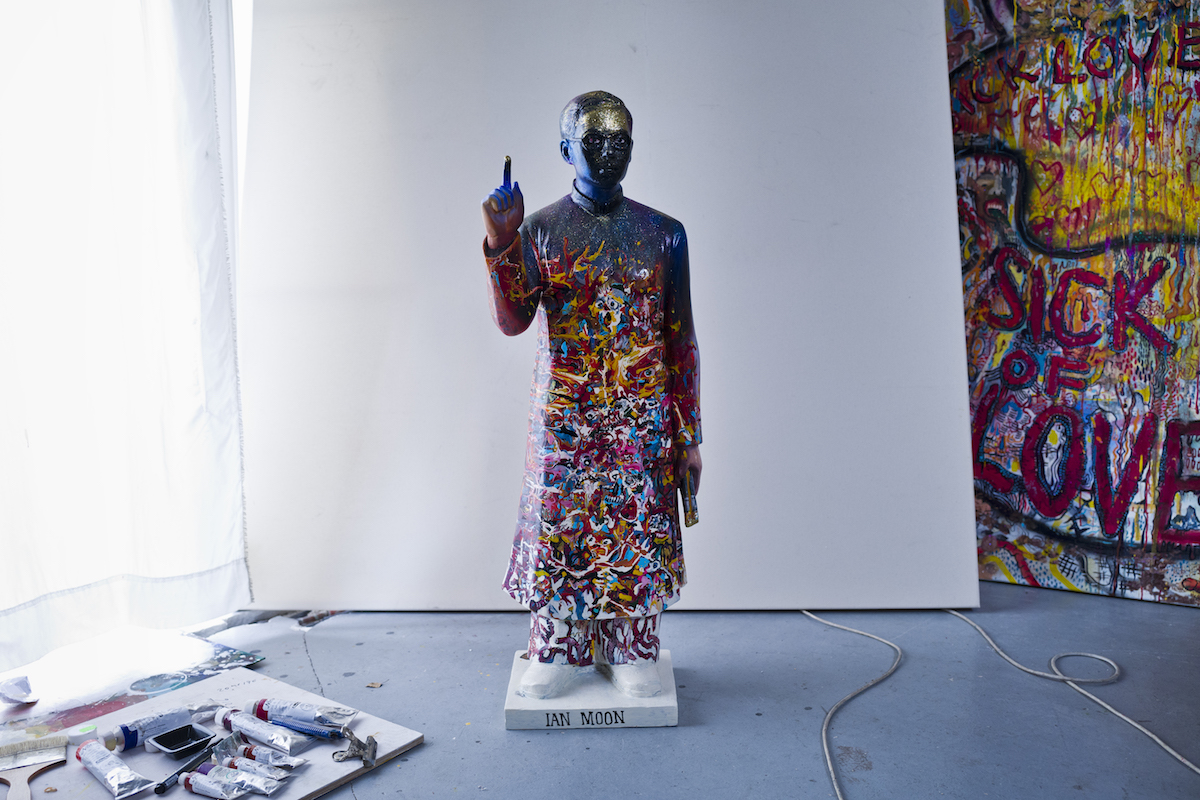 How would you describe the art scene in Kraków?
The art scene is very small and as a result there is no pressure and no "Game of Thrones" aspect. It is a peaceful atmosphere for living and working. In my opinion, everything is great, but it's also just a very, very small community.
Your works are often described in emotional terms—this body of work, in particular, is described as coming from your own "acute emotional experiences". How much of your current emotional state goes into the pieces as you work, and to what extent are they reflective?
For me, creation is a state of mind. I don't really think too much when I'm inside the process, it's my natural state. It has always been this way, my whole life. Creation is a shelter and a kingdom which, for me, functions like a bunker—as strong as concrete and as fragile as butterfly's wings.
"The works are a direct reflection of myself and I don't feel the need to analyze them overtly."
I take myself to the studio and let myself speak. Things flow from the inside to the outside, and from the outside to the inside. I have my own Pandora's box inside and things just go into this box. When I start the creative process, the box opens. I think my works are much more emotional than people have perceived in the past. The works are a direct reflection of myself and I don't feel the need to analyze them overtly because this is the only possible approach I can take. I would describe the working process as total synchronization.
Many of the latest works present the idea of metamorphosis, a burning ego, and a deep change or shift. Some of the works in the exhibition are about love or being literally "sick of love", about wounds and healing, about rebirth from within spiritual flames and transformations. More generally they are about human nature, the various emotions we experience and an underlying fear of the emptiness of existence.
Are you looking to connect on an emotional level with your viewers also? To draw an emotional response from them?
I try to connect but I use my own logic and this might be not very clear for the audience. I would say that I have two or three close friends that I talk to about my work and, very honestly, this is enough for me.
I try to give to the viewer some idea about the world that we are all living in, I propose a perspective of thinking, I offer a form of personal mirror but, of course, people see what they want to see.
When talking about your work, the writer Bartłomiej Dobroczyński mentions that "every interpretation seems exceedingly easy to challenge and reject". Do you hope to evade interpretation?
I think it is inevitable that there is an open space for interpretation. Perhaps this links to the bigger questions that, for many of us, remain unanswered. We don't know where we are, who we are or why we exist.
My works often don't have titles to avoid being too prescriptive about meaning. I try to leave them more open-ended for individual interpretation and there is no one "correct" reading.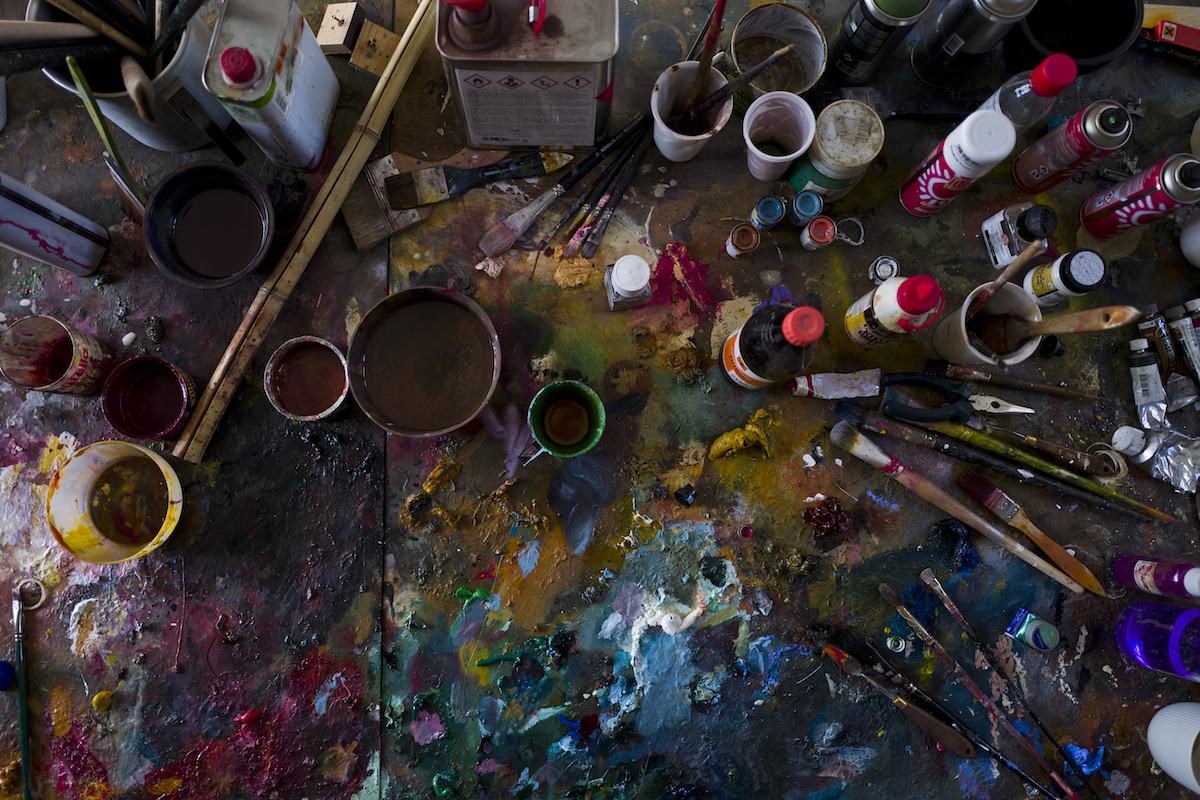 Where has the persona of Ian Moon come from?
From out there and from the inside. I'm Ian Moon, and I am a Citizen of The Galaxy. Ian Moon means "I'M", I exist, I am here but where is "here"? It is also a reference to "Jan", the name of my great-grandfather who, during the war, gave his life for his son Julian from whom I take my middle name.
After many experiences, and after lots of thinking and processing, I finally came to realize that something crucial changed for me. Ian Moon represents the idea of transience, that nothing is forever: a name, face, label, career, life, everything is part of a process.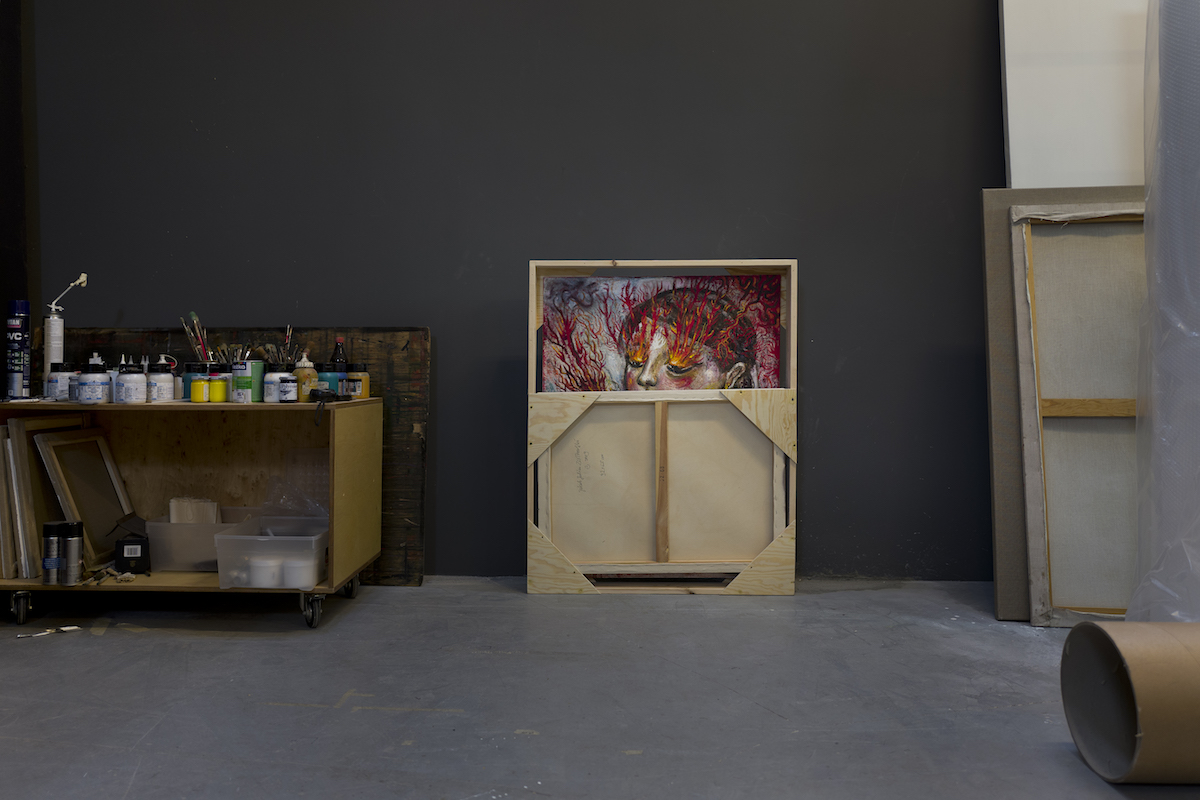 There is a transgressive aspect to the work, but you also reference redemption and rebirth. Do you always look for this kind balance and cyclical journey within your work or do you find yourself drawn more towards one or other at different points?
The creative process is a great opportunity for self-discovery, for introspection, for self-knowledge and for transgression. For me, art presents the possibility of a great journey inside a dimension where concealed aspects float on the surface. It's like a portal to many levels of inner self.
"I try to prepare myself for an experience similar to self-inflicted brain surgery."
I think I have always explored the process of creation, and have always looked for new territory that I can explore. I liken this to a dream where one set of doors opens and leads to another set of doors, and another, and another. I don't know my destination at the outset because I have never been there before, but I constantly continue to move so I can keep the balance.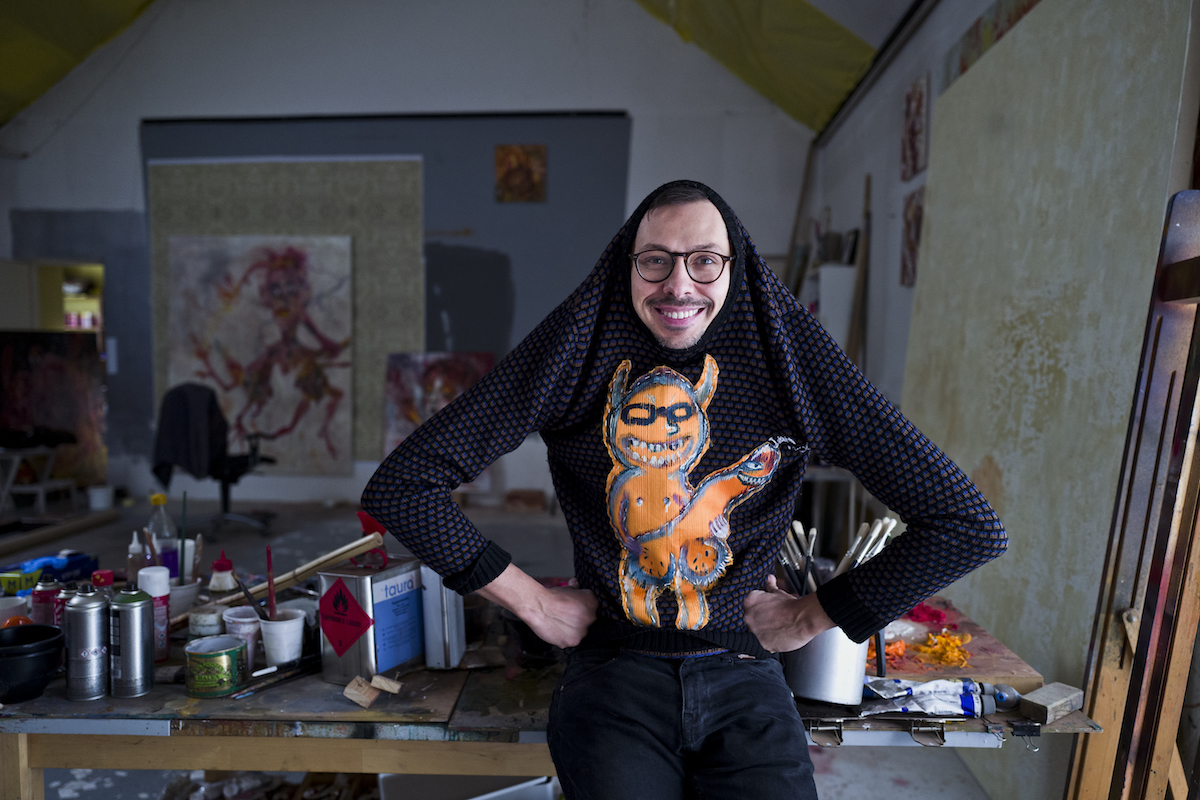 What is your process like within the studio? How do you tend to work within the space?
I just enter my studio, change my clothes, drink coffee, eat some chocolate and let myself feel comfortable and peaceful. Then I try to prepare myself for an experience similar to self-inflicted brain surgery.
My studio is just an access point, I consider it to be a safe space with secret doors. I don't need special external sources of inspiration, I tend to draw on internal sources and always have. When I come to the studio I would describe the process as that of dragging things out from inside.
I have a new working space now which is outside the city in an old house with a big garden. It's very quiet and surrounded by green, away from people and from all distractions. I work there together with my fiancé, the amazing artist Hyon Gyon.
Photography © Michał Korta
Ian Moon
From 1 December until 10 February at Hauser & Wirth London
VISIT WEBSITE