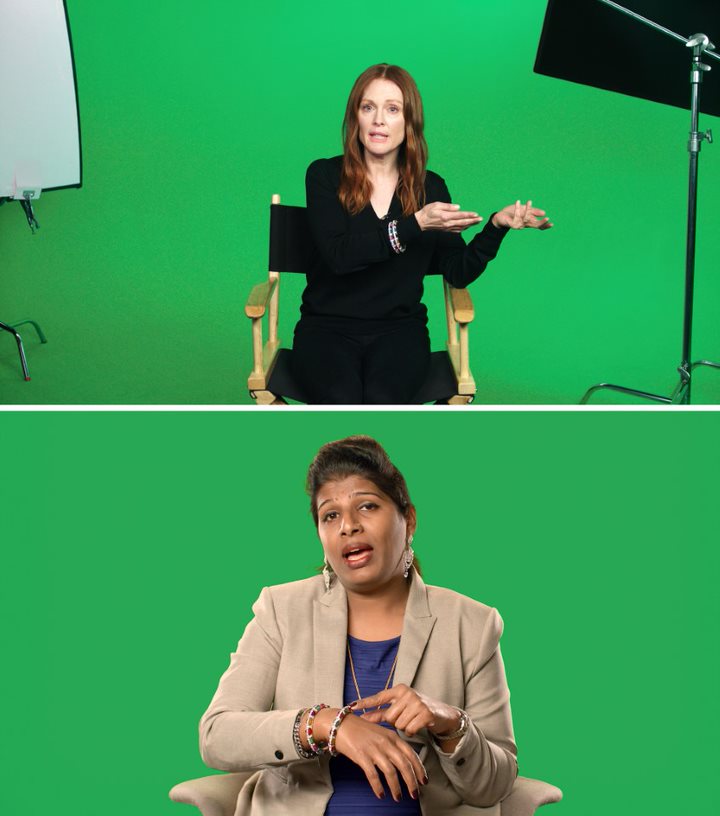 Candice Breitz is energetic and unflinching in her politically driven practice, bringing vital topics such as sex work, birth and the plight of refugees to the very centre of the contemporary art world. She is incredibly savvy in her approach—whether employing a-listers such as Julianne Moore and Alec Baldwin to draw the audience into the devastating narratives of real-life refugees (Love Story, 2016) or profiling the members of SWEAT, a powerful group of activists and sex workers, dressed in prison-orange (TLDR, 2017). The South African artist uses her platform to highlight sidelined individuals, and invites them to speak their own truth.
Chosen by Emily Steer, editor at Elephant 
In the summer of 2016, I was unemployed, heartbroken and felt like nothing would ever be the same again. I went to the Ragnar Kjartansson show at the Barbican and felt nourished by the visual stimulation accompanied by gentle musical auras. The soothing property of the music coupled with the video and image installations reminded me that getting one's own time back is a gift. 
Chosen by Ari Haque, writer focusing on gender, art and cultural identity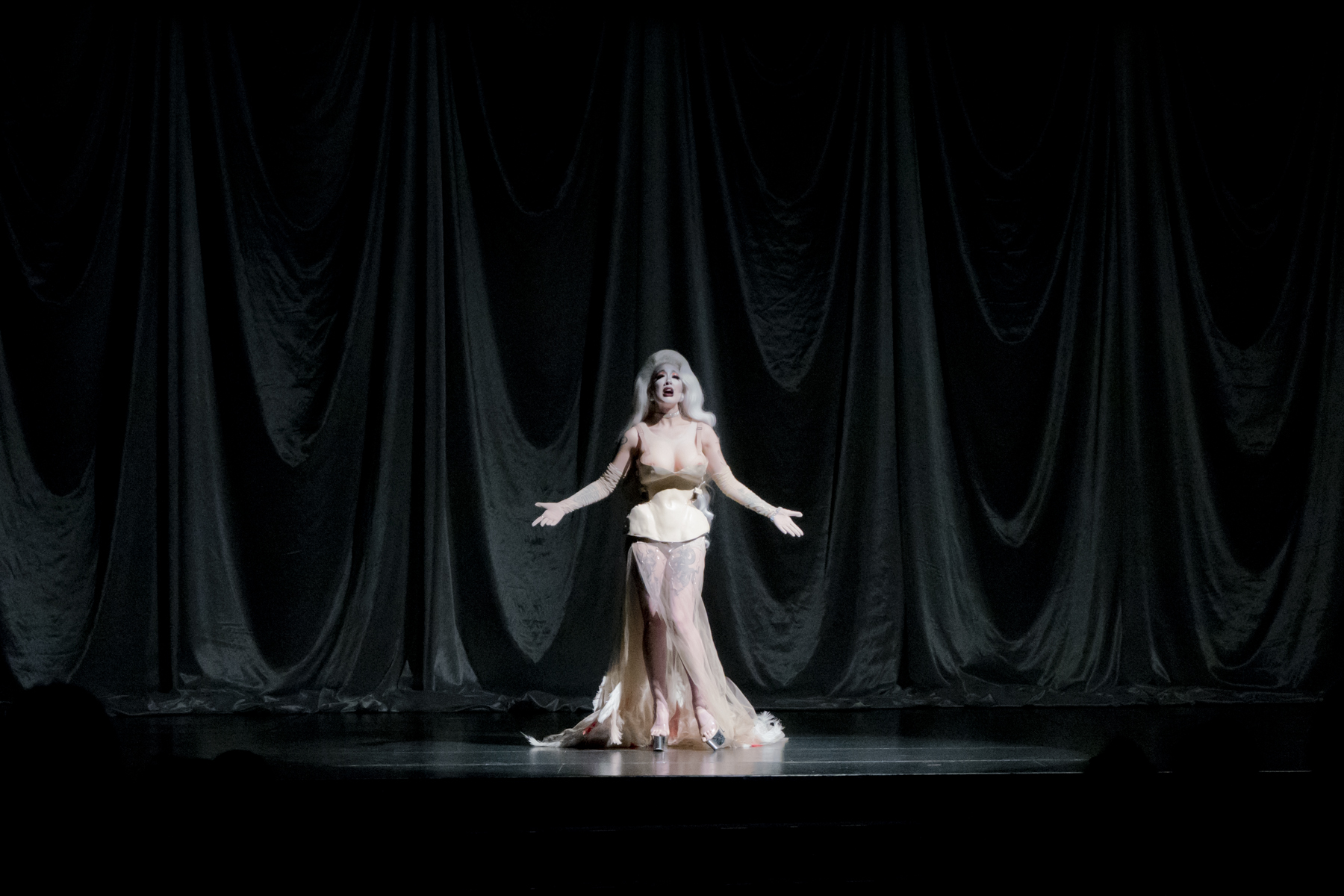 Victoria Sin, A View From Elsewhere, 2018. Performance part of Meetings on Art, 58th Venice Biennale, 2019. Credit Riccardo Banfi. Courtesy Delfina Foundation and Arts Council England
Locking eyes with Victoria Sin is like being hit by a bolt of lightning. The performance artist uses the principles of drag to build an alluring hyper-feminized persona of dramatic proportions: big hair, big boobs, big lashes. But Sin's image is far more than a caricature. They use this carefully crafted image to question issues of gender, femininity, sexuality and language. It feels like their work is right at the forefront of a new way of seeing the world, one that questions how you look, how you speak—even how you breathe.
Chosen by Holly Black, editor at large at Elephant 
Back in 2011, I'm not sure my knowledge of Pipilotti Rist extended beyond a YouTube sighting of I'm Not The Girl Who Misses Much, the artist's 1986 art school video piece. Then Eyeball Massage at the Hayward Gallery changed everything—Rist's notion that traditional gallery viewing should be almost literally turned on its head, by showing works that were only visible when laying down or peering into holes, was somehow brilliantly fitting without ever feeling gimmicky. Long before every single exhibition ever promised "immersive experiences", the show was an incredibly all-encompassing, overwhelmingly beautiful, poignant, strange and hilarious thing. It truly changed how I view art and the way in which it's presented.
Chosen by Emily Gosling, editor at large at Elephant 
The Dutch collective Metahaven—comprised of Vinca Kruk and Daniel van der Velden—meld a kind of critical, science fiction approach to our current world, with the visual language and symbols of graphic design, documentary film making, streetwear and art. Metahaven's approach is tongue-in-cheek and intensely referential—their work, since 2007, is heavily influenced by the web 2.0, post-truth reality and the eerie landscape of the world as we know it, where facts become fiction and vice versa. They're the artists of the decade because their work couldn't have been made without the last ten years, and because (it seems to me) there are few other collectives working across so many mediums and with such a perspective. 
Chosen by Sanjana Varghese, researcher, editor and writer 
My choice is the visionary Carolee Schneemann, who died in March of this year. Although her influential legacy can be traced throughout the late twentieth century and into the present, I discovered her unique practice—which spanned performance, film, painting, publishing, drawing, and much more—within this decade, as a young art history student. Her radical and experimental approach was a revelation, and still is. Schneemann's oeuvre was led by the body, by politics, by desire, by language and poetry: an uncompromising and generous fusion of life and art.
Chosen by Philomena Epps, writer and editor of Orlando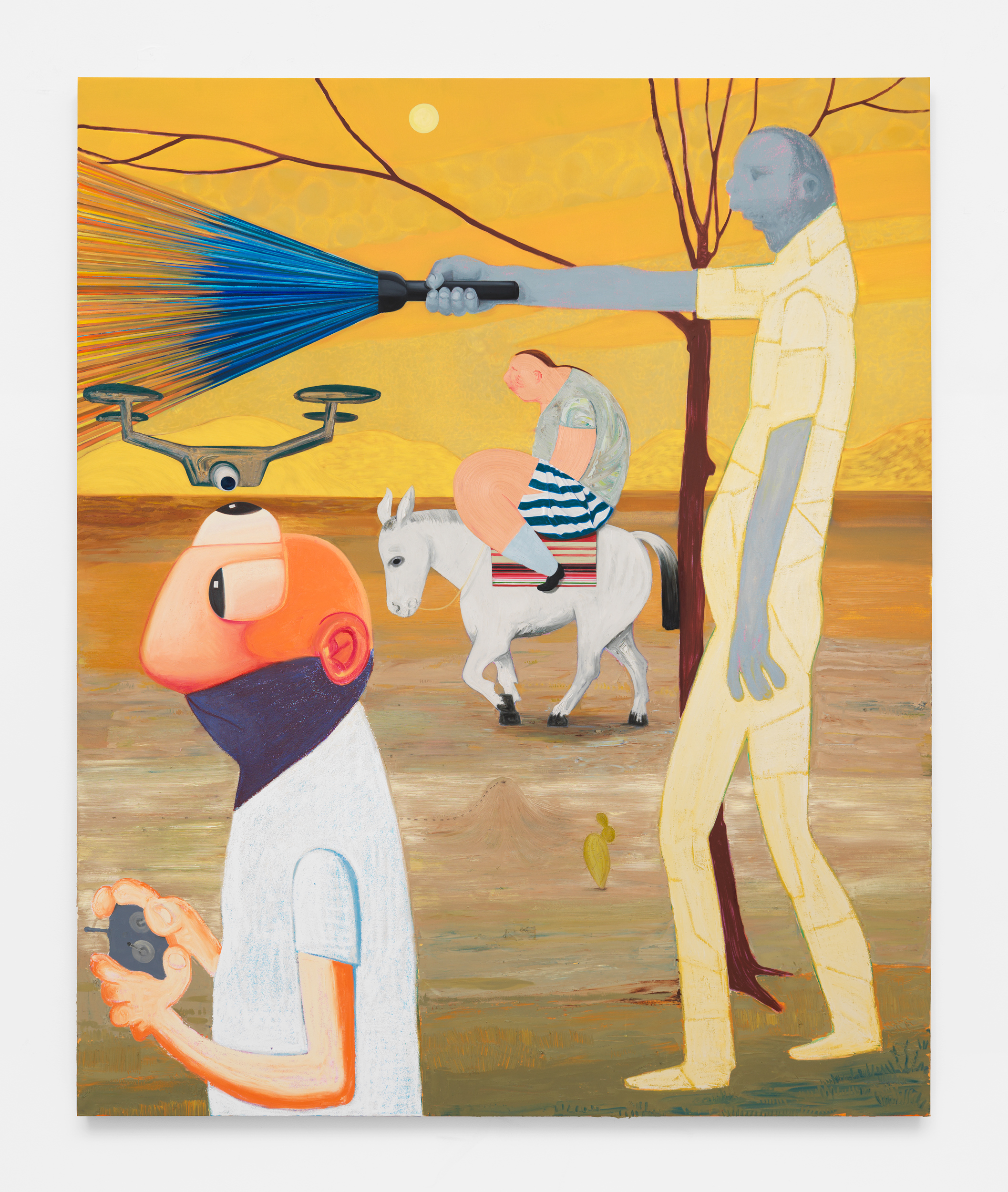 For me, the 2010s marked the canonization of Nicole Eisenman. I see her ubiquity at this present moment—with celebrated inclusions in this year's Venice and Whitney Biennials —as symptomatic of a growing recognition of the dialogic timelessness and arrestingly immediate nature of her work. I had the opportunity to work with Nicole as part of a protest show in 2016, one that was swiftly mounted at the LGBT Centre in New York following the last presidential election. Alongside her creative partner A.L. Steiner (they collaborate under the cheeky moniker Ridykeulous), she created an exploding head which had protest banners sticking out of its orifices and a dart impaled in its skull. To see the artists create something so visceral with such immediacy was revelatory to me. From then on, Eisenman has stayed in the forefront of my mind.
Chosen by Ariella Wolens, writer and curator
The Harlem-born painter/sculptor/writer/performance artist Faith Ringgold fought for many years to get her gloriously vivid work seen on the major scale it deserves; this decade felt like a global breakthrough. Now eighty-nine, Ringgold's intricate "story quilts", her prolific paintings of activism and everyday life, and even her children's books capture the soul of America, and connect with a universal humanity. When I first saw her work in real life, at Tate Modern's Soul of a Nation: Art in the Age Of Black Power group show in 2017, I was captivated by this spirit-soaring force of beauty and righteous fury; her fantastic 2019 solo exhibition at London's Serpentine Gallery was, pointedly in her words: "a survey, not a retrospective". More than ever, the world needs a fierce, eagle-eyed, sharp-witted, warm-hearted heroine like Ringgold.
Chosen by Arwa Haider, music editor at Elephant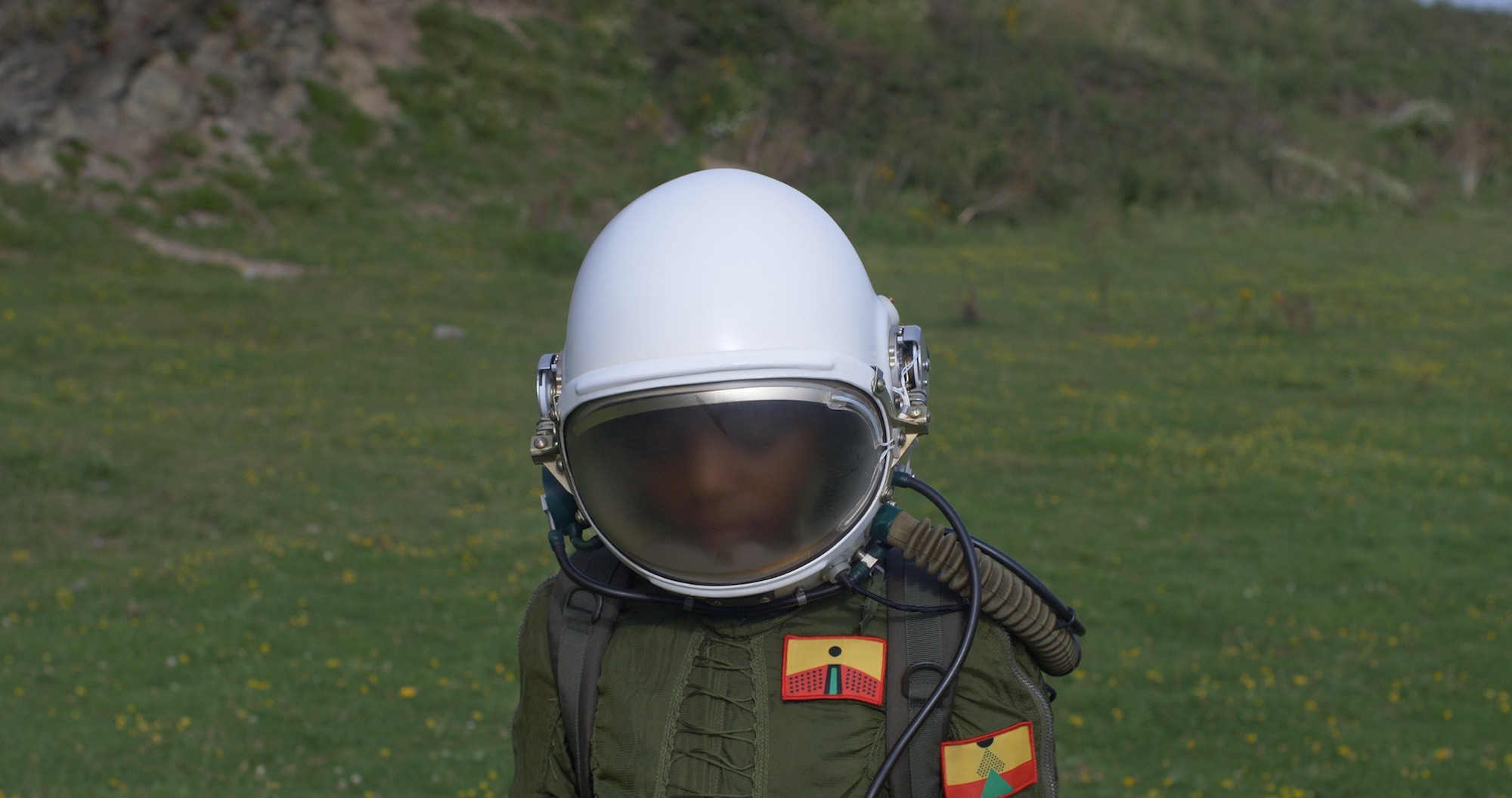 Larry Achiampong, Relic Traveller (film still), 2017. Courtesy the artist
I've been a huge fan of Larry Achiampong and his work since I visited his studio, heavily pregnant, in 2017. We drank tea among piles of sci-fi DVDs and video games and had an honest chat about life, including his family—his son Sinai and his mum feature in some of his work—and how to navigate the art world and its biases. His work has become an integral part of the cityscape in London over the last few years for me, with his Pan African Flag for the Relic Traveller's Alliance flag flying, and most recently his roundel redesign at Westminster for Art on the Underground—small but unmistakable portals to a more positive and united future in what have often been dark and depressing days.
Chosen by Charlotte Jansen, editor at large at Elephant 
Now more than ever we need to think anew about how we live. What gives life meaning? What is a life lived sustainably? Andrea Zittel has made such questions her life's work. From her home at A-Z West in the Joshua Tree desert for the past twenty years, Zittel's ongoing enquiry into what it takes to sustain a life—philosophically, spiritually, ethically, functionally—is a glint of light in a dark and frightening time.
Chosen by Edward Ball, writer and curator at Freelands Foundation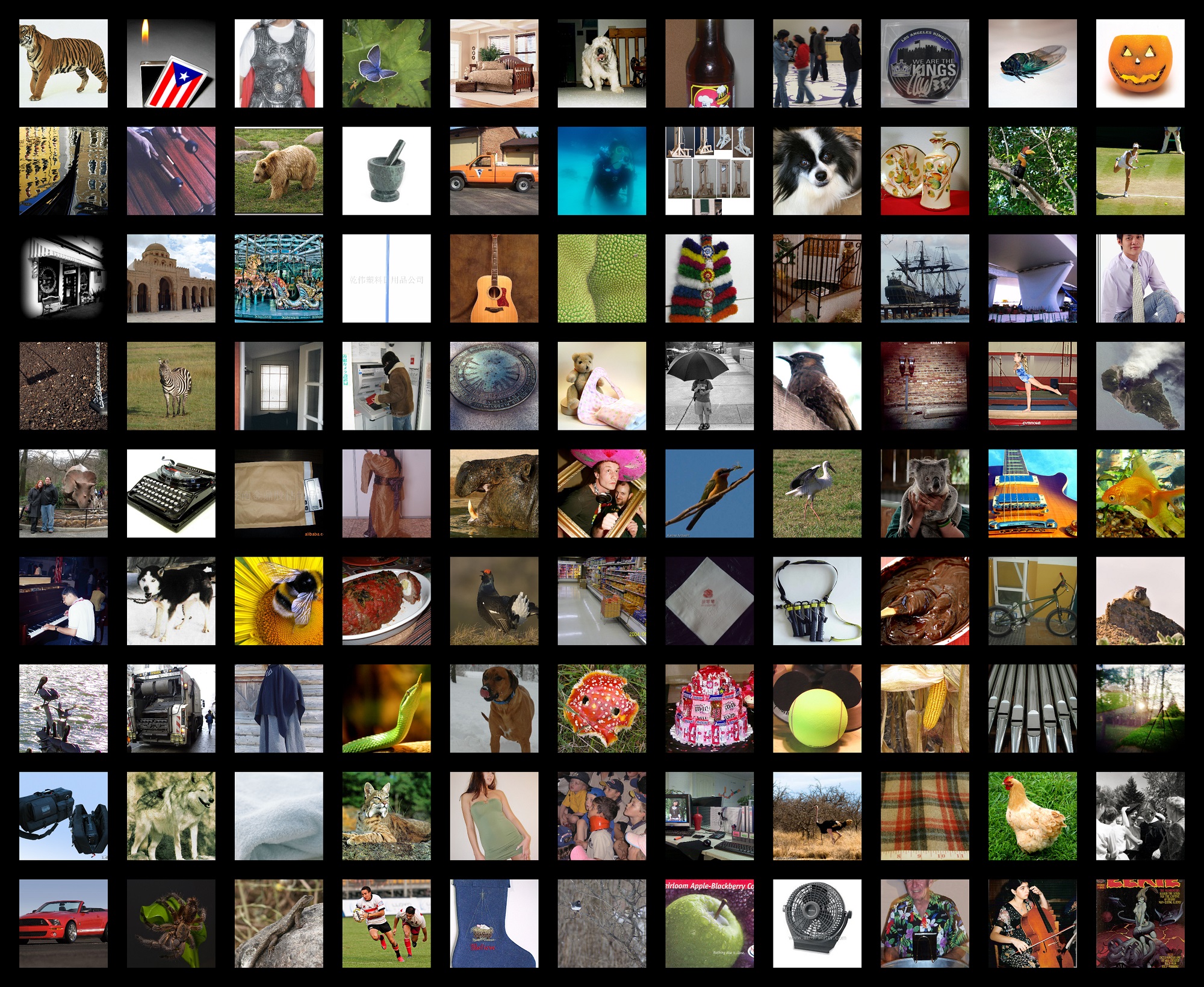 The 2010s have been scarred by invisible forces: data flowing through underwater cables, corporations and governments surveilling their citizens, misinformation farms corrupting and distorting politics. From his telescopic chronicling of classified military bases in 2012 to his recent investigations into the physiognomical implications of data surveillance, the American artist Trevor Paglen has constantly strived to make the invisible visible, and deepen our perception of the world around us. Even his follies—chiefly Orbital Reflector, a satellite sent into orbit via Elon Musk's SpaceX that ended up as space junk, partially due to the 2019 US government shutdown—speak to the relationships between capital and power that stain our time.  
Chosen by Joe Lloyd, writer on art and design 
I would pick Anne Imhof's electrifying performance Faust (2017), which completely took me by surprise in its impact. Along with hundreds of others, I felt compelled to follow around her blank-eyed, uber-cool androgynous cast as they danced, sang, posed and headbanged lugubriously around the German pavilion like modern-day Pied Pipers. I could not tear myself away for two and a half hours. The brutal tenderness and raw intensity of the performance, directed via mobile phones, seemed to speak to the need for solidarity in our digitally alienated, politically and socially divided age. 
Chosen by Elizabeth Fullerton, writer and art critic
Setting himself on fire; learning Beethoven concertos and composing his own symphonies; walking mere yards in front of an icebreaker as it cracks its way through through the Baltic Sea, like some sort of Caspar David Friedrich figure for a dying environment. The Dutch multidisciplinary artist Guido van der Werve has spent this decade making some of the most ambitious and in cases ecologically profound works you may not have seen, and his combination of imagination and endurance has moved me profoundly.
Chosen by Jonathan McAloon, arts writer and book critic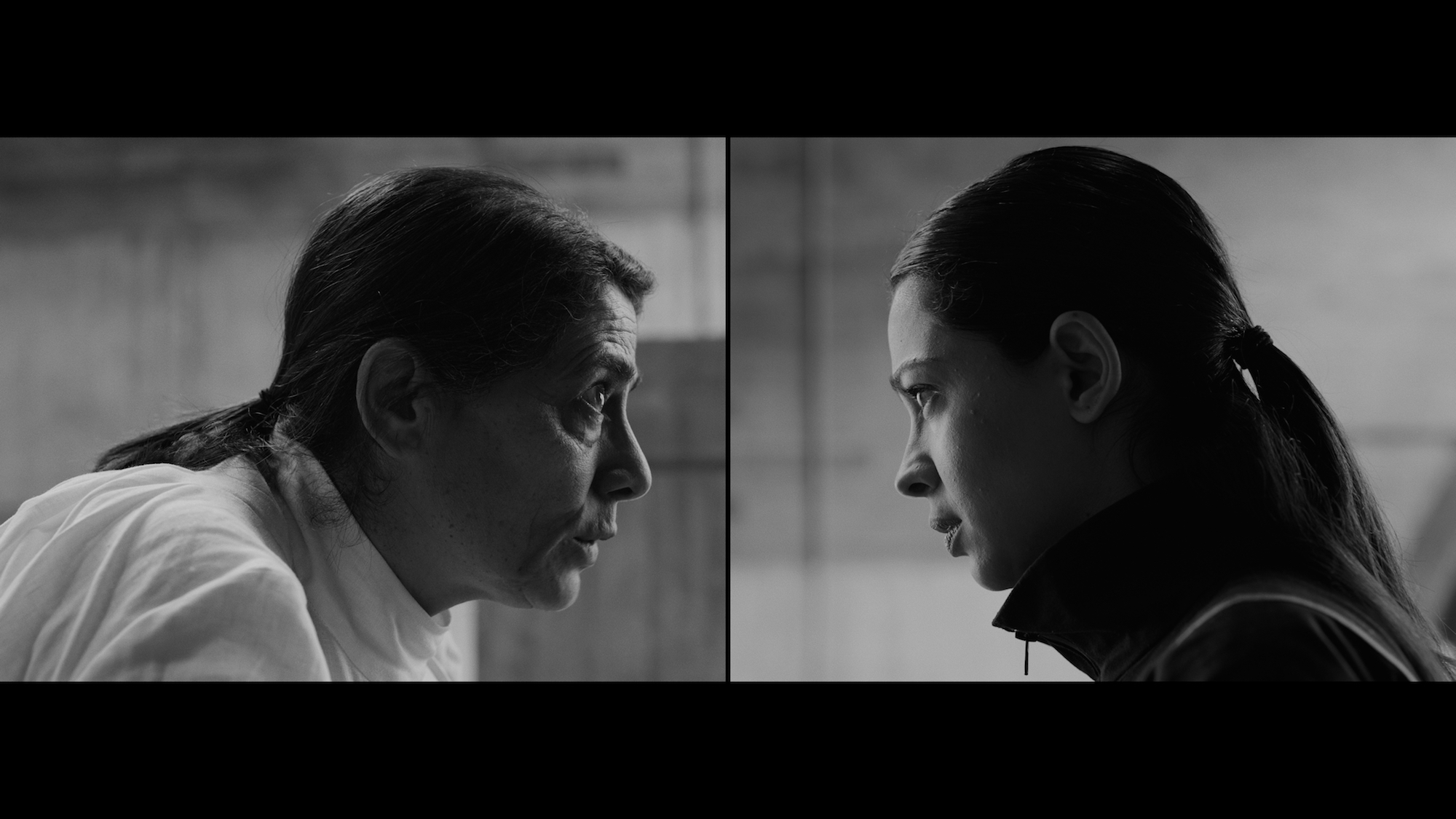 Larissa Sansour, In Vitro, 2019. Courtesy the artist
I would nominate Larissa Sansour, a Palestinian artist who just represented Denmark at the Venice Biennale. Her film, In Vitro, left me absolutely speechless. It was beautifully shot, moving, terrifying and thought-provoking. It was everything great art should be—and this is coming from a non-video-art fan. It looks at the reality of the Palestinian situation, identity and memory through a sci-fi lens, raising serious questions about the future, and looking at the failures and lack of language to discuss current political impasses. 
Chosen by Anna McNay, art writer, editor and curator 
2009: Phyllida Barlow had just retired from teaching to concentrate on her well-regarded but under-the-radar practice. At the time, she delivered a sculpture that I'd bought in a plastic bag, and we walked around some East End London galleries. 2019: she's with Hauser & Wirth, represented Britain at the 2017 Venice Biennale, and has had major shows at Tate Britain, the Royal Academy and all around the world. Quite a decade, and part of a welcome trend whereby the true worth of many older female artists has been recognized.
Chosen by Paul Carey-Kent, writer and curator of upcoming exhibition Ridiculous! at Elephant West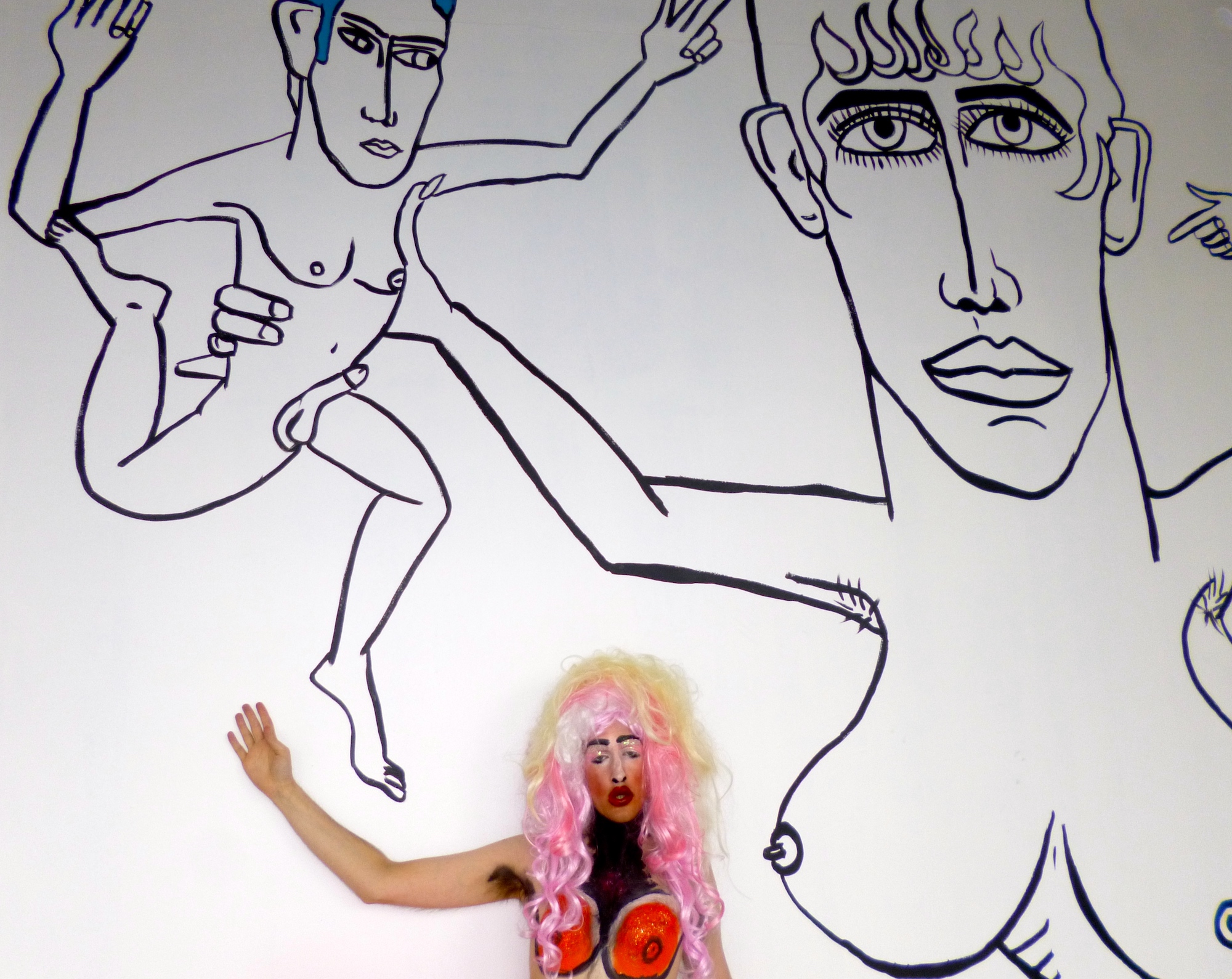 Paul Kindersley's work has been bringing me profound joy and aesthetic pleasure consistently over the last decade. From his chaotic YouTube make-up tutorials to his more recent feature-length film and installations, I'm always grateful to find refuge from our increasingly dystopian reality in the playful abandon of his world. He loves the idea that art means nothing and everything, and I really enjoy the way he brings the high and the low together with such humour; his style manages to speak to our time and yet feel timeless, too. It's been a pleasure to watch his practice evolve, and I can't wait to see what he makes in years to come. 
Chosen by Octavia Bright, writer and co-host of Literary Friction on NTS Radio 
In some ways Deller is an obvious one for a list like this, but an exhibition that I saw six years ago in Manchester, called All That Is Solid Melts Into Air, continues to resonate with me. In it, Deller examined the technologies of Britain's industrial revolution alongside developments in contemporary labour practices; juxtaposing apocalyptic John Martin paintings against photographs of giant Amazon warehouses; comparing the struggle for the right to a weekend with the modern uncertainty of zero-hour contracts. It showed me how exhibition-making can make powerful propositions about social histories and labour, human progress and exploitation, and the agency we have—or not—to alter complex structures.
Chosen by Siobhan Forshaw, writer and curator of community programmes at Whitechapel Gallery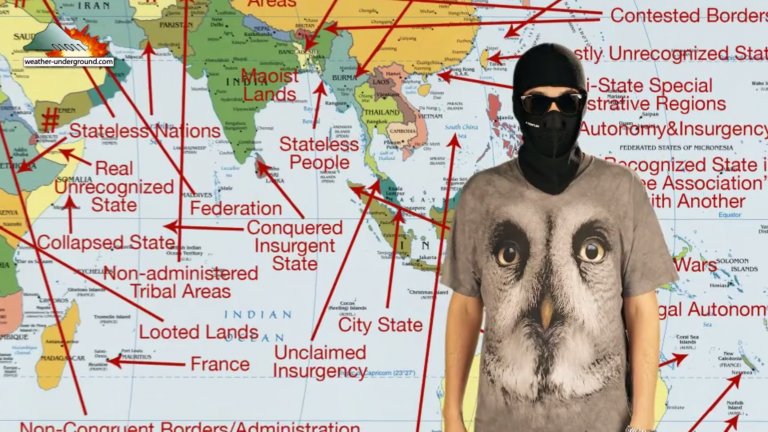 Hito Steyerl isn't an artist afraid to speak her mind. Whether addressing surveillance in the digital age or calling out the Sacklers' role in the opioid crisis, she follows her conscience and encourages us to do the same. Hers is a refreshing (and increasingly necessary) voice of reason amidst the chaos of the modern world, which is not to say that she'll shy away from introducing a sharp sense of humour to proceedings. Prescient, perceptive and, at times, deeply funny, her work cuts to the core of the power structures inherent in our internet age, tackling thorny political issues that have only become more relevant as the decade draws to a close. 
Chosen by Louise Benson, deputy editor at Elephant 
In a decade when art has reflected both the worst excesses and best impulses of society I feel like Kara Walker has set the precedent for unpicking the systems of patriarchy, racism and capitalism apart. Her approach is not just fascinating, informed and historical, but also one that creates incredible art—art that is spectacle; art that is compassionate and considered; art that is personal; art that is swooping in its focus and critique. I think of what she'll bring in the next decade, and the people she'll have influenced. 
Chosen by Hannah Williams, writer and editor