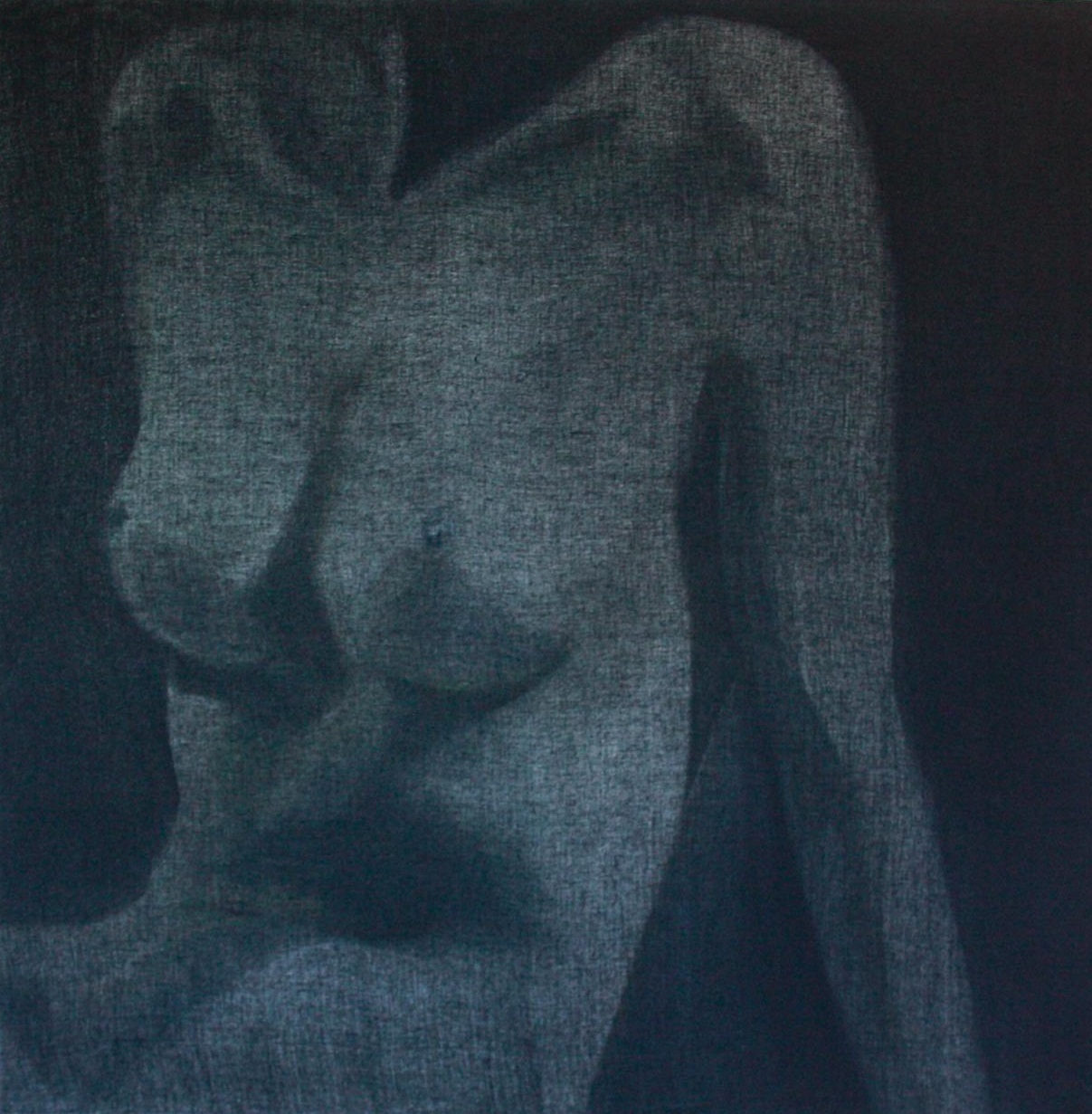 Mahaut Harley Leca
During my residency at The Muse I picked up a paintbrush, which I hadn't done for a while—this is rather ironic because I did a painting degree at Camberwell College of Arts! I decided to use fabric to cover my paintings. I started sewing tights together, light semi-transparent fabrics… anything that gave the notion of femininity while veiling the work. This process of "covering" canvases led me to create what I call "black paintings": monochrome oil paintings of the female form covered with black muslin. I hope for this process to leave the viewer intrigued and unsure of what is hidden behind that fabric.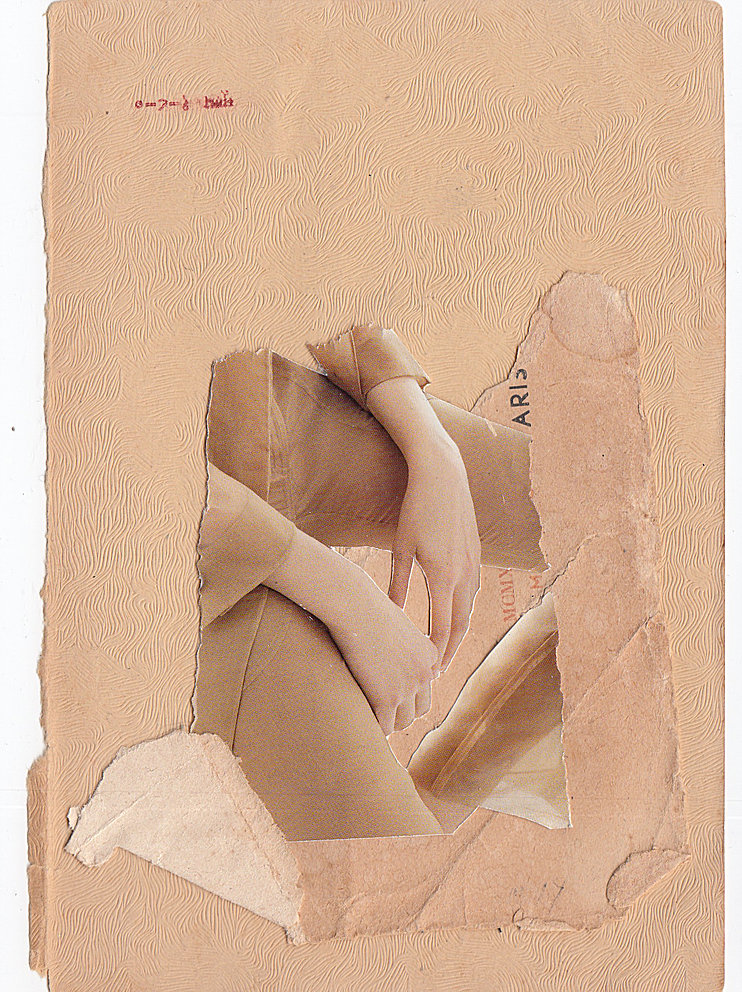 At this very moment I'm experimenting with lighter tones to create white versions covered with white fabric. Aside from these new pieces I keep making small-scale collages, which I find help me to get through artistic block (it happens!) or simply to work between paintings—it can be difficult to stare at the same piece, and collage is my kind of meditation.
"In this neighbourhood there is a strong sense of solidarity and identity. It is so lively, bustling with creative people, always musicians around"
I have a strong connection with the area as I was born on Portobello Road, and came back to live in the area about five years ago. There is a real sense of community here. The Muse for instance is a family, you don't get that everywhere; especially in such a huge city. In this neighbourhood there is a strong sense of solidarity and identity. It is so lively, bustling with creative people, always musicians around. It's even better on market days. If you come to Portobello on the last Saturday of the month, hop on to the West London Gallery Bus Tour; you will learn the unknown history of the neighbourhood by the one and only Portobello Radio.
Nick Cheeseman
During the residency I researched the vessels at the British Museum. I used traditional materials such as clay and wood and combined them with disposable materials such as cardboard and wire to make a series of pots and sculptures that were systematically constructed, deconstructed, reconstructed and restored. I have since extended my fascination with the process of change and the Japanese aesthetic of Wabi Sabi (the imperfect, the incomplete and the impermanent) to incorporate Chinese Yin Yang theory.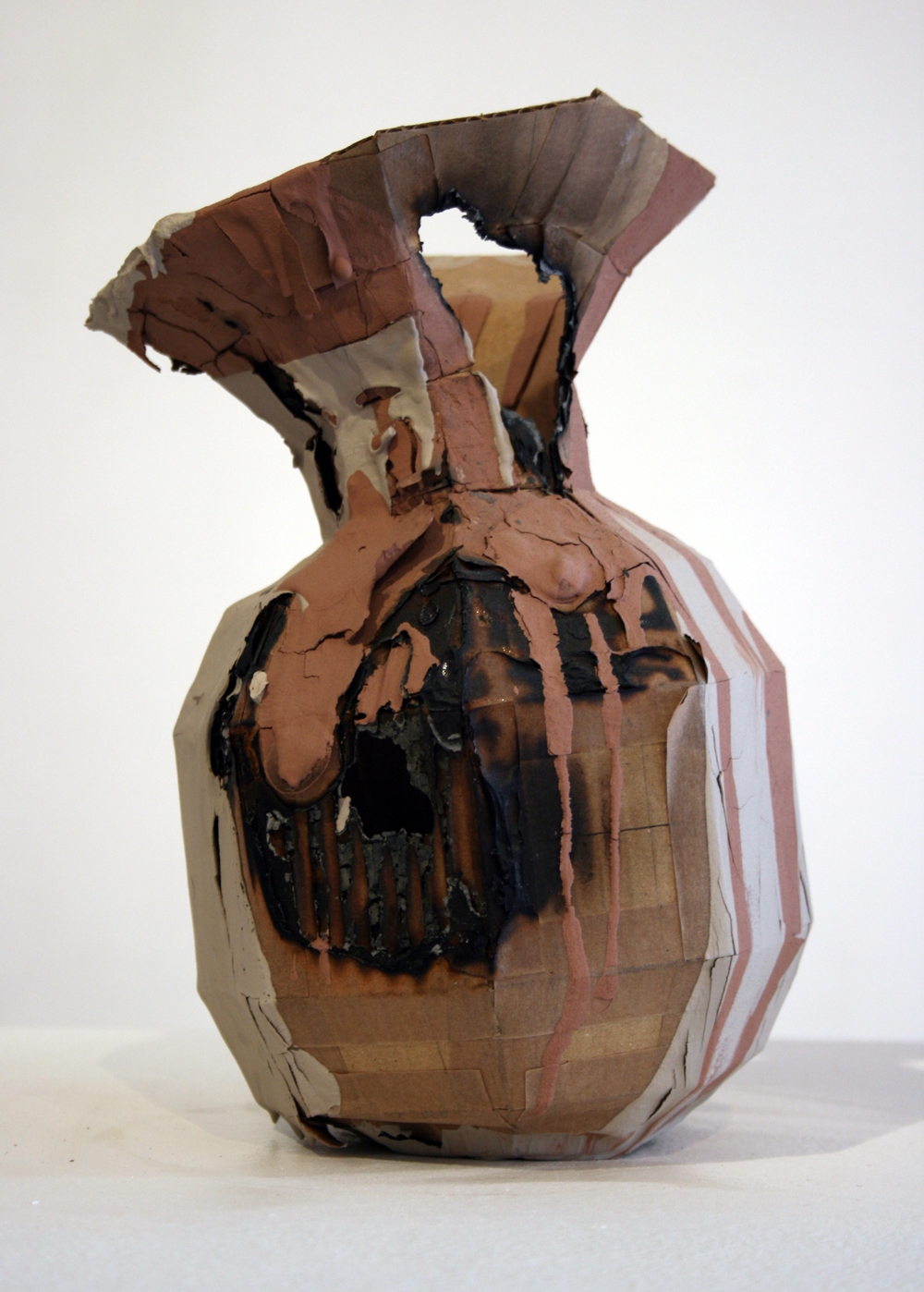 "For me this sense of place is predicated upon the people in the area. The residency opened a door to a community of local artists and creative people"
I first moved to London over ten years ago, and my home and studio has always been in East London, except for the time I was resident at The Muse. Despite the residency only lasting for four months I feel connected to the area, and whenever I am in Notting Hill feel a sense of homecoming. For me this sense of place is predicated upon the people in the area. The residency opened a door to a community of local artists and creative people that has supported and cultivated my practice as well as nurturing my professional and social outlook. For me this part of London has its own gravitational pull.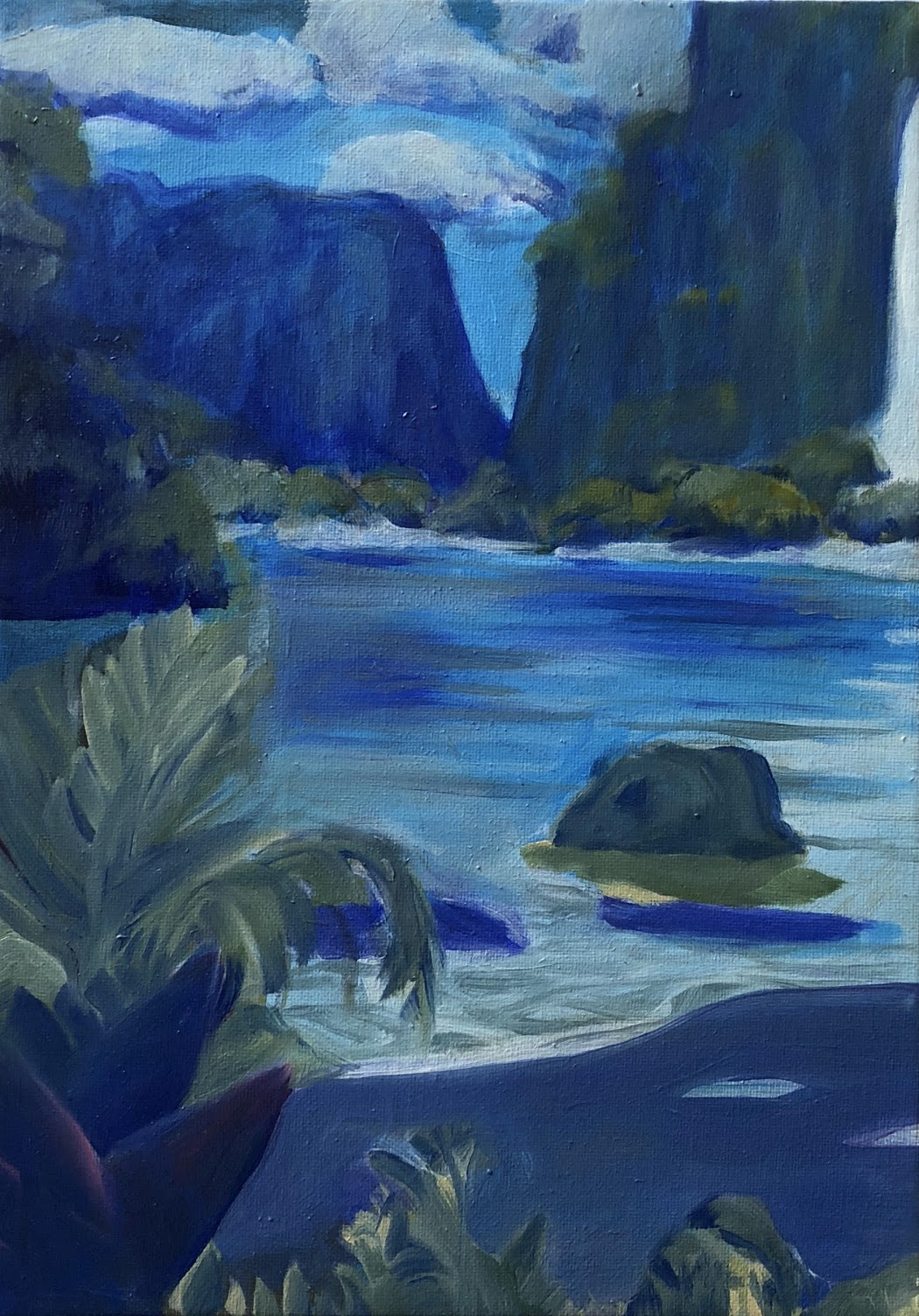 Coral Churchill
I had an amazing experience over the eight month residency and was able to use the space to make a number of works at a time. I particularly looked at layering abstract and representational images and using ethnographic images to think about rituals and archetypes. It sparked ideas that have developed into works such as the cloudscapes I am painting now. The network it provided has been positive and inspiring. I'm from West London, but further out, so it was a real pleasure to be at the studio on Portobello Road. I love the energy of the area and it was a joy to meet all the different people who came in to visit.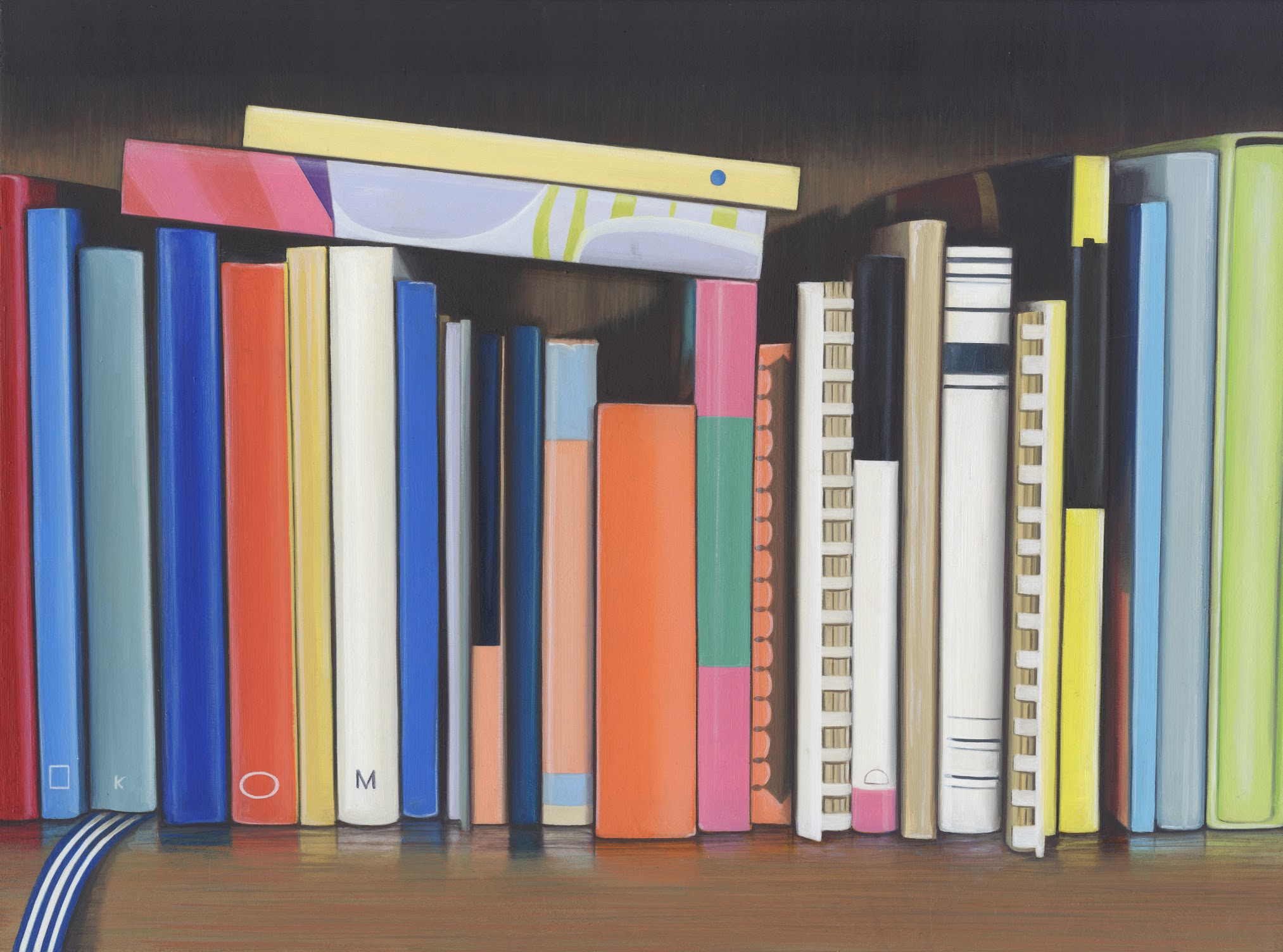 Ian Robinson
At the time of my residency my paintings took insight from music collections. I created two large paintings in the gallery, with interaction from the public visiting from the market which was great fun. One painting of a Technics SL-1200 MK2 turntable stylus was shortlisted for the Griffin Art Prize, and the other depicts the counter behind Rough Trade record shop near the gallery. The studio residency on Portobello Road was surrounded by record shops and I took many photographs for source material, I focused on the prominent sound systems in the area, music equipment in the market, and I continued to visit special collections to make small drawings of rare books. I recently made a rainbow badge collection painting, and produced some work based on childrens books, cookbooks and magazine collections.
Masaki Yada
When I did my residency I had just graduated from my BA at Central St Martins College, and I didn't know where to start my artistic career. Before that I was inside the bubble of academia without knowing how my paintings would be perceived by people outside the school, although my degree show pieces were fortunately bought by the Zabludowicz Collection. I grew interested in the biblical tale of Genesis, in which Adam and Eve eat the fruit of knowledge after being lured by a serpent. Despite the message embedded in this tale, which represents human folly, pertaining to unwarranted curiosity, barbaric desires and the realization of our sexuality, these qualities are nonetheless what makes us human.
This self-reflective journey was motivated by my aspiration to discover the uniqueness of my individuality. Having explored various themes in the terrain of psychology through my art practice, such as fetish, dream, childhood memory, eroticism, and fear of death, I began to revisit the classic painting genre of vanitas. It pertains to our vanity, hubris and the irrational behaviour that we see throughout history and everywhere today. Also, it is a great reminder to live this very moment without regret.
When I was at St Martins I lived on Portobello Road, and then I spent nearly a year at The Muse, deeply engaged in my studio practice. So I have an emotional engagement with Portobello Road; I love the artistic vibe in the area, not to mention great local pubs and restaurants.
The Muse Artist in Residency Programme – 15 Year Retrospective
From 13 to 22 December at The Muse, London
VISIT WEBSITE