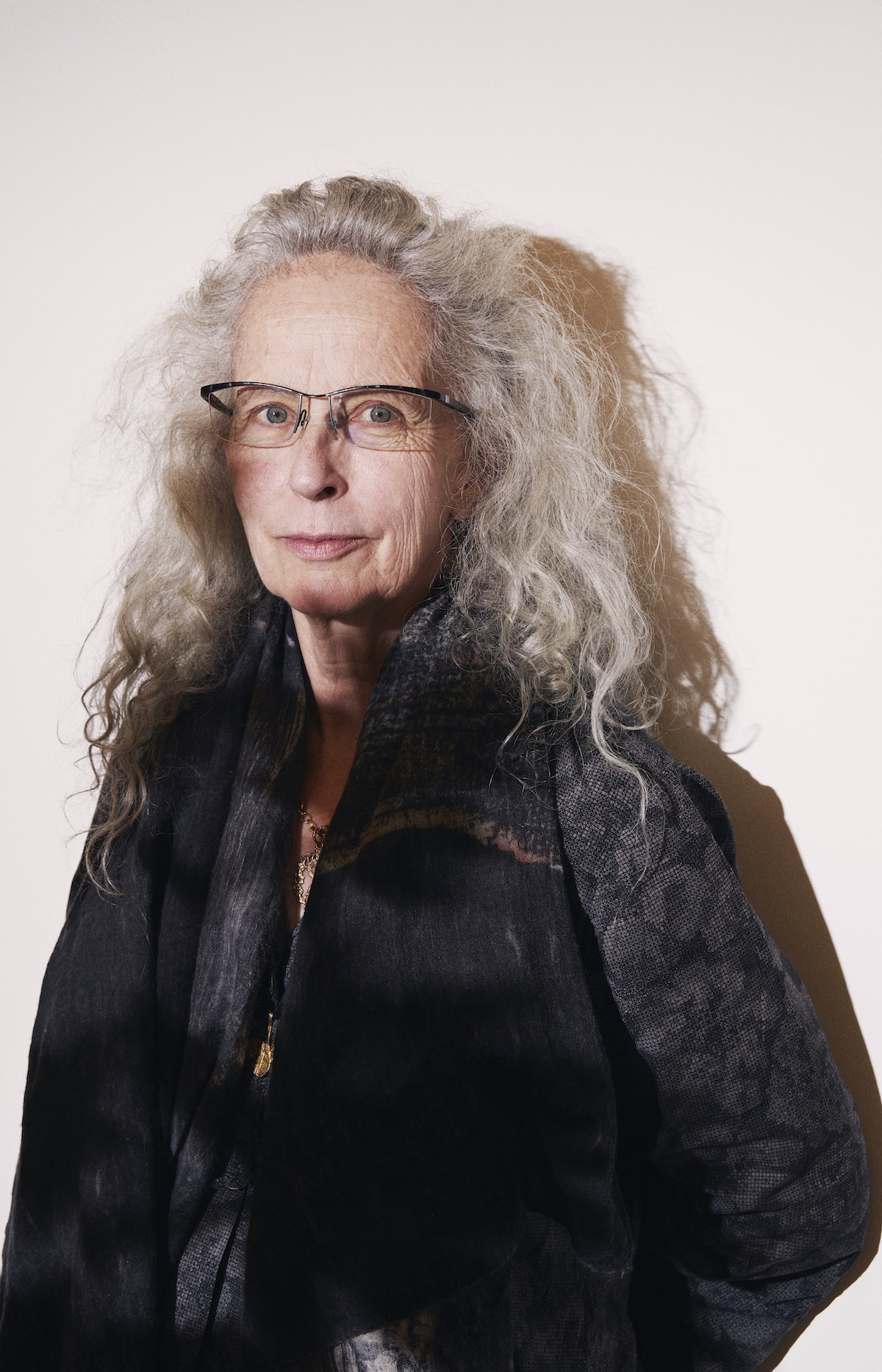 Kiki Smith has always inhabited a world of her own. The multidisciplinary artist, who has worked in every medium conceivable—from photography and printmaking to clay and bronze—eschews over-conceptualization, and prefers to let her depictions of female bodies, mythological creatures, woodland animals and religious iconography speak for themselves.
I meet Smith on a chilly London morning at Timothy Taylor, where she has just finished installing a new show of sculptures and enormous tapestries, made in collaboration with Magnolia Editions. As we walk through the exhibition, she explains that her beautifully dense textiles were produced using a jacquard loom, a process which revolutionized manufacturing when it was invented in the early 1800s, as it utilized punch cards—an early method of computer automation that preludes Babbage's Analytical Engine.
"There's been a big surge in jacquard tapestry recently, because of improvements in the technology," Smith explains. "It had its moments in the twentieth century but there wasn't the capacity for this level of complexity." Complexity is certainly the word for it. The huge amount of texture, colour and pattern achieved in these works seem completely at odds with the binary nature of weaving. A wolf's fur appears thick and bristly, a snake's skin iridescent, and abstract collages of paint-splattered pieces of paper, rubbings and cut-out stars give the impression of a densely layered montage, not a single, unified surface.
The effect is something of a dreamscape, like stepping through the wardrobe into the curiously familiar but ultimately mysterious world of Narnia, which is compounded by the life-sized proportions of her subjects. For Smith, the loose narrative she has created borrows from the legacy of tapestry and weaves it into a larger patchwork of references to American nature, mythology and her own lived experience.
"People showed power through gifting these things that were formed from the arduous labour of other people"
"When I was younger I visited the Apocalypse Tapestry in Angers in France and was very influenced by the series. It had always been my dream to make something like this," she recalls. "In my fantasy, there's a connection between medieval pageantry; evil iconography; the beginning of the grand spectacle in film from the 1920s, and then the hippie movement. I wanted to mix all of those things together." Smith has incorporated the visual cues that typify the traditional form, thus placing her contemporary works within the historical framework of a process that was an important form of political and social discourse and gift-giving. "The pieces have this formal architectural aspect, with a decorative banner element that contains the image. It recognizes that history," she adds. "Tapestries were made to blanket [as a form of decorative insulation] and to be as ostentatious as possible. People showed power through gifting these things that were formed from the arduous labour of other people."
Conversely, Smith has always celebrated collaboration within her practice, and she plainly explains the enormous efforts that went into making these pieces, as well as the multiple people involved. "I work bicoastal, with people who work with computers. Primarily I make these pieces life-sized and we scan my drawings in and put them together via a massive file-sharing system. They send the outcome to me at a third of the final scale and we go back and forth with corrections, then we do a test weave and make any final changes. The process often throws up a lot of questions because things don't necessarily come out how you want. It takes about a year to complete one."
Smith also called upon her archive to incorporate subjects and imagery that she had created decades previously. "I teach printmaking and so for me, showing the evolution of process is really important. One thing can have many different manifestations. For example, I made the prints of the owls, the deer and the wolf back in 1994. It's a great way of showing how different outcomes can come from the same information. You can go in all these different directions and keep making something new." She incorporates lithography, drawing, hand-painting and even basic cut-outs, which all demand different considerations when assessing an outcome borne from individual threads. "In a certain sense a tapestry is at a very low resolution, but you can still make a tremendous amount happen. Some of these scans were made with glitter, and the final product still manages to bring that out." As we muse on the luxurious nature of the medium, she pinpoints the visual sensation that sets the form apart from painting or works on paper: "It's very beautiful because it absorbs the light, it doesn't reflect anything. It makes for a very calming, dull surface. It's serene."
This serenity is also enhanced by the static nature of her depictions. The visual language alludes to astrological charts, ancient frescos and the awkward, bizarre foreshortening typical of traditional Western tapestry, which all carry the allusion of a frozen moment as opposed to a realm of fluid movement. "It's not literal in any sense, and it's always completely wrong," Smith laughs, as we examine Harbor, (Ocean-Rocks-Birds), where three creatures fly among a constellation of stars that fill the sky and sea. "It doesn't actually show nature in the slightest."
"I like things that vaguely hover between flatness and three-dimensionality"
This two-dimensionality also manifests in her sculptures, a striking example of which is Eagle in the Pines, a bronze and patina form that appears to be an accurate representation of the bird resting amid the foliage on first look, but it is actually heavily flattened. It tricks the eye and encourages us to ignore our hard-wired impulses and actually consider what it is we are looking at. "I like things that vaguely hover between flatness and three-dimensionality," Smith adds. "These sculptures were also originally made from drawings, which I turned into rubber stamps and then waxes. I find it all incredibly satisfying." When examining her works, the history of her own labour, as well as the myriad forms these images might have taken before, feed into a network of manifestations that form the intricate web of her practice. It's a notion Smith enjoys, though she relays her own interpretation in a typically self-effacing fashion: "These are all just punched holes and scraps that have become part of something much bigger."