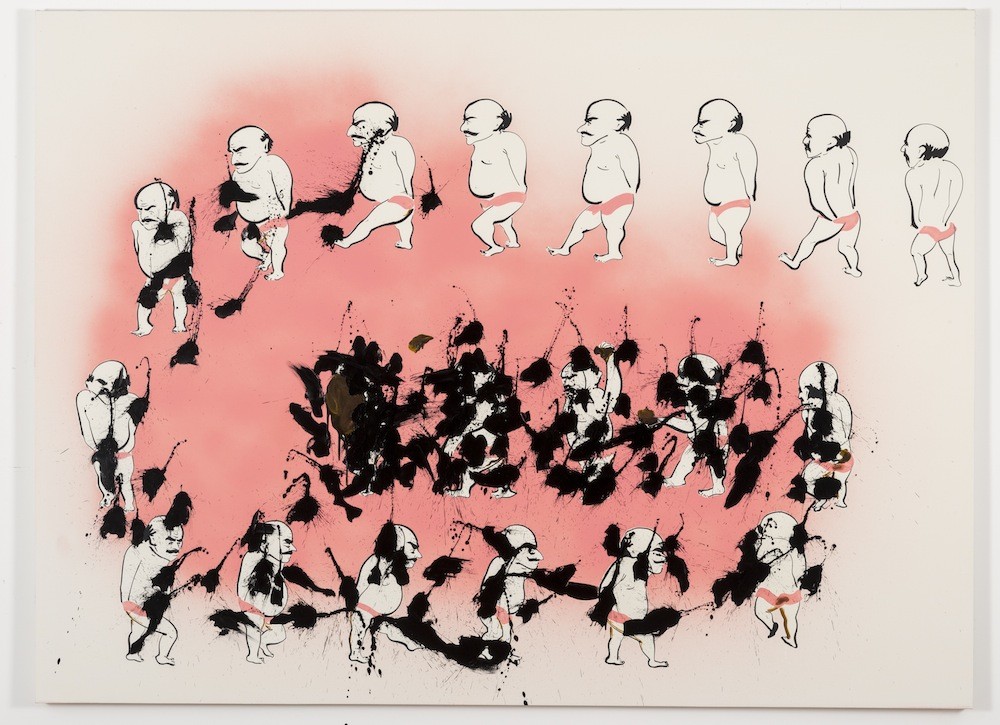 Masculinity isn't what it used to be: a valued assertion of physical power and a fixed role as provider for and protector of wife and children. In many ways, of course, it never was. Artists haven't been slow to reflect the new uncertainties and the positive changes which go with a more flexible approach to gender roles and, indeed, gender itself. Here Hayv Kahraman, Paul Pfeiffer and Tala Madani call attention to the nature of stereotypes and the need to undermine them; while Erez Israeli, Brian Dawn Chalkley and Hassan Hajjaj assert new freedoms.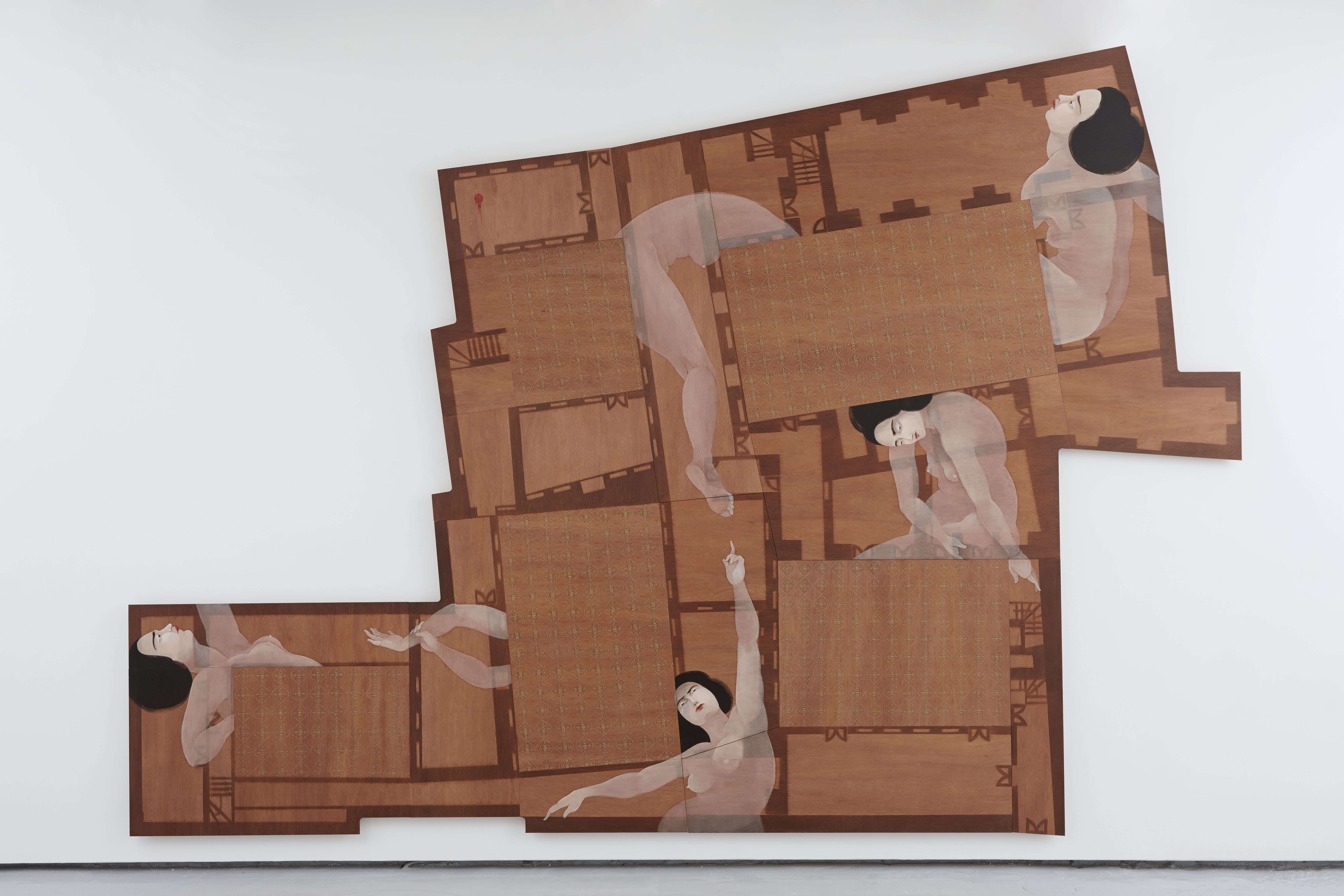 Hayv Kahraman
Having fled Iraq with her family during the Gulf War aged eleven, US-based Hayv Kahraman combines the modern experience of living between Western and Middle Eastern cultures with the historic aesthetics of the Renaissance, Persian miniatures and Japanese prints. All that feeds into the graceful, female figures who recur as her painted proxy. They float like spirits over the plan of a traditional Baghdadi house in the series Let the Guest Be the Master, centred on the courtyard as the place where men meet while women must remain inside. There is consolation in the domestic domain, but also a critique of the male assumption of power.
Paul Pfeiffer
If the essence if the old-fashioned ideal of masculinity is seen as power and conquest, then the most primeval sporting arena in which to demonstrate that is the boxing ring, a subject to which Paul Pfeiffer's video manipulations have returned regularly. In the ongoing series Caryatids, started in 2003, he selects sequences in which a fighter receives unrelenting heavy blows from his opponent, but with the dominating boxer erased. We are left with the suffering of the body crumpling and recoiling under the blows.
Tala Madani
Iranian-American artist Tala Madani came to attention for her darkly comic paintings and animations, in which the tone of the male gaze was reversed through her examination of hairy but bald-headed figures who caricature hyper-masculinity: revolting, infantile, often humiliated, yet seemingly content. Are men stupid? In recent years she has expanded her range considerably, but this new work is on that continuum: the positivity of progress is undermining by its spewing out the world's shit. Yet the aspiring man—shown in sequence—seems unfazed.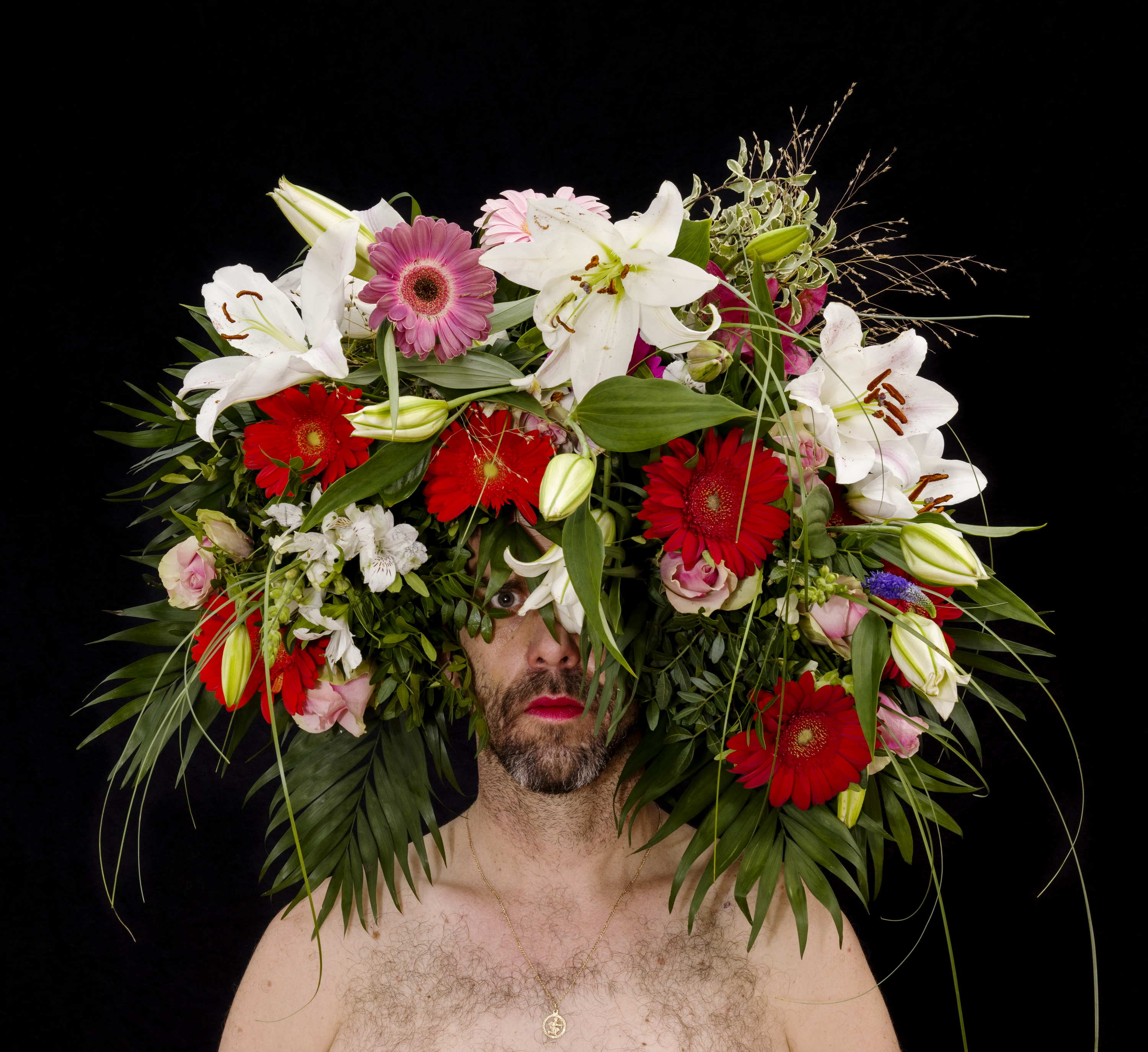 Erez Israeli
The young Israeli artist takes on all forms of oppression, exclusion and occlusions of memory. His blooming self-portrait cheekily cites Jean Genet's identification with those excluded from mainstream society in his book Madonna of the Flowers. Israeli's head as still life might be seen as act of self-marginalization; he embracing flowers beyond the masculine norm, more fully even than Frida Kahlo's assertive use of the floral fascinator in her self-portraits.
Brian Dawn Chalkley
Before his recent retirement, Chalkley used to lead the MA at Chelsea College of Arts as Brian, and go out by night as Dawn. He also painted carefully fashioned portraits of Dawn as she wanted to be. The recent series Missing, at the Lungley Gallery, featured 454 characters much more loosely washed in thin and dirtied colours. Many of the androgynous figures, which could all be aspects of Brian Dawn, were accompanied by imagined monologues. They read as swings in mood and self-perception, building up to suggest an identity in flux: "I am longing for attention from the right person"; "I said fuck you baby"; "Grappling with my self-image is a daily task".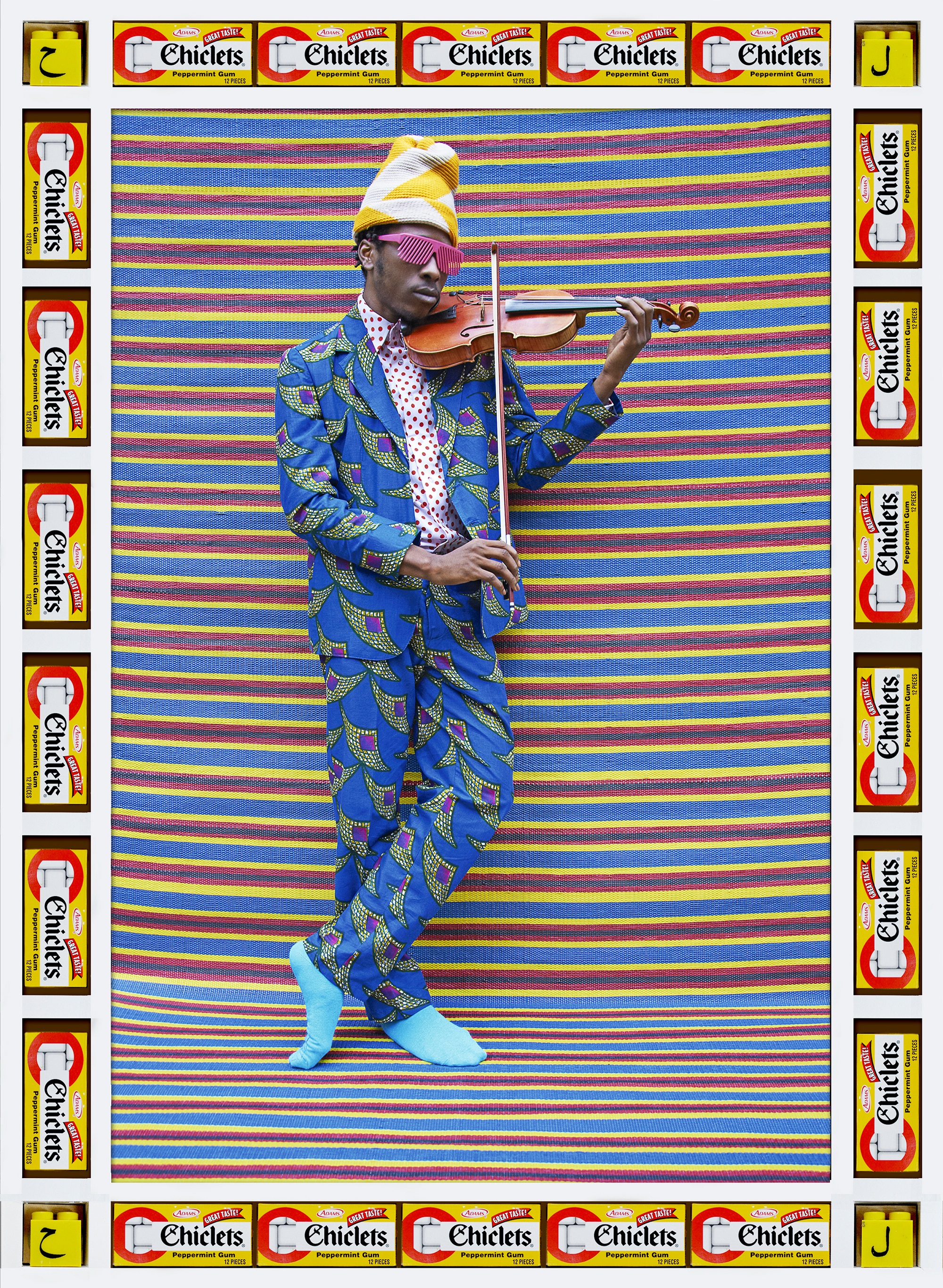 Hassan Hajjaj
Pink specs to play Mozart? The masculine as dandy—a man paying particular attention to his style—has become rarer in the West since the word's Victorian coinage. Hassan Hajjaj—Moroccan-born, but long-time London-based—glories in the use of extreme dress to assert black presence in portraits which fuse the languages of fashion, pop and the African tradition of studio photography. He maximizes the effect by framing his images in found objects such as the chewing gum packs seen here.