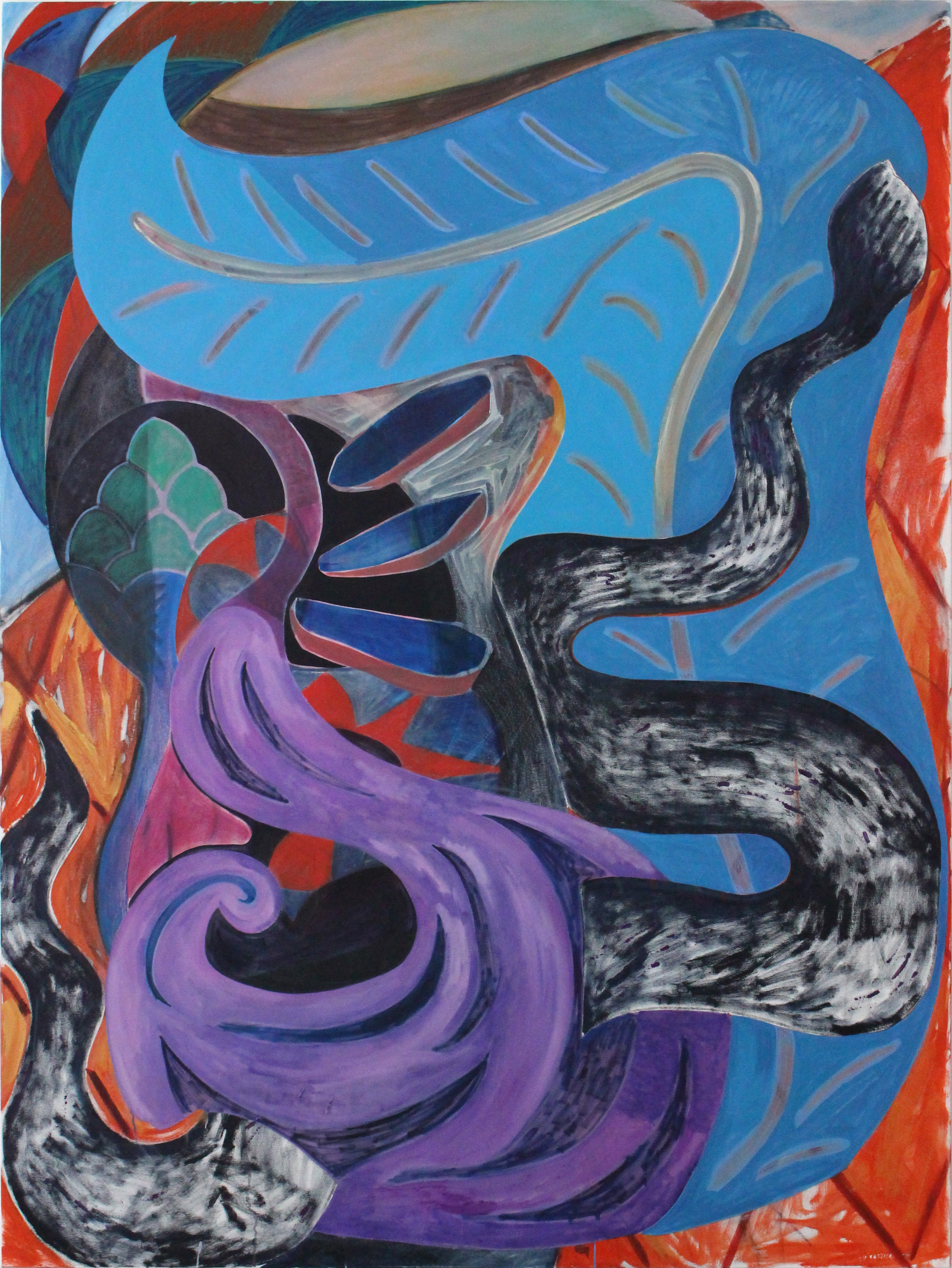 Anna Liber Lewis is a London-based painter, who has earned numerous accolades for her vividly bold and wry fine art, including the Griffin Art Prize (now the Elephant x Griffin Art Prize) in 2017. Kieran Hebden, aka Four Tet, is an electronic music visionary (who also previously co-founded the group Fridge), with an extensive catalogue that spans numerous albums including 2017's New Energy, atmospheric club compilations (FabricLive; DJ Kicks), and collaborations under his own name with Steve Reid. The pair have also been life-long friends, and their deep-rooted dynamic fuels Muscle Memory: a new exhibition of Liber Lewis's art soundtracked by exclusive Four Tet music, in our pioneering London project space, Elephant West: a former petrol station transformed into an exhibition/live event hub. I spoke with the pair ahead of the opening.
Can you tell me a bit about how you met?
Kieran Hebden: Anna was my next-door neighbour in South West London; our parents were friends, and we were born within a few months of each other. We went to different schools—Anna was in the year above me—but when we were teenagers our worlds and lives connected, separately from our parents. Anna was the first person who played me a Nirvana record. For my thirteenth birthday, she took me to a Mudhoney gig; this was the first time we went to live music without our parents—we were in the thick of the moshpit, and it was wild!
Anna and Kieran as children
Anna Liber Lewis: Kieran has been a permanent fixture of my life. My memories are of being in and out of each other's houses: lots of music, food and running around London. When you've known someone that long, it's like: Is that a dream? Did that really happen? I think I took Kieran to a Prince gig on a leash once…
KH: Anna did get me to wear this fishnet bodystocking once, to go to a Prince concert! She would always want to dress me in crazy clothes. Whereas I got really into tie-dyeing, or I'd turn up at her house with this hair wrap I'd got at Camden Market; she'd roll her eyes and say: "That's not stylish!" But we were both interested in visuals, and we were willing to do quirky and different things.
"I also really wanted to be a painting geek, because when I'd originally been at Saint Martin's in the nineties you were really discouraged from painting"
Anna Liber Lewis, Orcus, 2018
Left: Sonic Twist, 2017. Mixed media on paper (string) 36 x 28 cm. Right: Fading Blue, 2018. Mixed media on paper, 38 x 28 cm
Muscle Memory will include performance programming; how have you approached such intimate inspirations as a live/public experience?
KH: I want the exhibition to be the only place you'd hear this music for now. I like the idea of making a journey to hear it. There will be headphones available in the gallery, because that reflects how Anna would listen to music in her studio.
ALL: It's been brilliant working with the curator Becca Pelly-Fry, and as soon as I walked into Elephant West, the space did remind me of raves. I've also been collaborating with BalletBoyz for Muscle Memory performances; they're just gorgeous, open people. In the same way that I've painted with my guy, I've met people and clicked with them in a kind way. I'm going to find it hard to stand at the private view and not sob my heart out.
Elephant x Anna Liber Lewis x Four Tet: Muscle Memory
From 18 January to 17 March at Elephant West, London
VISIT WEBSITE