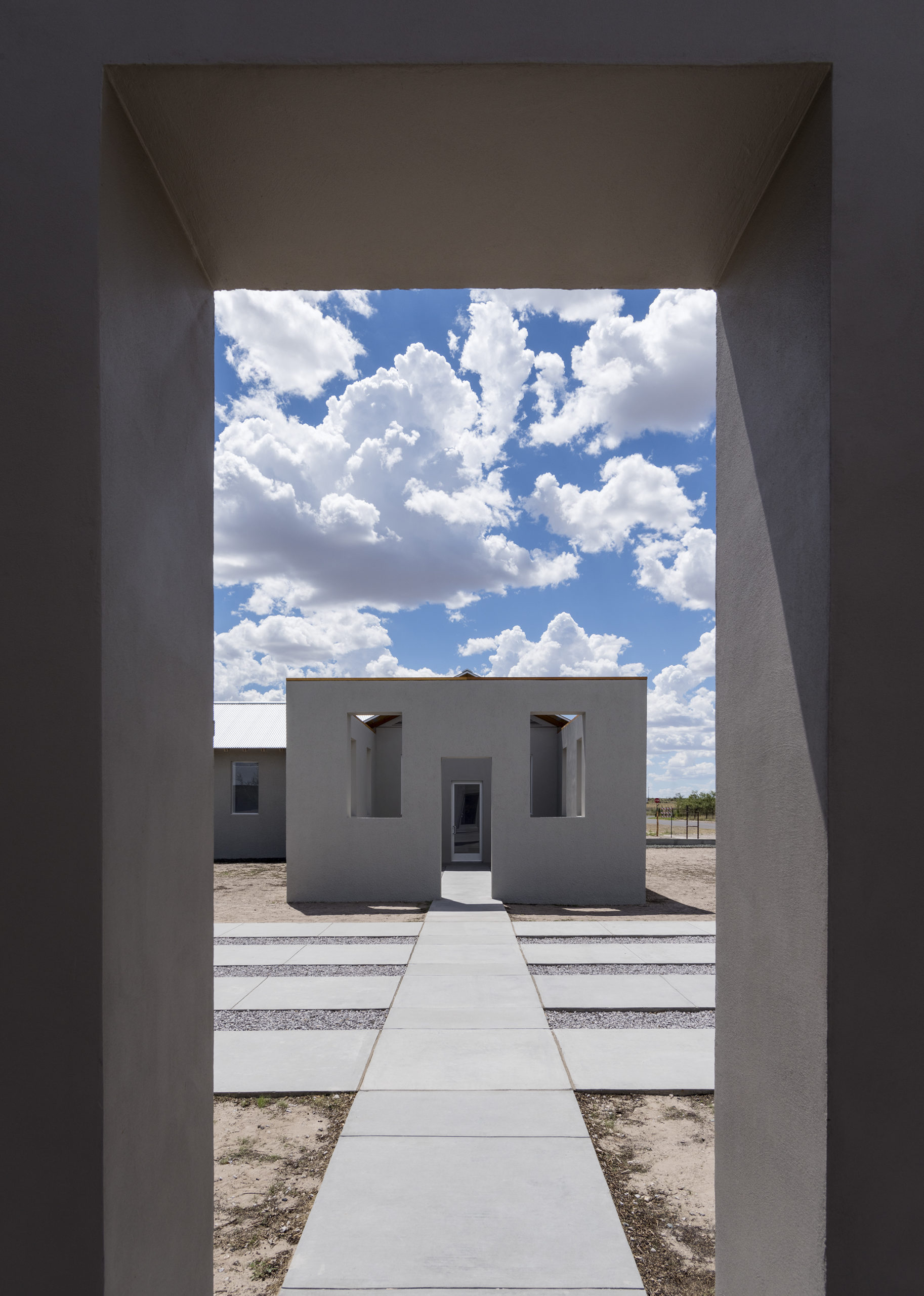 What
The Chinati Foundation—Chinati for short, and La Fundación Chinati to its Spanish audiences—was something of a pioneer. A fusion of site-specific artworks, modernist American architecture and the arid Chihuahuan Desert, it was established in 1986 by conceptual artist Donald Judd. It spreads across 340 acres of land in Marfa, Texas, most notably the buildings of the former military installation Fort D. A. Russell. Judd established the foundation specifically to display large-scale works of his own, alongside those of his New York contemporaries John Chamberlain and Dan Flavin. Over the next almost-decade until his death in 1994, Judd added works by numerous others: Claes Oldenburg and Coosje van Bruggen, Richard Long, Roni Horn, Ilya Kabakov and more. A non-profit which is now funded by donors, the Foundation continues to add work—including a Robert Irwin piece in 2016—run artist residences, convene exhibitions and events.
Donald Judd, 15 Untitled Works in Concrete, 1980-1984. Photo by Mark Heiden, via Wikimedia Commons
Who
Judd is a gargantuan presence in late twentieth-century American art. Often seen as the high priest of minimalism—a term he would vehemently and repeatedly reject—the majority of his oeuvre takes the form of plain geometric boxes made from industrial materials, brightly coloured and arranged in piles and stacks. As well as being a practicing artist, Judd was also a (remarkably curt) critic and theorist, and played a role in shaping the reputations of his contemporaries. He began spending time in Marfa in 1971, and you can visit his residence and studios in the town centre. At the end of the decade he began to transform various strictures into Chinati, supported by a grant from the Dia Art Foundation. Rejecting the standard museum model of displaying artworks temporarily rather than in perpetuity, Judd intended Chinati to be a place where art and landscape could stand together. "Somewhere a portion of contemporary art has to exist as an example of what the art and its context were meant to be," he wrote in his foundation's first catalogue.
Where
Operational between 1911 and 1946, Fort D. A. Russell variously served to prevent Mexico-US border crossings, as an air reconnaissance base, and as a World War Two POW camp. When Judd stumbled on it, it was largely disused, left to the dessert. Now, as well as Chinati, it's also home to International Woman's Foundation containing wartime murals. Marfa itself—a manmade oasis, founded in the nineteenth century to allow steam trains to refill their water supplies—has flourished as an artistic hub in the wake of Chinati, with galleries and foundations in its old industrial structures. Numerous public artworks, including Elmgreen & Dragnet's now-famed imitation Prada shop (2005), dot the sparse surroundings. Often used in Hollywood films to represent the paradigmatic south-western desert town, Marfa is also known for its "ghost lights", mysterious orbs that appear in the sky to the city's east.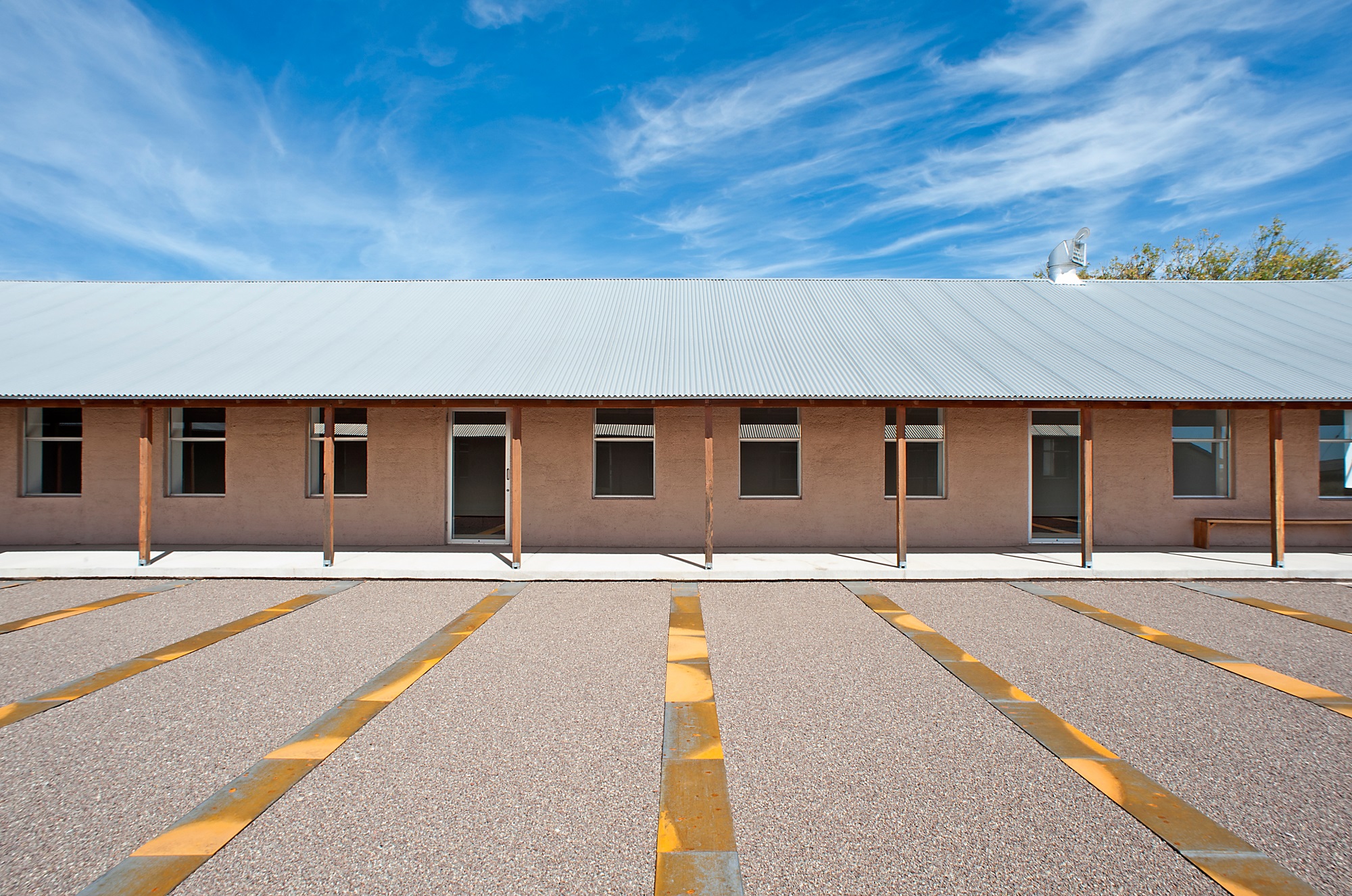 Why
The names in Chinati are familiar, even over-familiar: the big men of post-war American art have made their mark on museums and collections across the world. But by matching their works to its arresting, sparse surroundings, Chinati casts them in a different light, aided by the literal gleam of the desert. Whether Chamberlain's mushed-up car parts (1972–83) punctuating the floor of an old wool warehouse, Oldenburg and van Bruggen's Monument to the Last Horse (1991) abstracting an equestrian statue into a curvaceous hulk, or Judd's own installation of 100 aluminium boxes spread over two enormous ex-artillery sheds (1982–86), Chinati magnifies conceptual art to the grandest, most affective scale. Site-specific artistic marvels the world over owe a lot to its example.