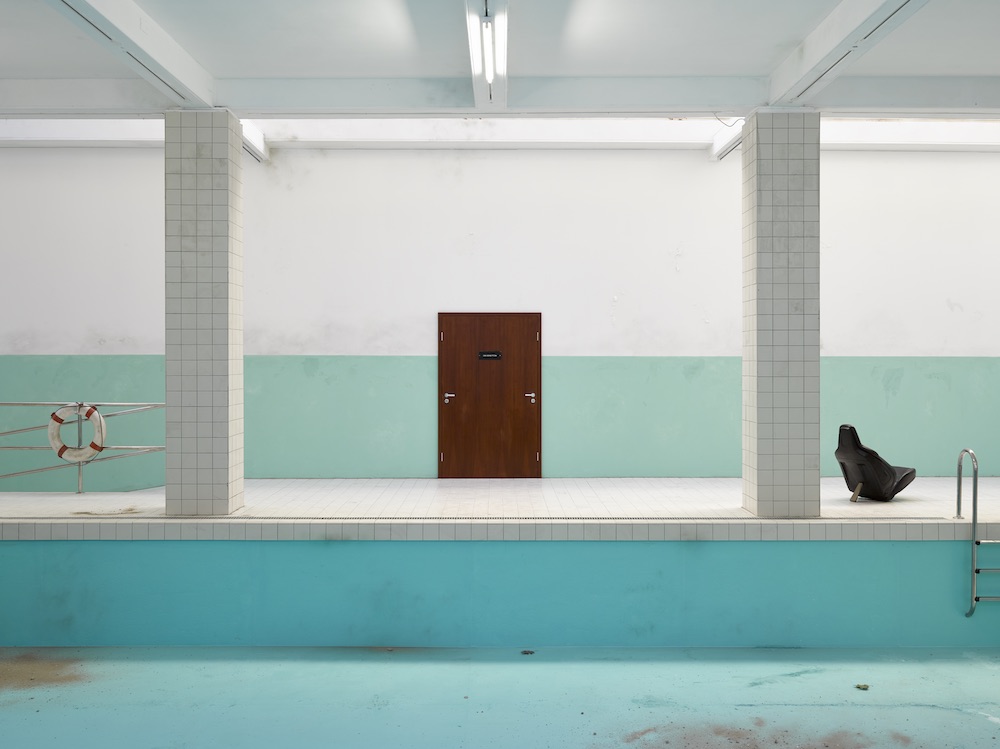 Swimming pools have always triggered a mix of excitement and terror in me. I even still dream about my junior school one. The smell of chlorine calls to mind clumsy dives for bricks on the pool floor, nasal cavities filled with water, and awkward fumbling to remove soggy pyjamas for use (in theory) as floating aids. But then there were also fun kids parties, the thrill of whizzing down a water slide, and the joy of lounging by a lido on balmy teenage holidays.
It's strange to imagine what the world's public baths look like right now; these spaces which usually bring people together, filled with whooping and laughter, are suddenly largely devoid of human activity. Just before London went into lockdown, Essex Book Festival hosted an immersive reimagining of JG Ballard's The Drowned World at Riverside Leisure Centre in Chelmsford. The event was a collaboration between Wet Sounds (a group who "transform swimming pools into spaces for music, light and performance") and local artists.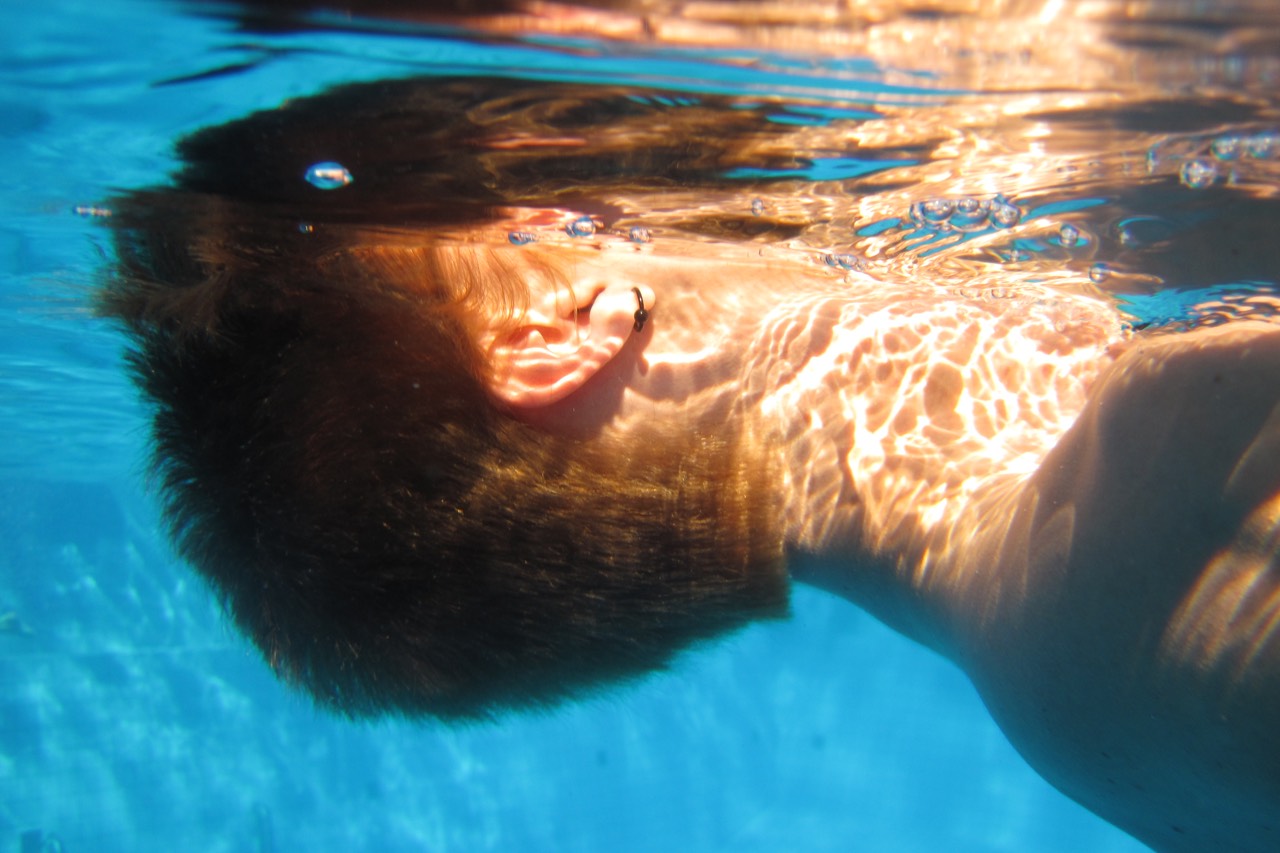 The festival's organizers aim to bring books to life in unusual places. "About three years ago, I met with Chelmsford City Council and they said they'd really like to partner with the festival, and they'd really like to do something with the swimming pool and the car parks," Ros Green, director of Essex Book Festival tells me. "I tried to work out how I could do that, and then last year we were working on this project for Rewriting Essex with three sound artists and they came up with this amazing soundscape based on War of the Worlds. Someone suggested collaborating with Wet Sounds for the next project, and I thought, bingo! Of course, you don't normally think of doing a book event in a swimming pool: books and water don't traditionally go together! But it's a different way of experiencing a book. I expect it to be an entry point to JG Ballard."
"It's strange to imagine what the world's public baths look like right now, suddenly devoid of human activity"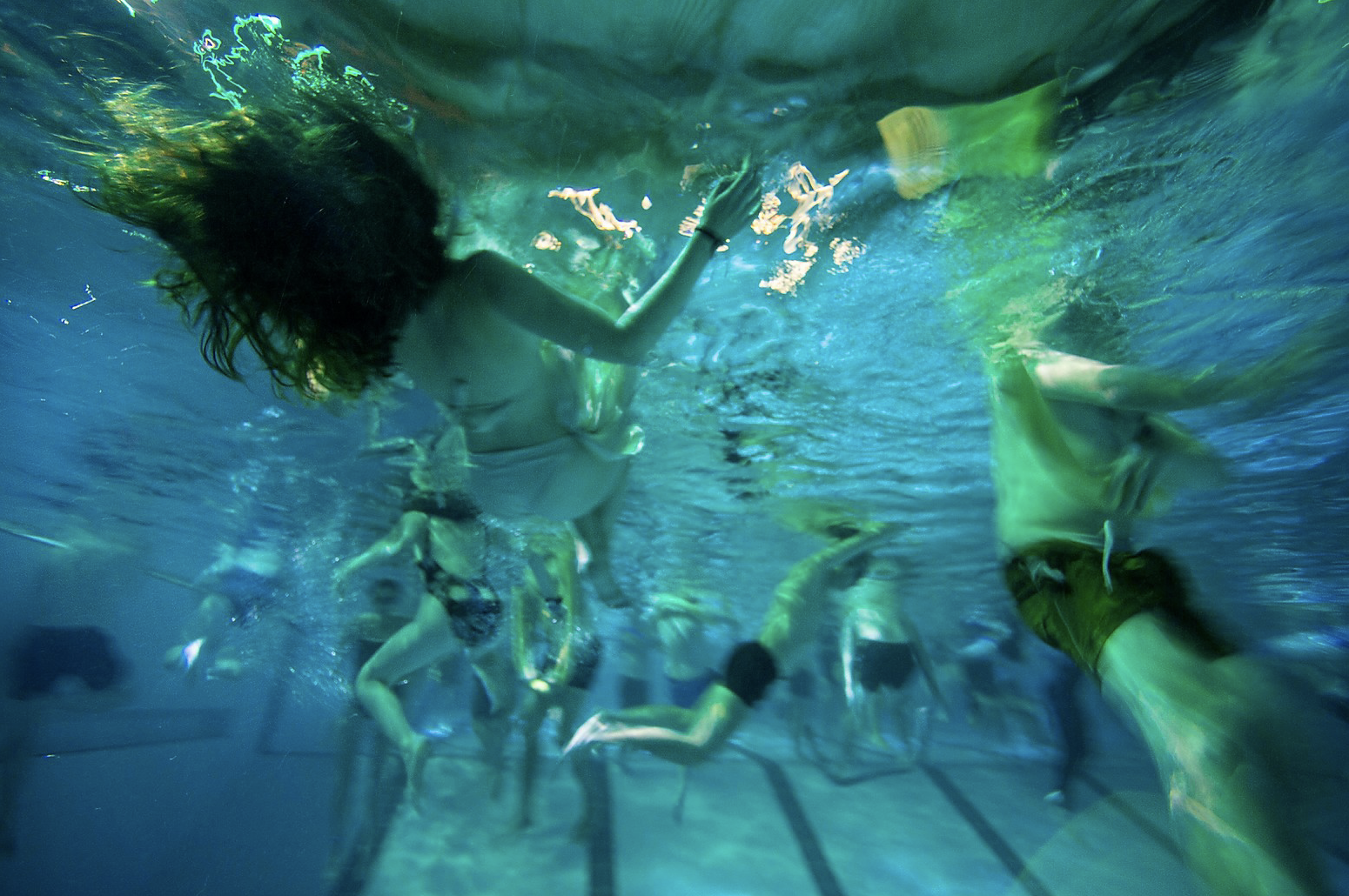 Much of the world is engulfed by water in Ballard's 1962 science fiction novel, in a form of apocalypse that looks vastly different, but perhaps no less strange, than the one we find ourselves in right now. The event saw the pool encircled by big screens, showing snapshots of what Ballard's crumbling world might have looked like above water. Visitors could experience different soundscapes above or below the surface, some casually floating on plastic noodles, others taking a deep dive.
"Underwater, sound is perceived through the bones," Wet Sounds say of their work. They have created soundscapes in pools around the world, in cities such as Moscow, Paris and Montreal. "It is clear and immediate. The water surface is a threshold between two different kinds of music, two entirely different listening experiences, and between the public space above the water and the intimate, private space in the depths."
Elmgreen & Dragset, Death of a Collector, 2009. Courtesy Galería Helga de Alvear, Madrid
When you think of the swimming pool in art and culture, you might think of David Hockney's sun-drenched The Bigger Splash, which promoted the joyful side of the outdoor tub. But many artists have used the pool to more eerie or political ends. Elmgreen & Dragset love to turn this icon of the eternal summer on its head, sometimes quite literally, as with their U-shaped pool at 2019's Art Basel Miami, or Van Gogh's Ear, a vertical pool in the rough shape on an ear installed at New York's Rockefeller Centre 2016. They have used this place of fun and frivolity for darker means in their work too. At 2009's Venice Biennale, they presented a pool with a dead collector lying face-down, white-shirted arms outstretched. Is this the site of a murder, or of a hedonistic art event gone wrong?
In 2018, the artists created an "abandoned" pool in London's Whitechapel Gallery, referencing one of the most sinister things to happen in East London in recent times: gentrification. It came complete with a "historical" backstory, detailing the rise and fall of this public space. "East London saw intense gentrification in the last ten years," the pair have said. "Bars where artists used to meet closed, artists' studios were turned into luxury loft apartments. At the same time, poorer boroughs experienced the effect of austerity politics. Our derelict swimming pool relates to this metamorphosis of local communities."
"The viewer is positioned to feel like an intruder; you can't but feel like you're waiting in the bushes, ready to pounce once the sun sets"
By contrast, Caroline Walker features private pools tucked away in Palm Springs villas and hotels in one series of paintings. Some of these spaces teeter on the border of comforting domesticity and thriller movie, with cold, moonlit water offset by warm glows of light from indoors. The viewer is positioned to feel like an intruder; you can't but feel like you're waiting in the bushes, ready to pounce.
Hollywood has long promoted the stereotype of the pool as a setting for horror: the perfect mix of glamour and danger, and, of course, an opportunity for the wardrobe department to style their actors sparingly. Quentin Tarantino's recent Once Upon a Time in Hollywood went all-out in its homage to decadent pool-side violence, even going so far as to add a flamethrower into the mix.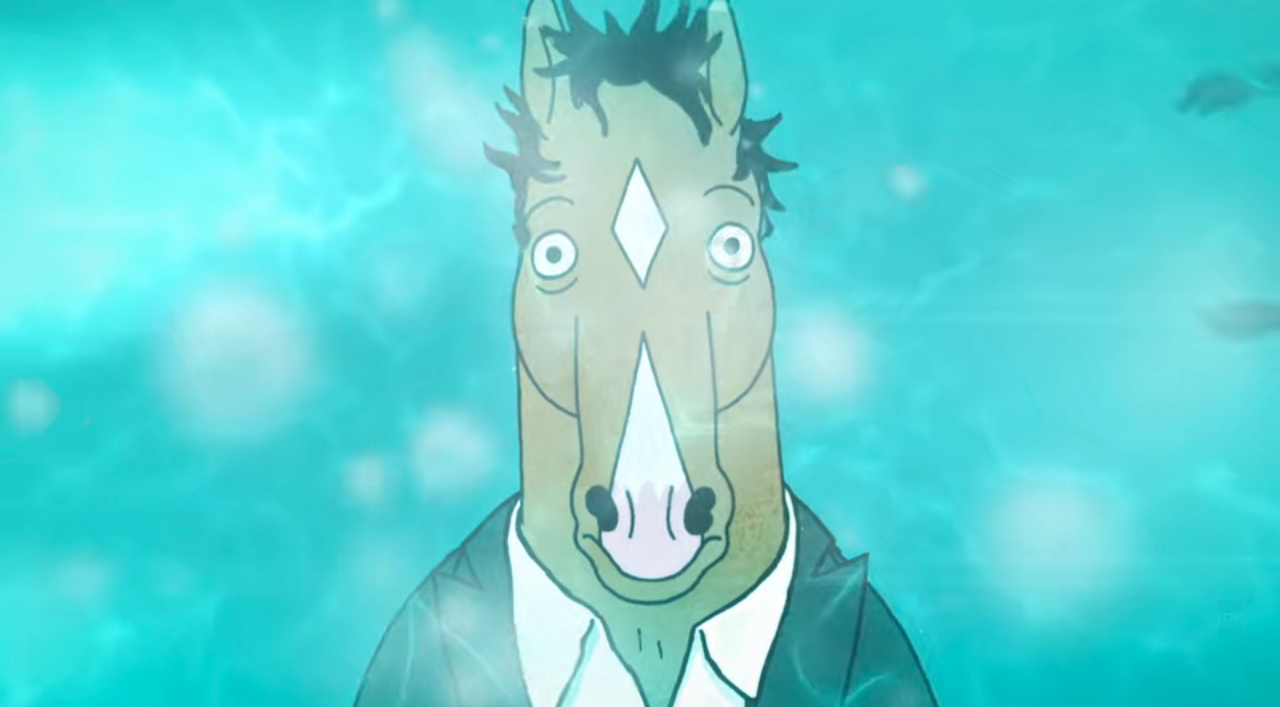 The creators of Bojack Horseman, the Netflix show led by a depressed cartoon horse, really got the power of the pool as a symbol of both hope and terror. Even in the show's opening credits, we see our main character floating calmly atop his painfully luxurious pool on a bright lilo, as well as plunging into its depths, complete with open-necked suit and dead-eyed gaze. Throughout the show's run the pool became symbolic of Bojack's own demise and redemption, the water providing a psychological litmus test for his state. The penultimate episodes is perhaps one of its most chilling, as we (spoiler alert) see Bojack almost meet his end, trapped within a semi-dream, semi-death state, chased by black, inky tendrils as he gradually drowns.
Stranger Things, Season 1 (left), Season 3 (right). Netflix
If you were looking for subtlety, you've come to the wrong place. Perhaps the most camp and grisly of all contemporary imagery has come to us courtesy of Stranger Things, which has centred two of its series around the pool. The first saw fan favourite Barbs violently sucked into the Upside Down while hanging out by a spooky suburban pool alone. And season three perfectly mixes heated summertime flirtation with dread, as Billy the lifeguard seduces Mrs Wheeler, only to return days later, possessed by the Mindflayer, feverishly drenched in sweat and burning up under the sun. As the audience wonders whether this parasitic, evil force is about to burst out of his flesh, the inhabitants of Hawkins frolic in the water, blissfully unaware of the devil that watches over them all.