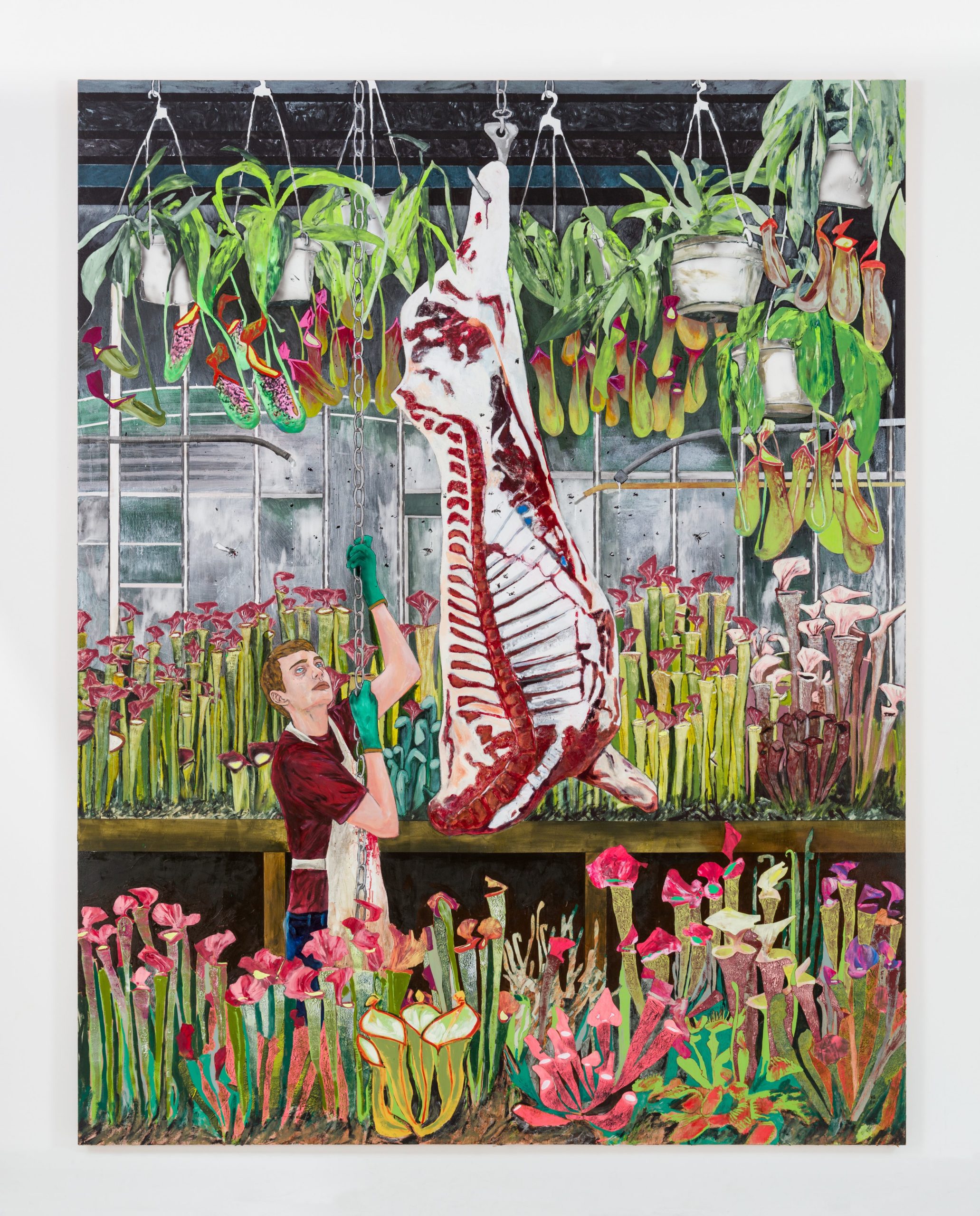 Hernan Bas creates luxurious worlds, full of dramatic tension, vibrant colours and abundant wildlife. Many of his paintings feature lone male figures, who are youthful and slender. An underlying sense of angst runs through much of his work, visible in his young characters' eyes and the semi-dangerous situations they often find themselves in.
Creature Comforts, which brings together a new series of paintings created during lockdown, has just opened at Perrotin in Paris. In Hot Seat, a giant snake droops scarf-like over a young man's shoulders; in Dinner Hour at the Little Shop of Horrors, a subject tends to a large rack of meat, which is hung from the ceiling by a hook, amidst a vast selection of carnivorous plants. Creature Comforts (Cat City), depicting a giant "city" of cat play towers, with one man sitting in the middle of them and cats scrambling over various levels, is perhaps the most obvious reference to the surreal boredom of lockdown.
The paintings never show "the precise moment of action", the American artist tells me when we speak over the phone. "I like playing with those moments, instead of the exact moment when your heart gets broken, or you fall off the bridge."
Hot Seat (#2), 2020 (left); The Hot Seat, 2020 (right)
The works included in Creature Comforts at Perrotin were created during lockdown in Miami. Are they a direct response to the pandemic, or has it fed in more subconsciously?
The title of the show is more of a direct reference to it. But my normal lifestyle is pretty much spent on lockdown, so this time hasn't been a big stretch for me. I'm not much of a party animal these days. For a long time my characters have appeared to be in a personal lockdown of sorts, but there are definitely elements from this year that have made the paintings a little bit more manic.
Cat City, the work with the cat towers, was extra fun and insane to paint. I imagined this character who is in a lockdown situation. For a lot of people I know, Amazon became their best friend in this time. They just ordered things that were completely unnecessary. I didn't intend for the work to be a disturbing image, I knew it would be somewhat playful; it's definitely one of the more joyous paintings.
"There has always been an element of risk, as what is happening in the paintings is always the intermission moment"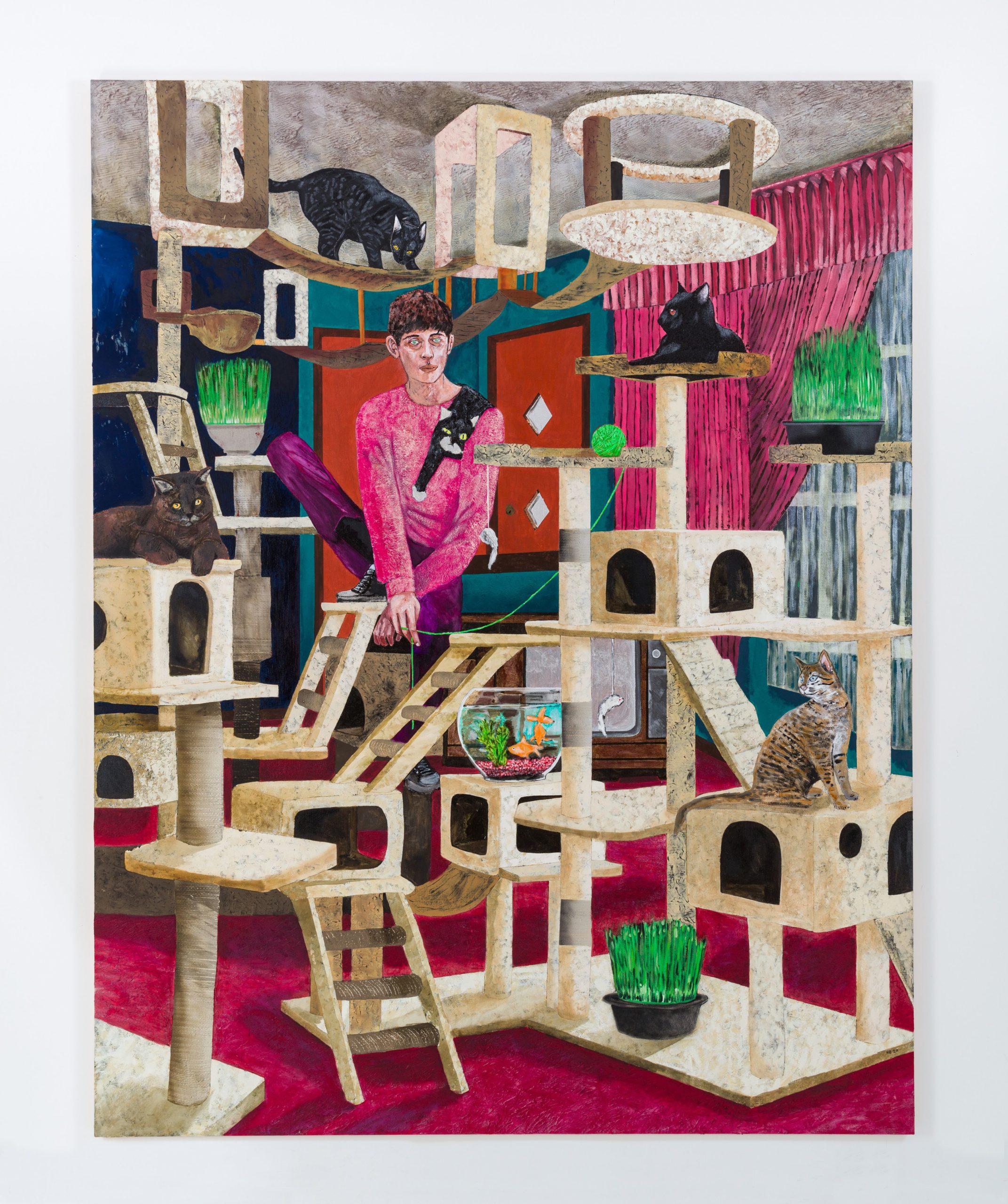 I've been reading about the element of risk that is present in a lot of your works, and that the characters in these particular paintings are teetering even closer to the brink because of the situation we're currently in. How do you see risk playing out in your work?
There has always been an element of risk, as what is happening in the paintings is always the intermission moment, right before something could potentially happen to the character. It is never the precise moment of action. I'm often thinking of Edward Hopper paintings, where the character is always looking off canvas. I like playing with those moments, instead of the exact moment when your heart gets broken, or you fall off the bridge.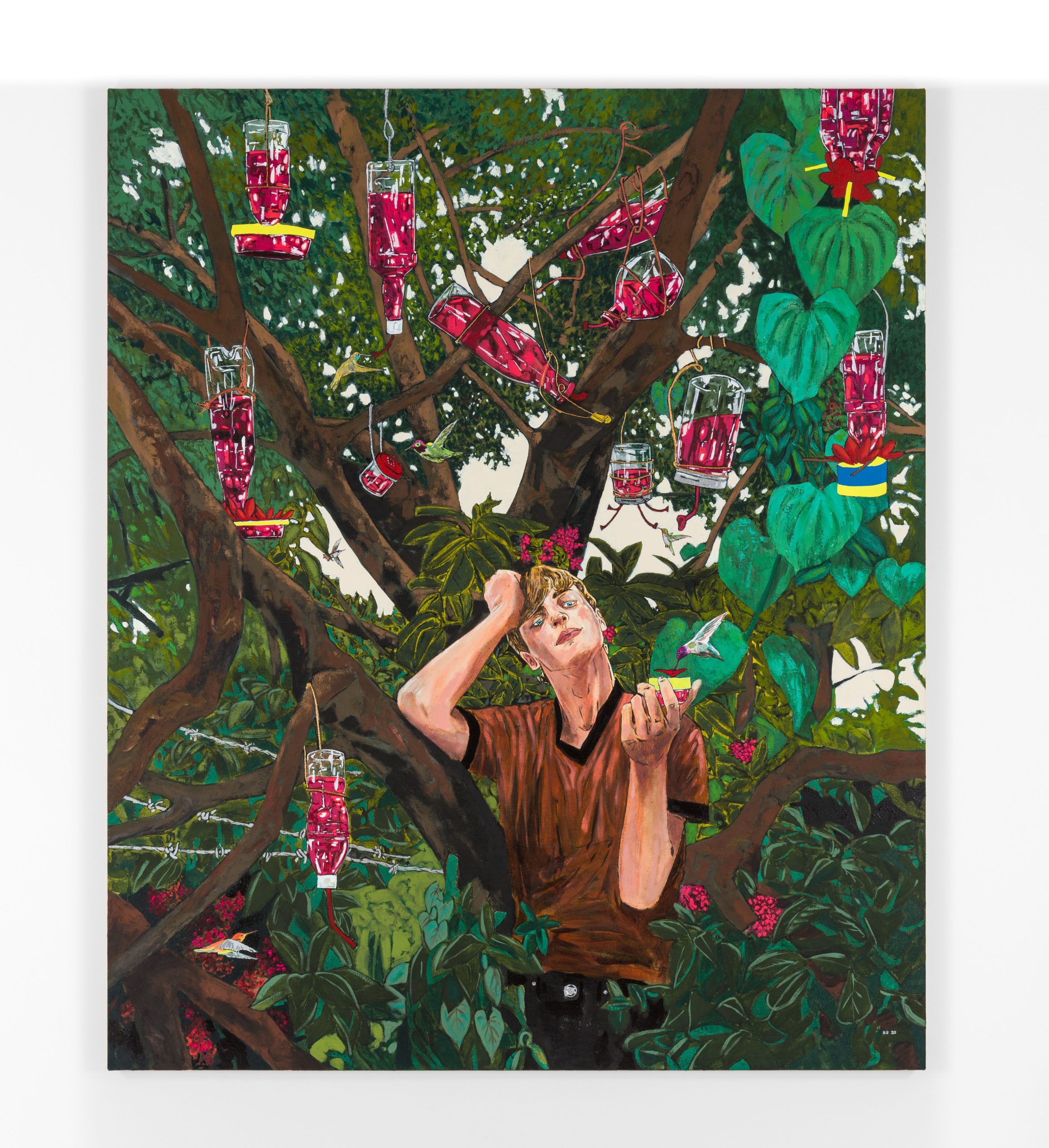 You create a very distinctive vibe in your works. You depict moments suggestive of death and danger in joyful colours. Do you think about mood while you're working or is this something that reveals itself to you as you go?

I do discover it as I go along, but I think there is an inherent angst when painting youthful characters in general. That age is ripe with it, and it is unavoidable to some extent. With age comes supposed confidence, but the characters I paint aren't quite emotionally there yet. I do think the characters have matured a little in the time I've been painting, for over twenty years now. They are still youthful but they're not as naïve.
I think that has to do with the characters now being comfortable with their oddness; embracing that there is nothing wrong with the strange thing that is happening in the painting. In The Hot Seat paintings, for example, with the snakes coming down over the young man's body, the background setting shows a lot of terrarium tanks, so he is obviously a snake enthusiast. In another painting from this show, Nectar (Or the Hummingbird Enthusiast), it's ok for this young man that he is sitting in a tree feeding blood to the bird. I like that the characters have matured into a place where they embrace the occult and don't just tinker with it, like they did in the past.
How Best to Suffer Swamp Life at Dusk, 2020 (left); When the Days Ahead Are Not So Clear (Emotional Support Fish), 2020 (right)
Since you began painting, attitudes towards gender and masculinity have really changed. Do you feel this has altered the reception to the work, now that the version of masculinity you present is perhaps more accepted?
It is strange to be almost considered a bit of a… not a grandfather… but I've been at it for twenty years and there is a new generation of younger, figurative queer painters. Even though there have been a few people doing this kind of work for quite a while, it is odd to see this new kind of attention being paid. It can sometimes seem exploitative, when something is suddenly all the rage.
Your paintings often feature central human characters with this incredibly elaborate, almost dreamlike world around them. What is your process like for bringing these figures together with very imaginative spaces?
It's changed a bit in the last few years as the works have become so much bigger. The idea is usually the hardest part: finding the right story or world to paint. That tends to take longer than the painting. Every painting has to have a story, something that someone might want to Google and find out: what's this about? The composition is also really important because I like playing with odd angles and strange placements, which really set the mood. Just the placement of a hand can say a lot of things. It might not be something that people pay attention to, but it is inherent in the finished product.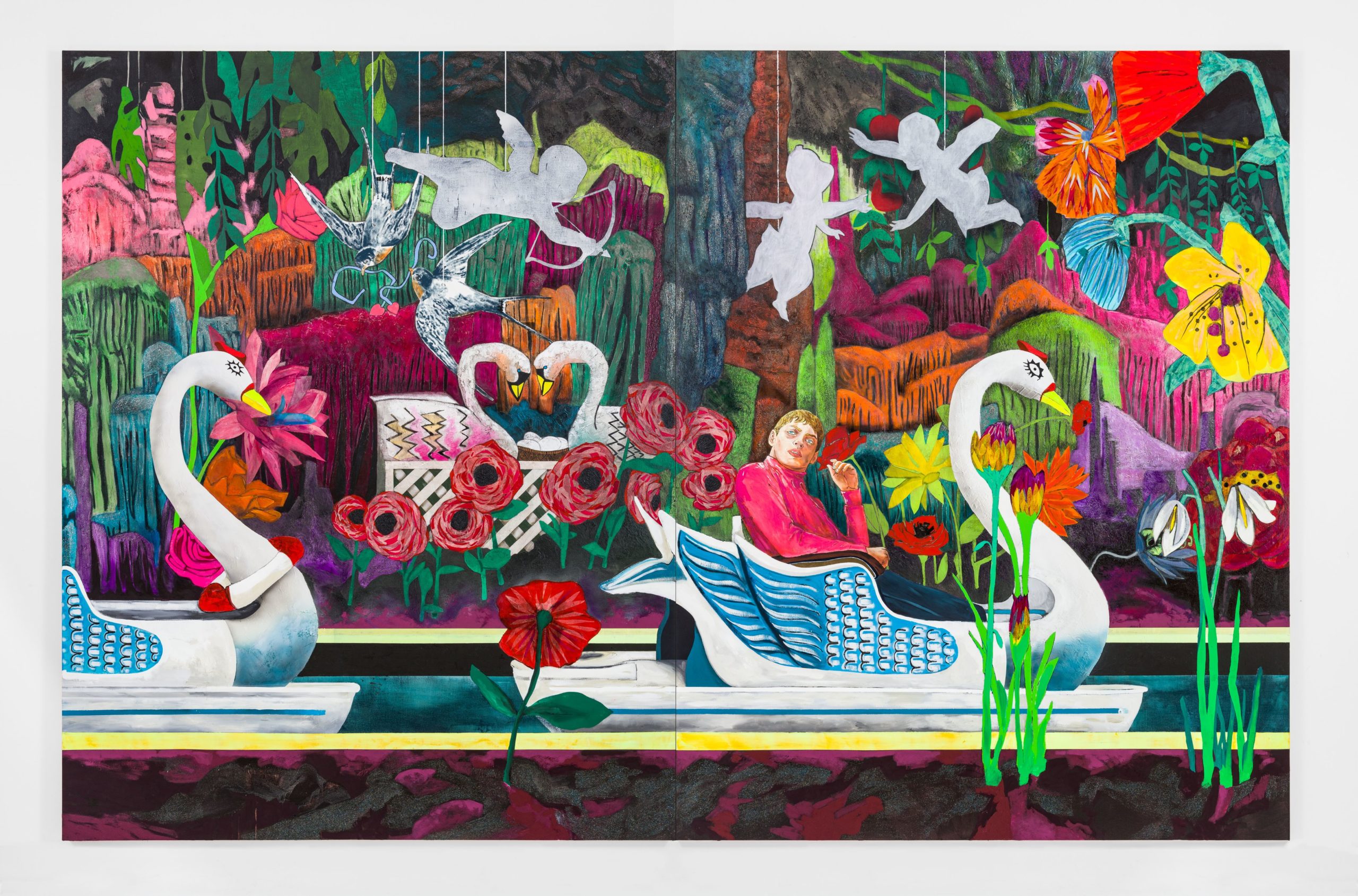 "I like that the characters have matured into a place where they embrace the occult and don't just tinker with it"
I invent a lot of the landscape elements, and I've also been doing lots of digital collages lately with source material on my laptop. It started with a piece I did last year called The Pundit, showing a reporter on the set of a typical newsroom, with all the maps and flashing lights in the background. For that I digitally collaged the backgrounds of Fox News, MSNBC, The Rachel Maddow Show… all these different shows merged into one. That was the first time I did that.
Sometimes I use myself for the model. I can shave off the few pounds I've gained! Certain positions are hard to find a reference for, so I'll do it myself. For faces I often use Pinterest images of male models. I went through a big ear phase last year, so I'd collage different faces together and then add bigger ears. I sometimes look at a work and realise "Oh my god, I was into that when I was five", but I don't intentionally create self-portraiture.
I have allowed the landscapes to become Floridian in the last few years, which I really steered clear of for some time. I was influenced by the Romantics, and they weren't painting mangroves! But I have allowed myself to embrace my weird Miami roots recently. It is a very bizarre place, it's got the good and the bad, and sometimes the bad can be good as subject matter.