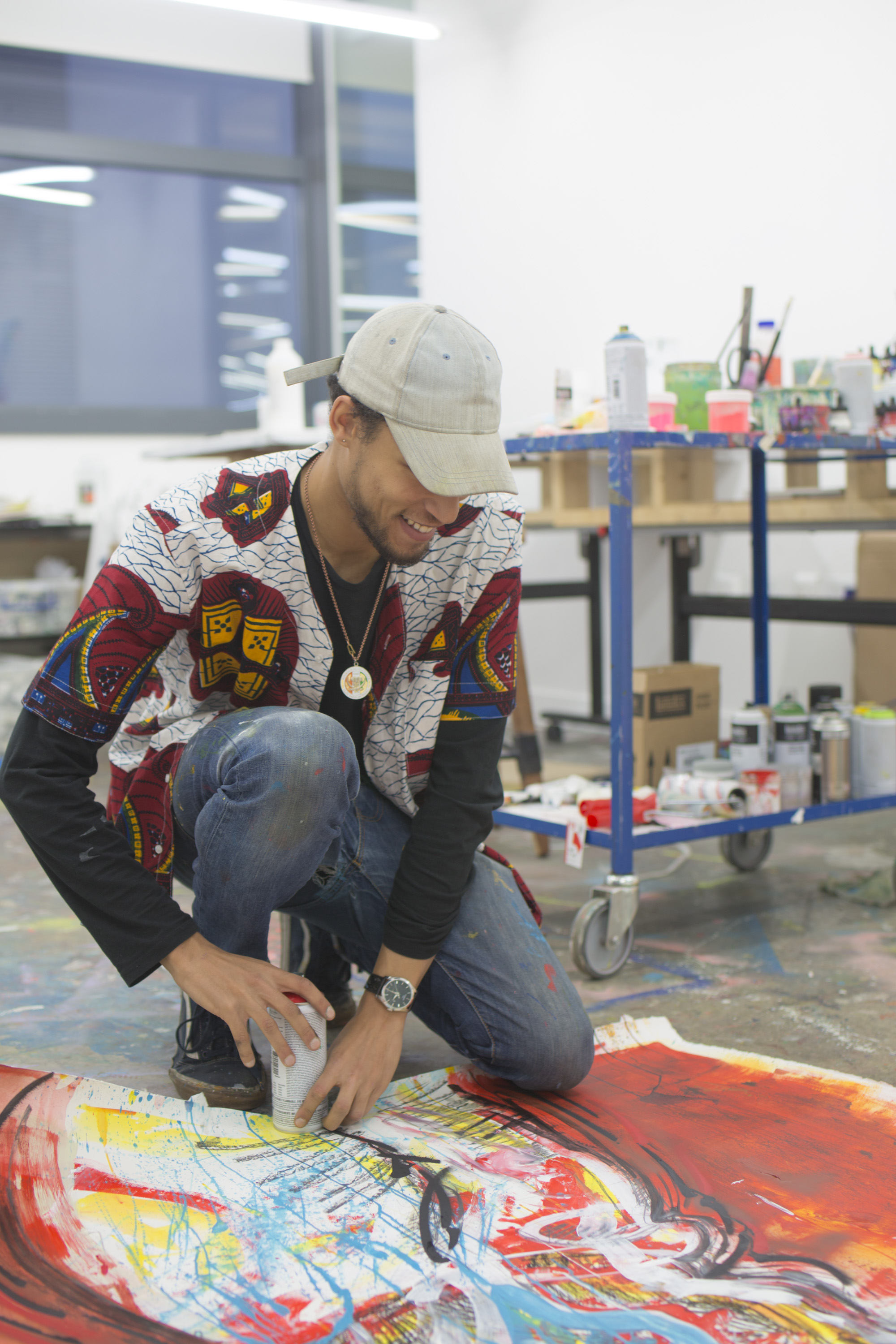 Benjamin Nugent recently spent a month at Elephant Lab on our residency programme. He has an experimental practice, working with a mix of paint, pencil, pen and ink on images which veer between abstraction and figuration. Prior to starting at the Lab, the artist worked mostly at a small scale, filling sketchbooks with intricate and densely packed works loaded with icons, symbols and imagined faces—as well as some wall-sized works in public. His style is bright and upbeat, though this hide a darker undercurrent, and he often takes inspiration from the life and culture of the city around him. He has just created an original work for Fuel cafe and bar at Elephant West—head down to our White City space to see it in situ.
During his residency, Nugent explored new ways of working with canvas and more traditional tools, alongside his hand-made implements. "I think it's opened up the way I approach works in general," he tells me when we meet at his Elephant Lab studio. "I'm in my own universe, and because the limits are bigger, I can do a lot more."
What have you been doing over the last few weeks?
I came here with quite an open mind and also a new understanding of materials. I was given the catalogue of materials, and that was fantastic, and also quite stressful—there's literally everything you could have! I knew I wanted to focus on acrylic-based products because the materials I had at home were Liquitex inks and stuff like that, and brush pens and paint pens; acrylic-based, water-based. I came with some preconceived ideas about what I wanted to do and the direction I wanted to go in, and I think that's sort of gone out the window—in a good way.
Is this the first time you've worked on such a large scale?
Pretty much, yeah. Two or three weeks before I started this, I did a big mural in East London but what I did there and what I'm doing now is completely different. I have a lot more confidence now with large works. I think it's opened up the way I approach works in general. I'm in my own universe, and because the limits are bigger, I can do a lot more. The movements that I was doing grew bigger as well.
Did you create the three big tryptic paintings alongside one another? 
Yes, I put them up as three, all together. The reason I did that was to see if I could create narratives about environment, identity and culture, just sort of natural influences and see how they end up. As I went on, it became more about identity than anything else. My original intention was to have them related to each other quite directly, but it actually turned out to be quite difficult.
I played around with the idea of hiding and revealing identity, getting inspiration from a current genre of music I've been into, which grew from rough areas in mainly South London. A lot of the artists wear balaclavas to protect their identities from unwanted attention as they release music. It's an exciting paradox, as they're really amazing artists that have gained a notoriety that's equally as visual as it is musical, despite often never revealing their faces. It's like Daft Punk or something, but coming from a completely different context. Other brands like Nike and Gucci have tried to capitalize on their popularity among the younger generation already, though some of their efforts have failed. Anyway the idea started that way, then it just developed into something deeper as I went along with it, as I put my own energy into it. One key thing is energy, that is one thing I really want to convey.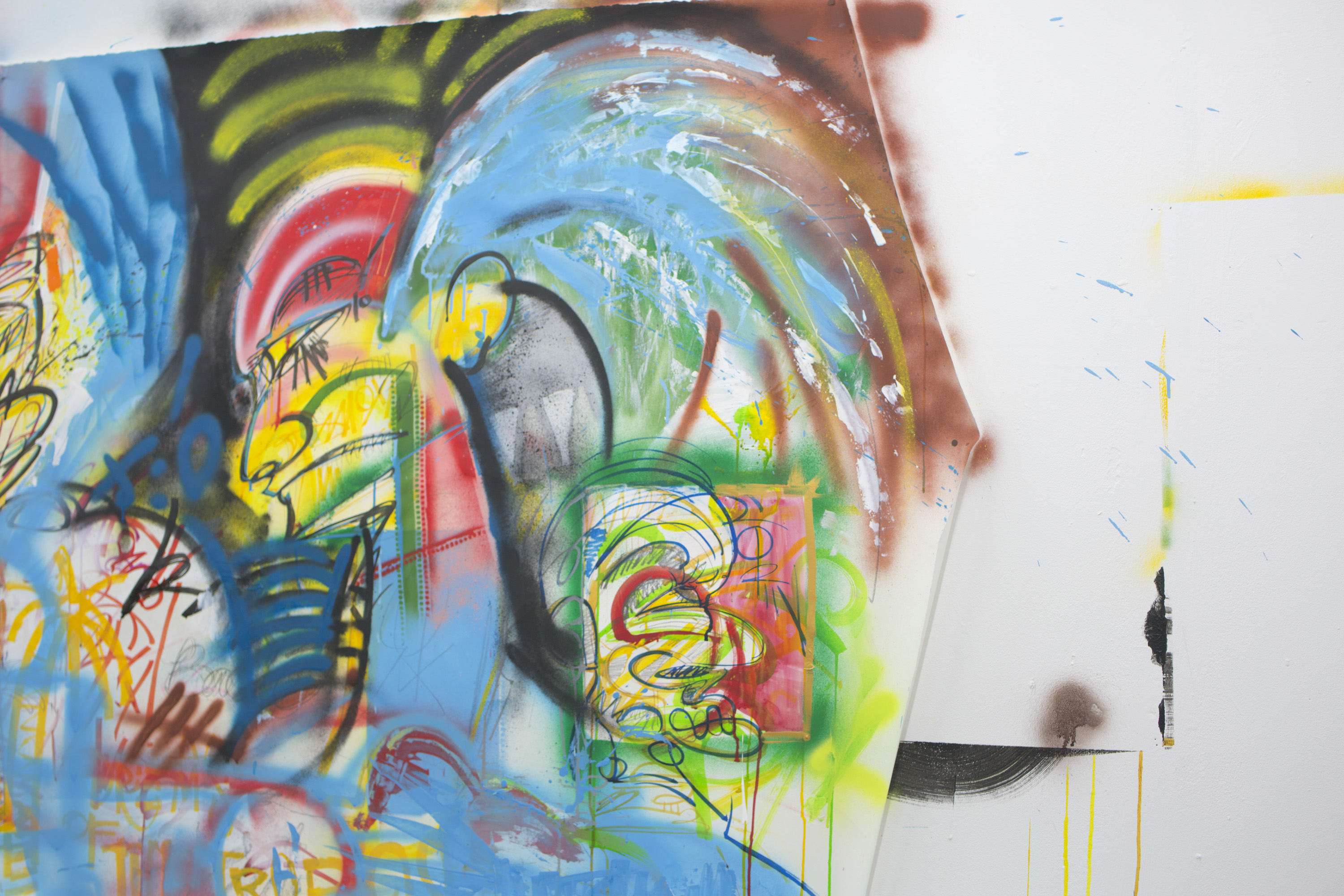 The colours that you use are really bright, they're quite joyful colours, but it feels like there's something dark going on in the work. Is this something that you see in it as well?
Yes, a couple of other people have come in and mentioned that.
It feels like there's this kind of presence, or something…
I hear that! That's a really good observation. I think to go back to the energy part of it all, trying to bring out more than just the structure of these bodies, to bring a particular vibe about each identity that comes through.
You've spoken a lot about music as well. Is that an important part for you when you're painting? The music that you're listening to? A lot of the gestures that you make are kind of rhythmic as well.
Absolutely. I love the whole inspiration loop around things. I love how you can watch a film and that can inspire you to make a painting, and you can look at a painting and that can inspire you to make a song. So definitely, music is a big deal.
Do you paint the faces in your work from source material or completely from your imagination?
Some of them are quite loosely based on somebody, some of them are completely not. Some of them start with graphite pencil, which focuses on the lines and how the face is structured, some of them are about paint, and seeing what turns out. I'll be looking at something, and then just put that away, and be like "Alright, who are you?" and then just go on to the picture and figure out who or what that thing is, what that identity is. And it's interesting that the results are quite different from the originals. One of them was loosely based on an image of this Japanese warrior, the eyes were so piercing, and everything about her was so cool, and I looked at it once and then just stopped and didn't look at it again, and went for it, adding colours, and pencil, and it became quite mechanical.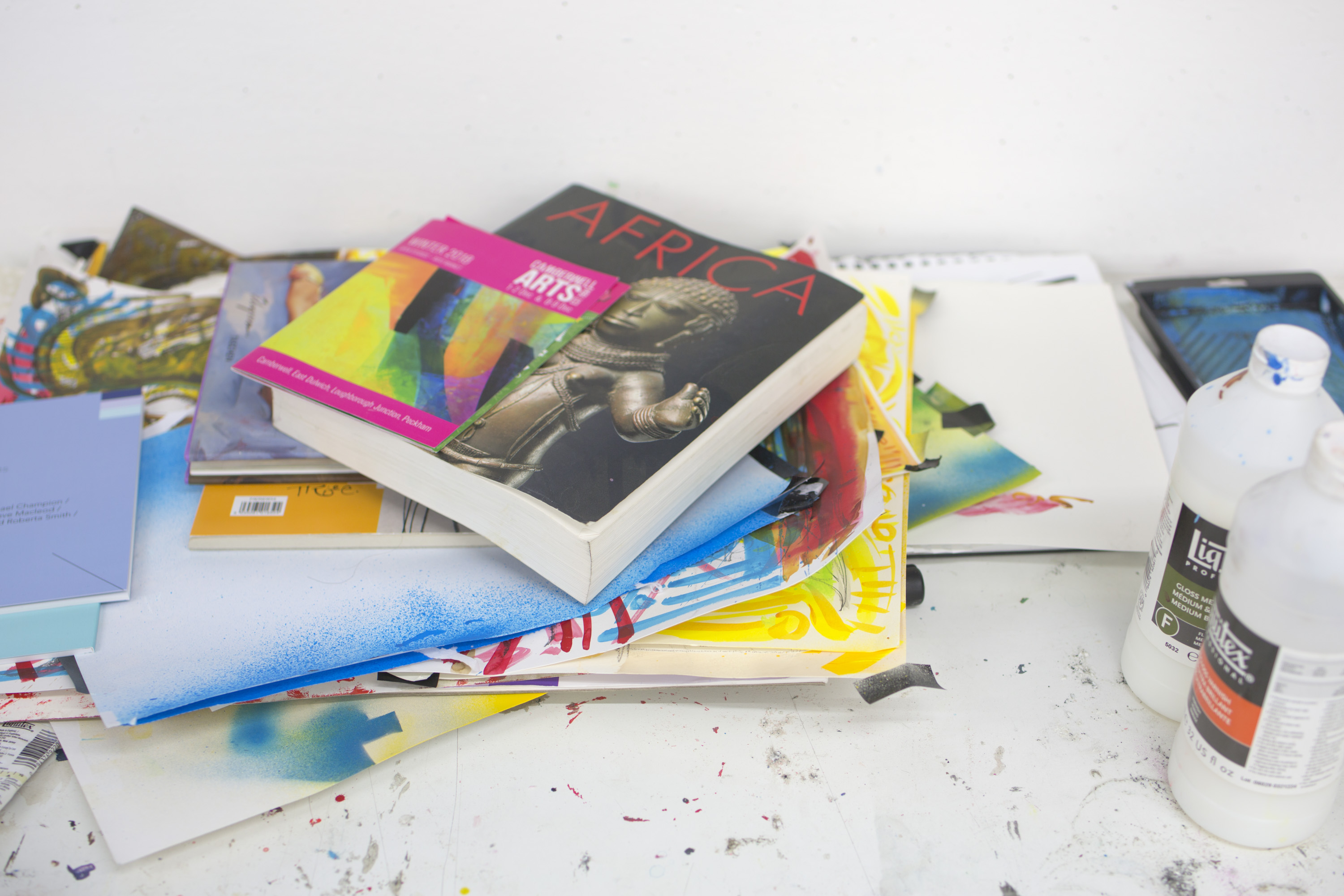 You've mentioned Japanese artists and figures quite a lot previously. How do the different influences come together?
The Japanese stuff was my first direct influence. The imagination is the one thing that you can hold onto, and nobody can take that away from you if you've got it. And for me, Japanese art really seemed to do that the best. Back in the day, I'd be watching Dragon Ball Z and stuff like that as a kid, and obviously that's about heroes defending the universe and, like all these other animes, they were violent, they were brutal. But there were loads of bright colours and they kept me engaged—being able to touch on all these grim topics but do it in such a fashion that makes it attractive.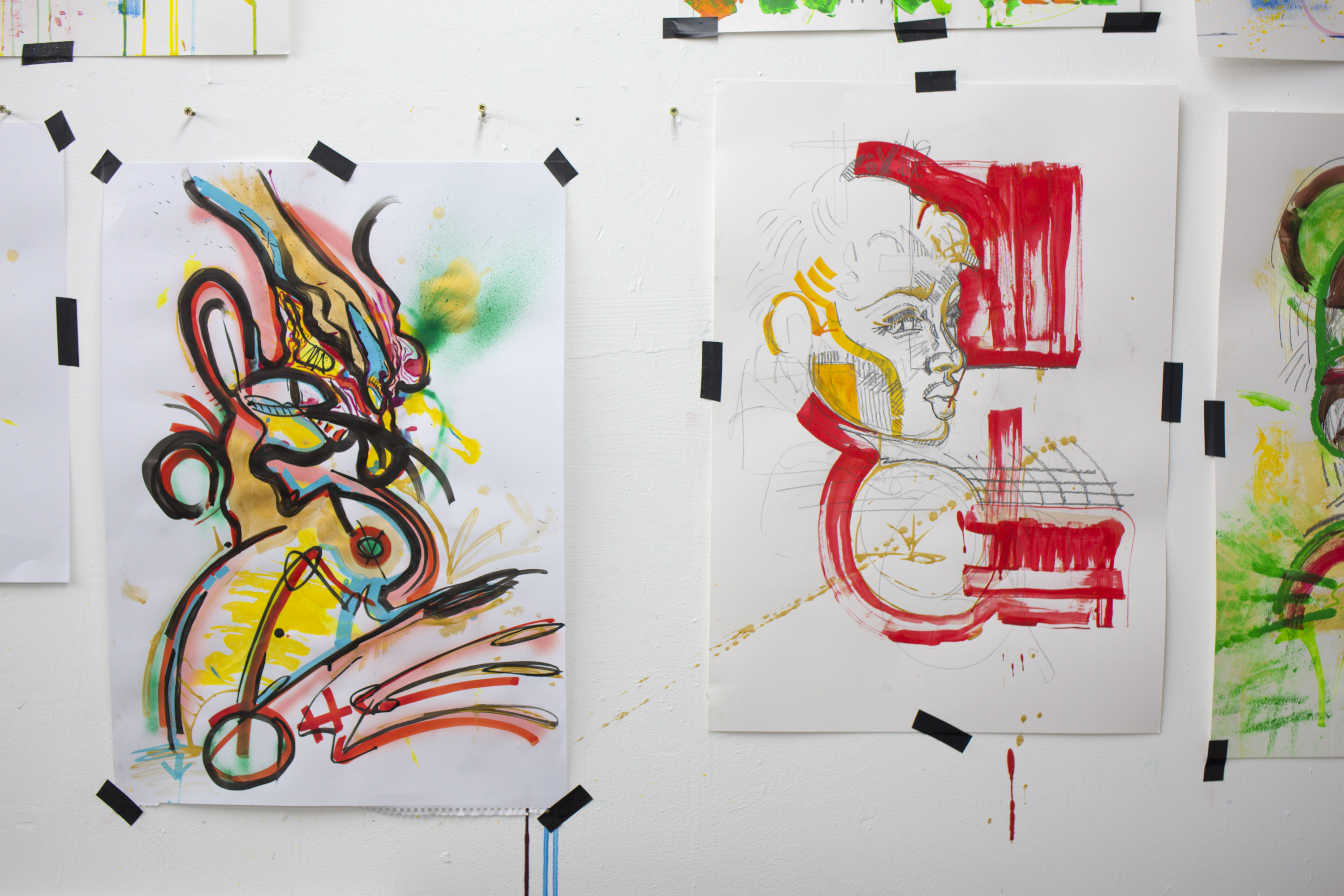 It feels as though there is a Basquiat influence in there as well.
Yeah, and there's definitely more expressionist stuff, like Richard Prince's hippie drawings, and Ralph Steadman, I love his stuff. I'm naturally inspired by the world around me, the culture and the environment and obviously the music, there's so many things that I am inspired by, it's not direct, they all come in together.
I think that I'm definitely inspired by street art—as well as my interest in Manga cartoons when I was a kid, it was also street art. They're the sort of things that, as a kid, you would be into, because they're colourful. So it's always been there.
As well as paintbrushes, you've using hand-made implements before too…
I've used brushes before, but usually brush pens, so they're much smaller and easier to navigate. The more formal painting aspect of it is definitely one thing I've got out of this residency that I will apply in the future. But I can't always quite get the kind of strokes I'm looking for with brushes, strokes which are sometimes reckless and energetic, and so I use other things quite a lot, like a spatula, a ruler, chopping up pieces of paper. I've even used my own saliva, which was a bit weird, but it happened!
How have you found working with the lab?
Yeah, really nice. Mark [the lab scientist] has given good advice about using the materials and he's someone I have to thank, because he made these products, and some I was using before I came here, as my main material, and the fact that he worked on and invented some of them is quite phenomenal.
Photographs by Louise Benson
All artists-in-residence are invited to document their time at the Elephant Lab in a Winsor & Newton sketchbook, filling it with drawings, paint samples, odds-and-ends and other personal reflections. This is Benjamin Nugent's. 
Residencies at Elephant Lab
Practising artists are invited to make proposals for a one month residency at Elephant Lab
APPLY NOW