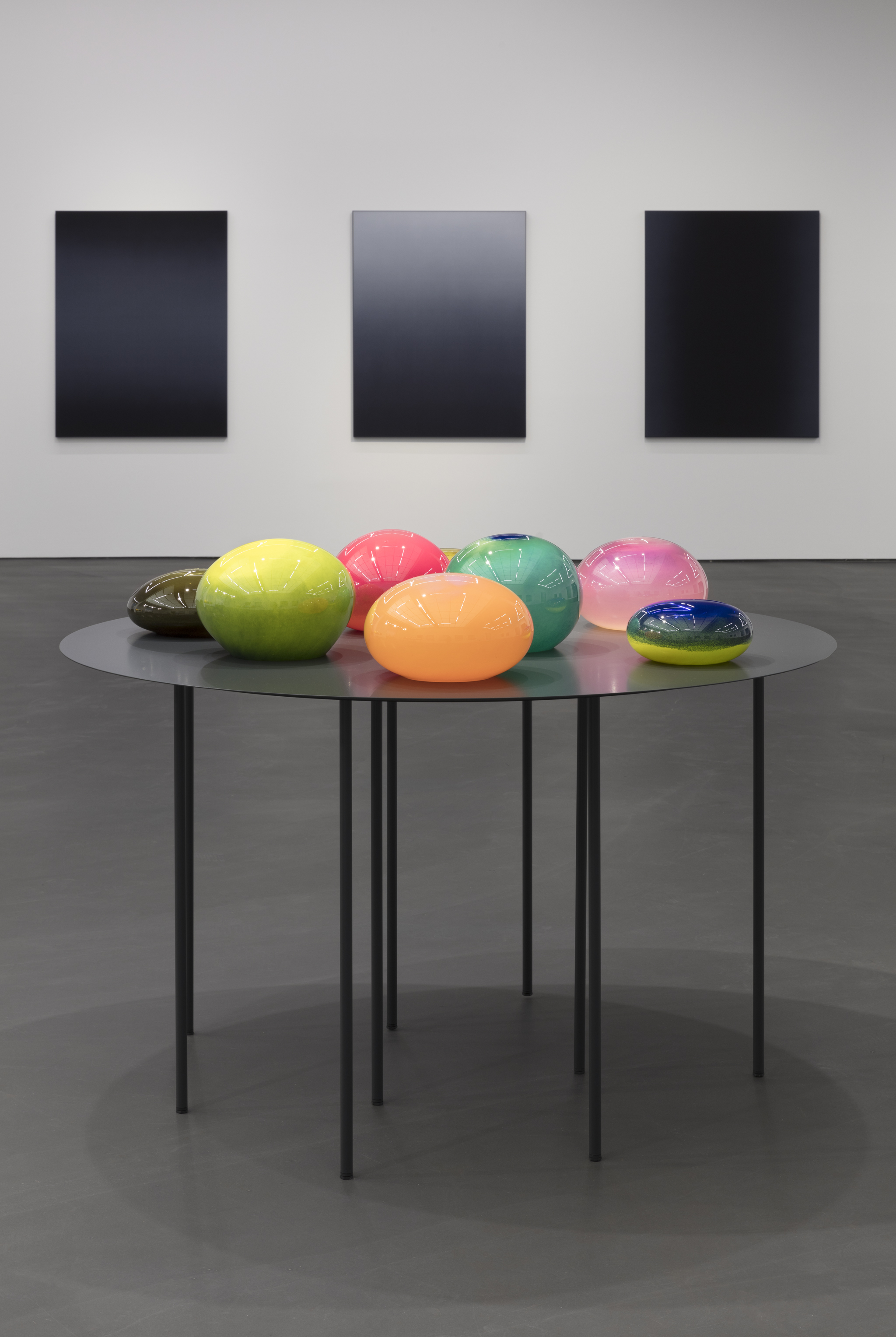 It has become cliché to write about artists whose work defies categorization, but Matti Braun's deep research-based practice intentionally seeks to defy fixed readings. The German-born, Cologne-based artist started out by making sculptures and became known for his series of gradient silk paintings. In the last decade, however, he has also designed furniture, created an indoor pond one could walk on, produced a play about a friendly alien, and more recently, manufactured a series of vibrantly-coloured hand-blown glass sculptures that may or may not be his imaginative interpretation of alien eyes.
Although Braun speaks eloquently about his influences and references, when it comes to talking about the work itself, he is unapologetically evasive. Even when asked about something as rudimentary as the meaning of the title of his recent show at Esther Schipper Gallery in Berlin, Ku Lak, Braun chooses not to answer.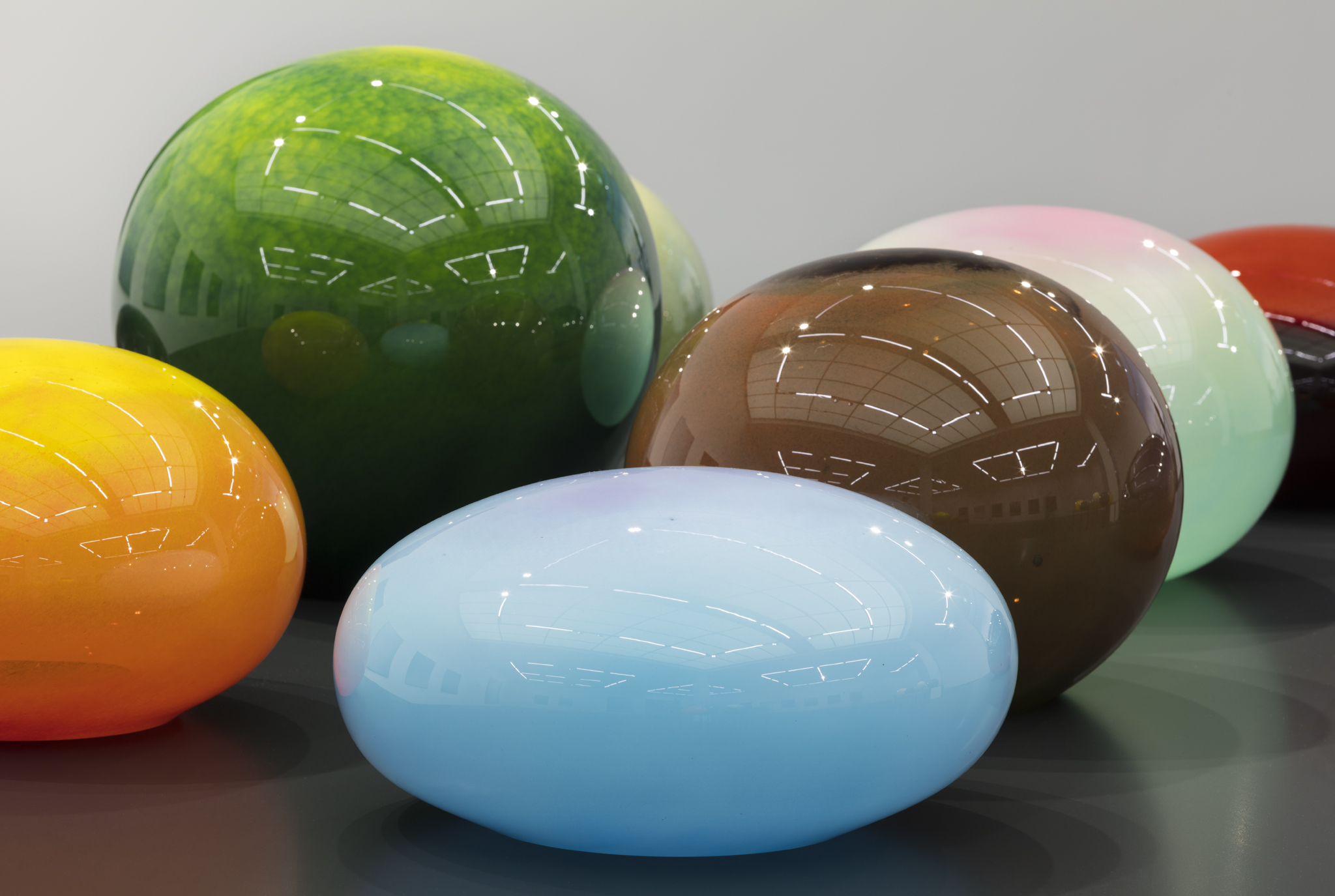 It is refreshing to find someone who wants their works to stand on its own, especially in a time when an artist's identity and background is essential to the work's interpretation. However, the ambiguity in Braun's work, which is often so extremely minimal that at first glance it appears to be devoid of meaning, is disorienting when one takes into account how the work is profoundly based on references and sources not immediately apparent.
Through appropriation and hybridization of techniques, Braun's work has become known for investigating cross-cultural dynamics and playing with cultural misrecognitions. Take the series of silk paintings shown at Esther Schipper recently: these gradient paintings of black and grey dye on finely woven silk imported from India are made in his studio following traditional techniques often used for religious or ritualistic purposes. But these delicate, sometimes shimmering and hypnotic silk canvases, mounted on a very industrial, "Western" frame made out of slick, powder-coated aluminium—a near-perfect realization of an East-meets-West, traditional and non-traditional coexistence—create an experience of meditative expansiveness not unlike much of Color Field painting.
"Braun's work has become known for investigating cross-cultural dynamics and playing with cultural misrecognitions"
Although Braun prefers not to speak about the silk paintings directly, he says he learned the technique from Rudolf Smend, a collector of antique textiles and batiks from Cologne. When Smend got stuck in Bali on his way to Australia in 1973, he was introduced to batik and various textile crafts, including the legacy of German-Russian artist Walter Spiesm, Braun says. "Entranced by this, Smend returned to Cologne and opened a batik gallery and organized courses on batik, silk painting and other related textile crafts. Through him I became aware of many techniques, a rich heterogenous heritage, the great diversity of approaches in the field, and the work of several artists working in it today."
Meanwhile, one of Braun's favourite works in Smend's textile collection, a batik presented in a show at the Arnolfini in Bristol, provides an entryway into his practice. A nineteenth-century Chinese altar cloth produced in Indonesia called Tok Wi possibly depicts, amongst Indonesian shadow puppet figures and other things, a figure of Little Red Riding Hood holding the head of a wolf. "A motif that had been introduced through Dutch colonizers to Indonesia," he says. What fascinates Braun is that "there are several depictions of comparable European fairytale motifs on Indonesian batiks in those times, yet the figure has been interpreted in various other and plausible ways—depending on the background of the viewer—such as a Chinese prince with a Tibetan Mastiff dog." For Braun the peculiar quality of the piece is that "all interpretations may be equally correct".
This open-ended approach to interpretation is epitomized in Braun's polysemous work. In his recent series of vibrantly-coloured oval glass works, also on view recently at Esther Schipper, Braun explores the coexistence of multiple meanings further. What first appear as simple, round, design objects in smooth glass that have a deeply alluring and mysterious quality, could be interpreted as precious alien eggs, and might actually be multiple renditions of pupil-less alien eyes. These glass sculptures belong to Braun's long-standing engagement with Bengali filmmaker and science-fiction writer Satyajit Ray, particularly the unrealized sci-fi film project The Alien.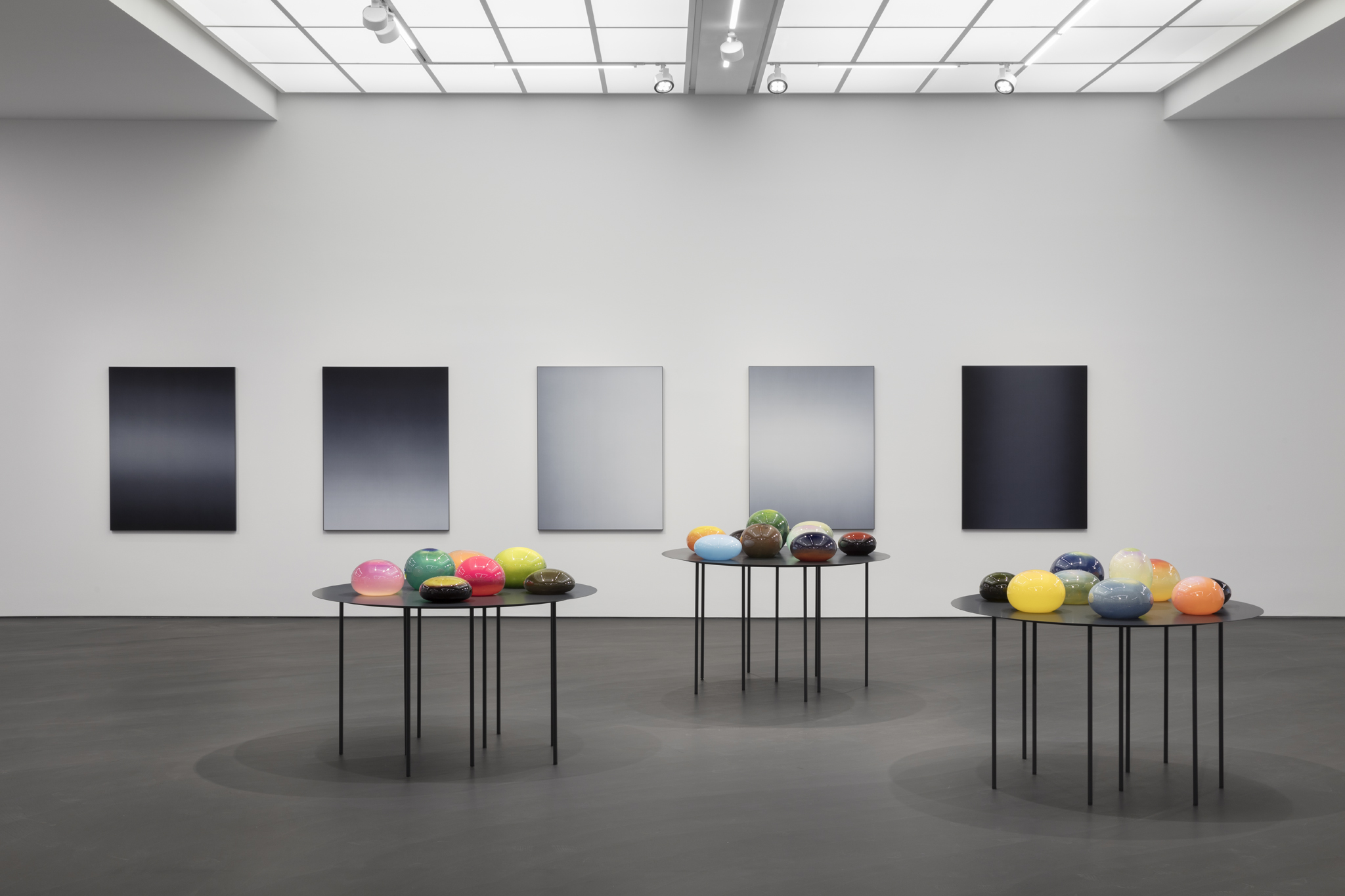 "I got to know about Satyajit Ray when I visited the Tagore Centre London, an independent, small self-run centre for Bengali culture I found in 2003 when I was preparing an exhibition at The Showroom. In a book there I learned from a Cartier Bresson text about Ray's project The Alien. It seems little known, particularly outside of India, that Ray was a great science fiction fan and author of several sci-fi stories, such as The Diary of a Space Traveler and Mr. Banku's Friend." Braun considers the latter as the springboard for Ray's friendly character in The Alien, which may have been the inspiration for Steven Spielberg's film E.T. the Extra-Terrestrial (1982).
"Braun has re-conceived, in his signature understated style, the play of imagination and fantasy that motivated Ray's The Alien"
While many of us have adoringly watched the friendly alien in E.T., debates about whether Spielberg plagiarized Ray's script in one of his most popular films are left to more obscure corners of the web, Braun has re-conceived, in his signature understated style, the play of imagination and fantasy that motivated Ray's The Alien. Braun does this by taking a Bavarian hand-blown glassmaking tradition, which once was in high-demand and now is close to disappearing, to produce a range of alien eyes about the size of bowling balls, in colours ranging from pastel pink and acid yellow to deep blue. The untitled round glass sculptures preserve this unique Bavarian craftsmanship and offer a contemplative homage to Ray's cosmological vision.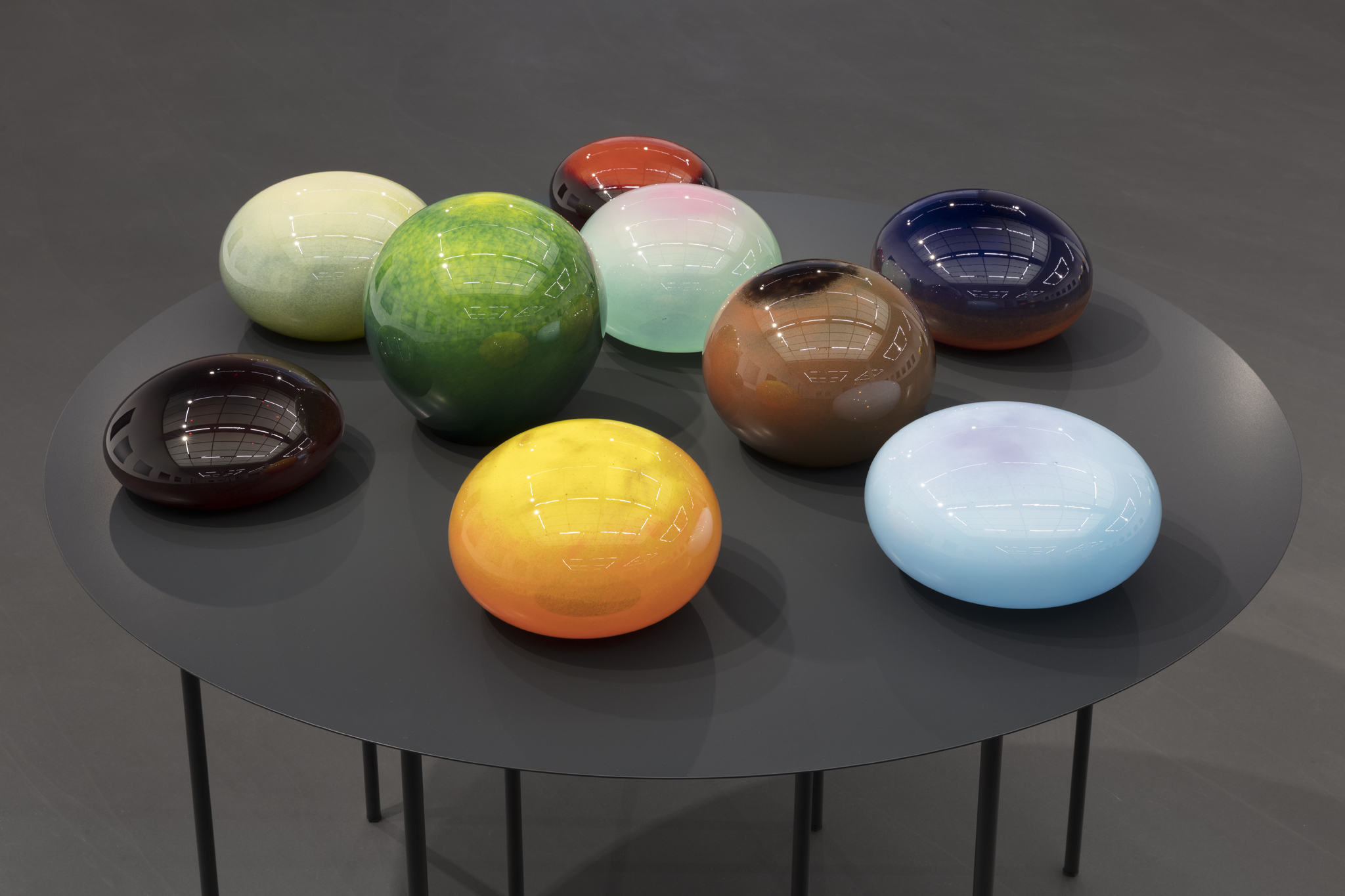 When these two bodies of work are considered together, Braun's work becomes a negotiation between the subjective experience of these minimalist, ambiguous, aesthetically-pleasing works that create a sense of wonder, and the wide cultural references, traditional techniques and allusions embedded in them. This process provokes a reconsideration of the tension between authorial intention and aesthetic experience when it has become widely unfashionable to do so. Braun's work succeeds, therefore, in destabilizing the notion of tradition while giving us a positive, and ever-changing, expression of art as truly alien and alienating.