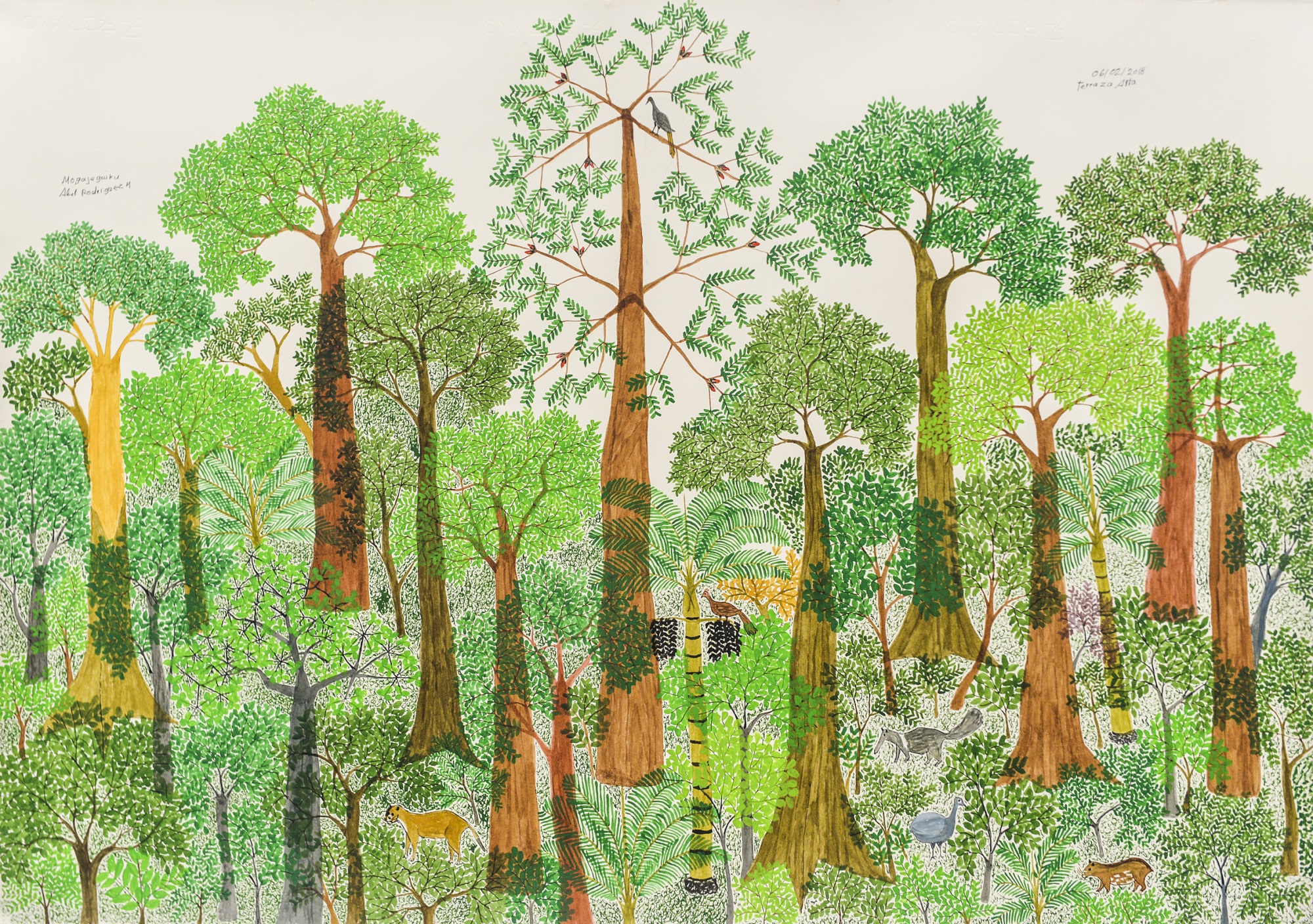 Abel Rodríguez saw the sea for the first time this year. He was in Newcastle for the opening of his first international solo show at BALTIC Gateshead, which opened on 13 March and coincides with the inclusion of two more of his works in the show Among the Trees (4 March – 17 May) at the Hayward Gallery in London. A pretty significant event for any artist, but Rodríguez is fairly adamant that isn't a category into which he falls. He welcomes the art world as it comes to him, enjoys the slightly easier life that interest in his work has given him, and was apparently delighted by the sea, but fundamentally he remains a man of knowledge to be shared for the good of the forest and of people.
What strikes one most about Rodríguez' work in this context is its generosity, a feeling also embodied in the works themselves. The translucent layers of ink create density without overcrowding, the breathing spaces left for birds and mammals and orchids and fruit to be distinct amid the greenery, the detailed labels, and the attention to the whole life cycle of a plant or ecosystem. His way of seeing is generous to the forest and generous to science, to his people and his knowledge, and it seems only right that he takes the oblique benefits of art-world recognition as they come, as he is happy to do. After all, he loses nothing by seeing the sea.
Even if his art is not our "art" but rather iimitya (a Muinane term for 'word of power'), as he says "all paths lead to the same knowledge, which is the beginning of all paths". Westerners familiar with Umberto Eco's book From the Tree to the Labyrinth will note that it took us several centuries and the invention of semiotics to reach the same conclusion. Rodríguez just needed to see the trees.